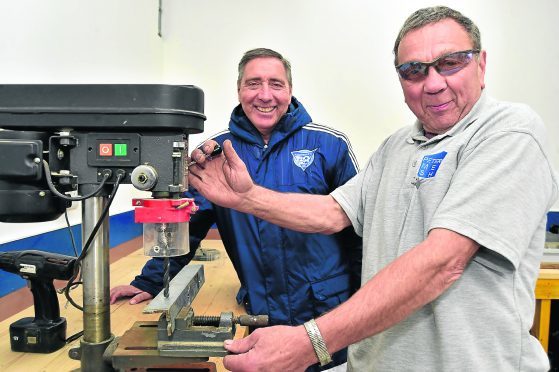 A new initiative to bring men together in Peterhead has been officially opened.
The town's men's shed, on Skene Street, has been developed over the past few years and yesterday the charity's hard work came to fruition.
Similar schemes have been launched across the north-east and internationally to help alleviate loneliness among men and give them a place where they can meet like-minded invidividuals.
The new facility will give people the chance to come along and use wood work and metal work tools for DIY while also being able to socialise.
Yesterday, Blue Toon manager Jim McInally was invited to formally open the venue.
Steve Herridge, secretary of the group behind the men's shed, said the event had been a huge success.
He said: "It was a big day for us, there were a lot more people there than we expected.
"Jim McInally opened it for us and it was great to have him there, being such a well known face in the town.
"The main idea for it is to get blokes out and about and meeting other people so they are not alone.
"We will see what demand is like for it, we have seven volunteers just now and we will be open Monday, Wednesday and Friday from 1-4pm, but if there's other groups that want to use it we will look at extending the hours."
Mr McInally said he was pleased he was able to show his support for the project once he learned what they would be providing in the town.
He said: "I think it's brilliant, because there will be a lot of people out there who are lonely or maybe just retired without much to do and it gives them something to get out of bed in the morning.
"I know there are lots of them all over the place and it's a terrific idea, even if people aren't wanting to go along and work they can just have a cup of tea and just have a chat with someone else."