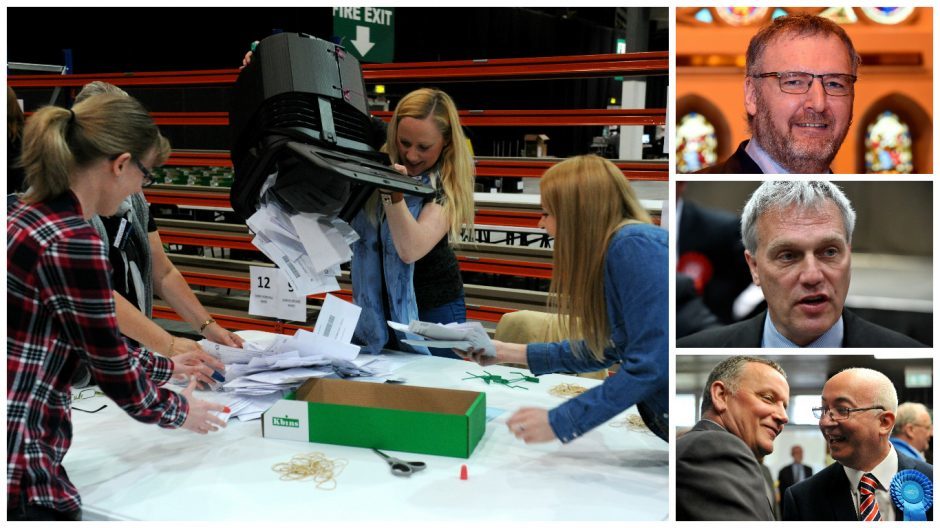 The results of local elections across the north of Scotland are being released this morning as candidates vie for 1,227 seats across 353 wards.
A fuller picture should emerge by late afternoon, however it could take several days for coalition administrations to be formed.
Here are the results we know so far:
Aberdeen City
Dyce/Bucksburn/Danestone – Avril Mackenzie (Conservative), Neil MacGregor (SNP), Gill Samarai (SNP), Barney Crockett (Labour)
Bridge of Don – Alison Alphonse (SNP), Sandy Stuart (SNP), John Reynolds (Independent), Brett Hunt (Conservative)
Northfield/Mastrick North – Jackie Dunbar (SNP), Ciaran McRae (SNP), Gordon Graham (Labour)
Kingswells/Sheddocksley/Summerville – David Cameron (SNP), Steve Delaney (Liberal Democrats), John Wheeler (Conservative)
Midstocket/Rosemount – Jenny Laing (Labour), Tom Mason (Conservative), Bill Cormie (SNP)
Tillydrone/Seaton/Old Aberdeen – Ross Grant (Labour), Jim Noble (SNP), Alexander McLellan (SNP)
Hilton/Woodside/Stockethill – Freddie John (Conservative), Lesley Dunbar (Labour), Neil Copland (SNP)
George St/Harbour – Dell Henrickson (SNP), Sandra Macdonald (Labour), Michael Hutchison (SNP), Ryan Houghton (Conservative)
Lower Deeside – Marie Boulton (Independent), Tauqeer Malik (Labour), Philip Bell (Conservative)
Hazlehead/Ashley/Queens Cross – Jennifer Stewart (Liberal Democrat), Claire Imrie (Conservative), John Cooke (SNP), Martin Greig (Liberal Democrat)
Airyhall/Broomhill/Garthdee – Douglas Lumsden (Conservative), Gordon Townson (SNP), Ian Yuill (Liberal Democrat)
Torry/ Ferryhill – Alan Donnelly (Conservative), Yvonne Allan (Labour), Catriona Mazckenzie (SNP), Christian Allard (SNP)
Cove/Nigg/Kincorth – Stephen Flynn (SNP), Alex Nicoll (SNP), Sarah Duncan (Labour), Philip Sellar (Conservative)
Aberdeenshire
Banff and District – John Cox (Independent), Glen Reynolds (SNP), Mike Roy (Conservative)
Fraserburgh and District – Andy Killie (Conservative), Charles Buchan (SNP), Doreen Mair (Independent), Brian Topping (SNP)
Central Buchan – Marion Buchan (Conservative), Jim Ingram (SNP), Anne Simpson (Liberal Democrats), Norman Smith (Independent)
Peterhead North and Rattray – Anne Allan (SNP), Dianne Beagrie (Conservative), Alan S Buchan (Independent), Iain Sutherland (Independent)
Peterhead South and Cruden – Stephen Smith (SNP), Stephen Calder (Independent), Alan Fakley (Conservative)
Turriff and District – Alastair Forsyth (SNP), Iain Taylor (Conservative), Sandy Duncan (Independent), Anne Robertson (Liberal Democrat)
Mid Formartine – Karen Adam (SNP), Paul Johnston (Independent), Andrew Hassan (Liberal Democrats), Jim Gifford (Conservative)
Ellon and District – Isobel Davidson (Lib Dem), Richard Thomson (SNP), Gillian Owen (Conservative), Anouk Kahanov-Kloppert (SNP)
West Garioch – Victoria Harper (SNP), Sebastian Leslie (Conservative), Hazel Smith (Liberal Democrats)
Inverurie and District – Neil Baillie (SNP), Colin Clark (Conservative), Marion Ewenson (Liberal Democrats), Judy Whyte (Independent)
East Garioch – Martin Ford (Scottish Green Party), Dominic Lonchay (Conservative), Fergus Hood (Liberal Democrats), Glen Reid (SNP)
Westhill and District – David Aitchison (SNP), Ron McKail (Conservative), Iris Walker (Liberal Democrats), Alistair McKelvie (Conservative)
Huntly, Strathbogie and Howe of Alford – Moira Ingleby (Conservative), John Latham (Liberal Democrats), Gwyneth Petrie (SNP), Robbie Withey (Conservative)
Aboyne/Upper Deeside/Donside – Peter Argyle (Liberal Democrats) Geva Blackett (SNP), Paul Gibb (Conservative)
Banchory and Mid Deeside – Rosemary Bruce (Liberal Democrats), Eileen Durno (SNP), Ann Ross (Conservative)
Troup – Mark Findlater (Conservative), Ross Cassie (SNP), Hamish Partridge (Independent)
North Kincardine – Ian Mollison (Liberal Democrats), Alastair Bews (SNP), Alison Evison (Labour), Colin Pike (Conservative)
Stonehaven and Lower Deeside – Wendy Agnew (Conservative), Sarah Dickinson (Liberal Democrats), Dennis Robertson (SNP), Sandy Wallace (Conservatives)
Mearns – George Carr (Conservative), Bill Howatson (Liberal Democrats), Jeff Hutchison (Conservative), Leigh Wilson (SNP)
Argyll and Bute
Kintyre and the Islands – Robin Currie (Liberal Democrats), Anne Horn (SNP), Alastair Redman(Conservative)
Mid Argyll – Donnie MacMillan (Independent) Douglas Trevor Philand (Independent), Sandy Taylor (SNP)
Oban South and the Isles – Mary-Jean Devon (Independent), Jim Lynch (SNP), Roddy McCuish (Independent), Jamie McGrigor (Conservative)
Oban North and Lorn – Kieron Green (Independent), Julie McKenzie  (SNP), Elaine Robertson (Independent), Andrew Vennard (Conservative)
South Kintyre – John Armour (SNP), Rory Colville (Liberal Democrats) Donald Kelly (Conservative)
Cowal – William Blair (SNP), Yvonne McNeill (Conservative), Alan Reid (Liberal Democrats)
Dunoon – Jim Anderson (Independent), Audrey E Forrest (SNP), Bobby Good (Conservative)
Isle of Bute – Jim Findlay (SNP), Jean Murray Moffat (Independent), Len Scoullar (Independent)
Lomond North – George Freeman (Independent), Barbara Morgan (Conservative), Iain Shonny Paterson (SNP).
Helensburgh Central – Lorna Douglas (SNP), Graham Archibald Hardie (Liberal Democrats), Aileen Morton (Liberal Democrats), Gary Mulvaney (Conservative)
Helensburgh and Lomond South – David Kinniburgh (Conservative) Ellen Morton (Liberal Democrats), Richard Trail (SNP).
Highlands
Inverness Ness-side – Alasdair Christie (Liberal Democrat), Ron MacWilliam (SNP), Callum Smith (Conservative)
Inverness West – Bill Boyd (SNP), Alex Graham (Liberal Democrat), Graham Ross (Independent)
Inverness Central – Janet Campbell (Independent), Richard Laird (SNP), Bet McAllister (Labour)
Culloden and Ardersier – Roddy Balfour (Independent), Glynis Campbell-Sinclair (SNP), Trish Robertson (Liberal Democrat)
Nairn and Cawdor – Laurie Fraser (Independent), Tom Heggie (Independent), Liz MacDonald (SNP), Peter Saggers (Conservative)
Black Isle – Gordon Adam (Liberal Democrats), Jennifer Barclay (Independent), Craig Fraser (SNP)
Inverness South – Carolyn Caddick (Liberal Democrats), Ken Gowans (SNP), Andrew Jarvie (Conservative), Duncan MacPherson (Independent)
Tain and Easter Ross – Derek Louden (SNP), Fiona Robertson (Independent), Jamie Stone (Liberal Democrats)
Wester Ross, Strathpeffer and Lochalsh – Biz Campbell (Independent), Ian Cockburn (SNP), Derek Macleod (Conservative), Kate Stephen (Liberal Democrats)
North, West and Central Sutherland – Kirsteen Currie (SNP), Hugh Morrison (Independent), Linda Munro (Liberal Democrats)
Dingwall and Seaforth – Graham Alexander MacKenzie (SNP), Alister MacKinnon (Independent), Angela MacLean (Liberal Democrats), Margaret Paterson (Independent)
East Sutherland and Edderton – Richard Gordon Gale (Liberal Democrats), Deirdre Mackay (Labour), Jim McGillivray (Independent)
Eilean a' Cheò – John Finlayson (Independent), John Gordon (Independent), Ronald MacDonald (Independent), Calum McLeod (SNP)
Badenoch and Strathspey – John Bruce (Conservative), Muriel Cockburn (SNP), Pippa Hadley (Scottish Green Party), Bill Lobban (Independent)
Caol and Mallaig – Allan Henderson (Independent), Billy MacLachlan (SNP), Ben Thompson (Independent)
Fort William and Ardnamurchan – Blair Allan (SNP), Andrew Phillip Baxter (Independent), Niall McLean (SNP), Ian Ramon (Conservative)
Thurso and Northwest Caithness – Donnie MacKay (Independent), Struan Mackie (Conservative), Matthew Reiss (Independent), Karl Rosie (SNP)
Wick and East Caithness – Raymond Bremner (SNP), A.I. Willie Mackay (Independent), Andrew Sinclair (Conservative), Nicola Sinclair (Independent)
Moray
Speyside Glenlivet – Walter Wilson (Conservative), Derek Ross (Independent), Louise Lang (SNP)
Elgin City South – Graham Leadbitter (SNP), Ray McLean (Conservative), John Divers (Labour)
Elgin City North – Paula Coy (SNP), Sandy Cooper (Independent), Frank Brown (Conservative)
Forres – Claire Feaver (Conservative), Aaron McLean (SNP), George Alexander (Independent), Lorna Cresswell (Independent)
Fochabers Llanbryde – Marc Macrae (Conservative), David Bremner (SNP), Shona Morrison (SNP)
Heldon and Laich – James Allan (Conservative), John Cowe (Independent), Amy Patience (SNP), Ryan John Edwards (Independent)
Keith and Cullen – Theresa Ann Coull (SNP), Donald Gatt (Conservative), Ron Shepherd (Independent)
Buckie – Sonya Warren (SNP), Gordon Cowie (Independent), Tim Eagle (Conservative)
Na h-Eileanan Siar
Na Hearadh agus Ceann a Deas nan Loch – Finlay Cunningham (Independent), Paul Anthony Finnegan (Independent), John Mitchell (SNP)
Sgir'Uige agus Ceann a Tuath nan Loch – Ranald Fraser (Conservative), Norman MacDonald (Independent), Angus Morrison (Independent)
An Taobh Siar agus Nis – John MacKay (Independent), John Norman Macleod (Independent), Kenneth Macleod (SNP), Kenny John Macleod (Independent)
Sgire an Rubha – Norrie Tomsh Macdonald, Alasdair Macleod, Finlay Stewart (Independent)
Loch a Tuath – Donald Finlayson Crichton (Independent), John A MacIver (SNP), Calum MacLean (Independent)
Barraigh Bhatarsaigh Eirisgeigh agus Uibhist a Deas – Calum MacMillan (SNP), Iain Archie Macneil (Independent), Donald Manford (SNP), Paul Francis Steele
Beinn na Foghla agus Uibhist a Tuath – Roddy MacKay, Iain Murdoch Macleod, Uisdean Robertson (Independent)
Orkney
Stromness and South Isles – Rob Crichton, James Stockan and Magnus Thomson (uncontested)
Shetland
Shetland West – Steven Coutts, Catherine Hughson, Theo Smith (Independent)
Shetland Central – Mark Burgess, Davie Sandison, Ian Scott (Independent)
North Isles – Alec Priest, Duncan Simpson, Ryan Thomson (Independent)
Shetland North – Alastair Cooper, Emma MacDonald, Andrea Manson (Independent)
Lerwick North – Malcolm Bell, John Fraser, Stephen Leask (Independent)
Lerwick South – Peter Campbell, Cecil Smith, Amanda Westlake, Beatrice Wishart (Independent)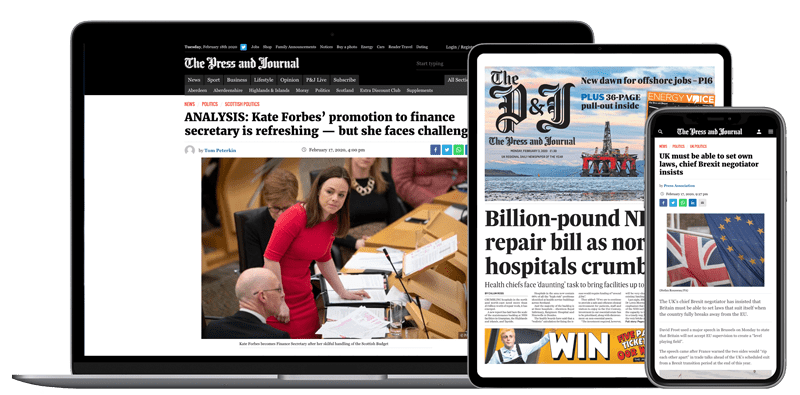 Help support quality local journalism … become a digital subscriber to The Press and Journal
For as little as £5.99 a month you can access all of our content, including Premium articles.
Subscribe