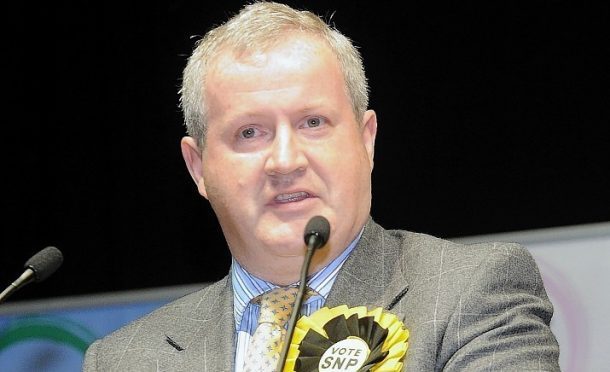 The Queen has made the leader of the SNP in the House of Commons one of her most senior advisers – the day after his party voted in favour of the public ceasing to pay her wages.
Ian Blackford was sworn in as a member of "Her Majesty's Most Honourable Privy Council" in a private ceremony at Buckingham Palace on Wednesday.
This entitles him to use the prefix "The Right Honourable" for the rest of his life.
Established in 1708, the Privy Council is the formal body of 'advisers to the Sovereign of the United Kingdom" and is mainly comprised of senior politicians, civil servants and other prominent citizens.
Mr Blackford became the SNP's Westminster leader, following the June general election and the defeat of Angus Robertson, who is also a Privy Councillor, as is First Minister Nicola Sturgeon.
On Tuesday, the SNP conference in Glasgow voted overwhelmingly to stop the public funding of the Queen and Royal Family through the repeal of the Sovereign Grant Act which replaced the Civil List in 2011 and which pays the Queen through profits from the Crown Estate. The latter includes around £272 million of property in Scotland.
Julie Hepburn, the SNP's political education convenor, claimed the arrangement, whereby it received £76 million last year, was akin to the Royal Family " winning the lottery every single year."
Mr Blackford was not present at the Glasgow conference for the vote on the Royal finances which, in any case, will cause no problems for Buckingham Palace, as the issue is reserved to Westminster.
Instead, he was at Westminster where he received a reprimand and was accused of "rank discourtesy" by Speaker John Bercow for leaving the chamber on Monday as soon as he had spoken during a statement by the Prime Minister on Brexit. Commons protocol demands that those who take part in such mini debates must stay and listen to all the exchanges.
Speaking after the ceremony, Mr Blackford said: "This is a great honour for me personally, for my constituency and also a recognition of the SNP's role as the third party at Westminster."
"I have great respect for the monarchy and it was an honour to be sworn in – I took the oath of allegiance in the presence of Her Majesty."