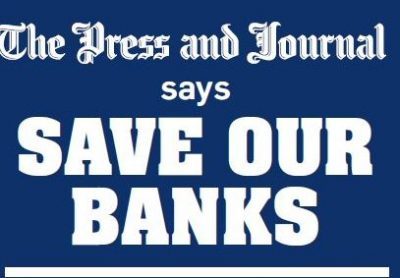 RBS has slashed its network of branches by 70% in the past five years, according to new figures submitted to Westminster's Scottish affairs committee.
The Federation of Small Businesses (FSB) urged the UK Government to step in after presenting evidence that more than two-thirds have shut their doors or been marked for closure.
Senior executives from the under-pressure banks will today be grilled by the committee's MPs, who have backed the Press and Journal's Save Our Banks campaign.
The P&J is supporting communities uniting to stop more than 60 branch closures in Scotland.
FSB Scottish policy convener Andy Willox said it was "not good enough" there are no official up-to-date figures on closures, planned closures and remaining branches and called for an investigation into the scale of the economic impact.
Its researchers compiled figures from a variety of sources, including press reports of RBS closure plans from 2013, a Competition and Markets Authority list of branches as of 2015 and RBS figures from the latest round of closure plans, leaving 89 branches.
RBS did not dispute the research when the figures were put to them by the Press and Journal.
"Local businesses and the communities they serve need banking services," Mr Wilcox said. "The fact remains that cash is still the most frequently used consumer payment method and you can't deposit cash using an app.
"Branch closures hit firms with additional costs – it becomes more difficult to manage cash flow and forces them to waste hours that should be spent doing business traipsing miles back and forth to a distant branch."
Meanwhile, Unite the Union's regional officer Lyn Turner, who will also give evidence today, accused RBS of "massaging the figures" behind its case for closure and said the bank will be "responsible for the devastation of local communities across Scotland".
"From day one RBS has massaged the closure figures," she said. "On the scale of job losses in Scotland. On the quality of replacement services and on what this will mean for the devastation of local communities.
"They like to tell us that RBS is the Royal Bank FOR Scotland. It actually appears to be the Royal Bank for smoke and mirrors.
"In the last decade the tax payer paid out £45billion to bail out the failed executives of RBS in the financial crisis. This is a betrayal of the people of Scotland."
Edinburgh West MP Christine Jardine, whose constituency contains the RBS headquarters, said she was shocked by the evidence submitted in advance of the hearing.
She added: "RBS customers are entitled to expect that their bank will continue to provide the service which is vital to so many rural communities, both for individuals and for businesses."
RBS was contacted for comment.