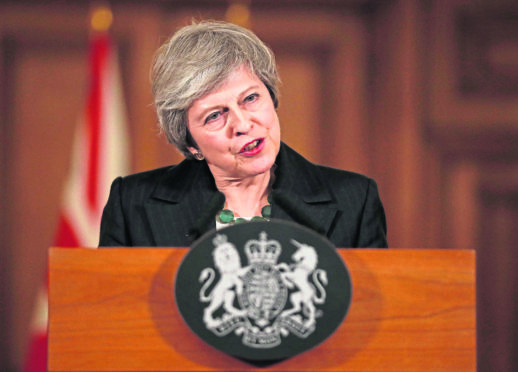 Theresa May has survived the night and she now cannot be challenged by her own MPs for a year, but her woes are far from over.
Labour – hesitant thus far – could yet table a motion of no confidence in the UK Government.
And if they don't, the other opposition parties have indicated they will take matters into their own hands, although it is only the official opposition that is guaranteed parliamentary time for such a vote.
But – putting all that to one side – the fact remains that Mrs May has to get her Brexit deal past the Commons. That hasn't changed.
The unexpected decision, after repeated insistence it would not be pulled, to defer the so-called meaningful vote was exactly that – a postponement, not a cancellation.
So in pursuing this course of action the embattled Tory leader has only kicked the can down the road.
She will have to come back to the chamber with something MPs can vote on, be that a deal or no-deal, although fears were raised in Tuesday's emergency debate on the issue that the government will somehow try and sneak out of this via "trickery" or "loopholes".
The question is what her second offering will be and whether it will provide sufficient reassurances on the proposed backstop insurance policy to prevent a hard border on Ireland (in the event no agreement is reached on a trade deal by the end of the transition period) to satisfy MPs.
Given EU leaders' assertions that the withdrawal agreement and political declaration are not up for renegotiation, it's unlikely the prime minister will be able to secure more than tweaks to the deal.
In that case, she will find herself up against the same brick wall once again.
What happens then?
Some are suggesting she could try to run down the clock, only returning to the House at the last minute, thereby trying to force a choice between her deal or no-deal.
Another possible scenario is that Jeremy Corbyn pushes the button on the vote of no confidence process once it is clear Mrs May is flogging the same deal as before, as a Labour spokesman suggested earlier this week.
If such a motion passes, there would be a 14-day window for another government to be formed. If one can't, then a general election would take place.
Other means of breaking the deadlock include giving the decision back to the people in a referendum on the deal and while Mrs May has said on numerous occasions this is not on the table, she has form when it comes to changing her mind (last year's general election, not pulling the meaningful vote…) so another U-turn wouldn't surprise anyone at this point.
Finally, the prime minister could seek to extend Article 50 which would provide more time to find a solution.
And she may ultimately conclude this is the least-worst option from her point of view.
However things unfold, Mrs May might be able to put off the inevitable for a wee while, but she has no long-term future as leader.
She is no doubt aware of this, having committed to stepping down before 2022.
But her dogged determination to "finish the job" of "seeing Brexit through" – and extraordinary, seemingly never-ending capacity to pick herself back up when she's been knocked down – means we can expect her to keep fighting, on that front, until the bitter end.