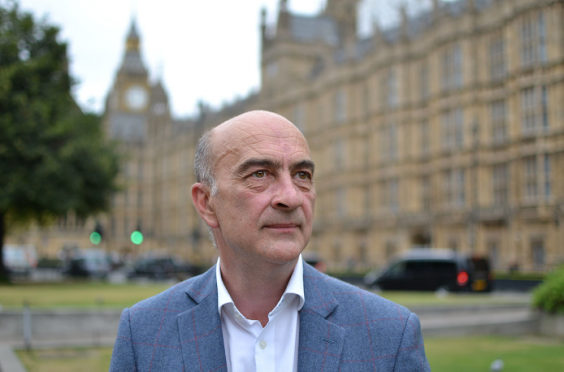 "I am going to die."
The first time I heard these words uttered by my friend, I was reduced to tears. So were the others in the room. The occasion was a reception at 10 Downing Street.
Samantha Cameron was there, standing beside a remarkable man who's prediction came true on Friday.
His name is Gordon Aikman. He had motor neurone disease. He was 31.
Gordon had a gift. You just wanted to like him. Indeed you didn't have a choice. He was that kind of guy.
Although he made his mark as a political analyst and researcher, he won respect – no, he earned respect – from all quarters.
I got to know Gordon when he was with Better Together in the run up to the Scottish independence referendum. He was calm. Assured. Professional. And always, always courteous.
Politics mattered. The referendum mattered. But play the ball, not the man, was his hallmark.
His universal appeal could be seen when politicians, inspired by Gordon, had themselves drenched in cold water as they took part in the "Ice Bucket Challenge" to raise funds. They did so with a shiver in their bones, but smiles on their faces.
Gordon, after his diagnosis and as his condition took hold, had to step back from daily work in the campaign.
But he found a new drive. To do everything he could to limit the number of people who would have to go through what he was enduring.
He knew he was going to die. But he wanted to save others.
His efforts were superhuman. Half a million pounds. And counting.
Money for research and support and endless political lobbying north and south of the border to raise awareness and put MND at the top of the health agenda.
I remember fixing a meeting for him with Jeremy Hunt. We met in a hotel in the north of England. Both had gone out of their way to meet and the health secretary was moved by the occasion.
But that was Gordon. He spoke – you listened. That's just the way it was.
So when the news of his death broke on Friday, social media paused what it was doing and paid tribute.
For a while, Trump and Brexit and indyref2 didn't matter as much.
Leaders of all the parties in Scotland tried to find the words to fit such a selfless life and tragic death.
Our first minister, Nicola Sturgeon, said: "I'm so terribly sad to hear that @GordonAikman has died. He faced adversity with incredible courage and did so much good for others"
The Scottish Conservatives' leader Ruth Davidson paid this tribute: "So sad this morning to hear of the death of Gordon Aikman, a brave and beautiful man. My thoughts are with his husband @joepike and wider family"
And his good friend, Scottish Labour leader Kezia Dugdale, added: "Gordon was a beautiful man who existed to do nothing but good in this world – just devastated"
And the tributes poured in. From Liberal Democrat leader Willie Rennie and the Greens' Patrick Harvie, from former PM Gordon Brown, from MPs and MSPs from all parties.
From friends, colleagues and fellow campaigners and sufferers.
From ordinary folk touched by a remarkable and wonderful man.
For all, Gordon was an inspiration. He made the most of every moment and cherished every minute with his husband, Joe.
He tweeted on New Year's Day: "Oh hi 2017, I didn't expect to see you. Thanks for all the love and support that's helped get me here."
Now, his life is over, but his campaign – Gordon's Fightback – goes on.
————————————————————-
I was strolling down the street, looking for a barber to get what's left of my hair trimmed. And my beard kept in shape. But to no avail.
All were fully booked. It was a Saturday at the end of the month. Obviously "Have A Haircut Day" in Edinburgh.
And then I spotted it. Or rather I spotted it again. I had passed this particular barber many times. But never ventured inside. It was wood-panelled. Frosted glass. Old school.
I had rather fancied myself as a modern man. Not quite hipster, but hipsterish.
But then the pangs of nostalgia hit me. I had a flashback to my youth. Trips to the department store down town.
Sitting on a wooden plank on the barber's chair with the scissors snip snipping and my mother making sure it was a short back and sides.
The white-coated, middle-aged, ever-so-courteous barber.
So in I went. And the aroma took me back. Old Spice. Old world. No rush.
It was, mostly, as I remembered.
And just as in my youth, I didn't get asked if I wanted "Something for the weekend, sir?"
————————————————————-
This is, probably, my favourite time of the year.
Six Nations. Rugby in the raw.
For Scotland fans, the perennial hope. This time. Yes this can be our year. Just like 1984 and 1990.
Gland Slam here we come….. and then reality takes over.
England, or Ireland, show us the facts of rugby life. And we battle bravely to avoid the wooden spoon.
But this time? Well why not? This is the best bunch of players we have had for a generation.
With strength in depth. And a winning mentality. And our domestic teams competing and winning in Europe.
So Ireland came, but Scotland conquered.
And France came within a gnat's whatsit of beating England.
So lets bask in a few days of rugby glory. And keep hoping. Maybe this year really can be Scotland's year.