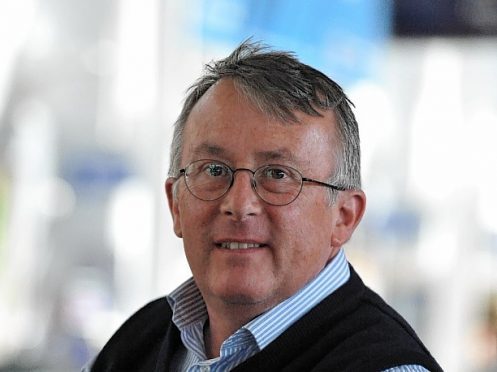 I give credit where it is due.
Last year – before I was elected as an MP – I took two friends to have lunch in the Scottish Parliament.
I was allowed to do this because some years ago I was an MSP – and ex-MSPs are still allowed to use Holyrood for occasional meals.
It is a good way of increasing the business of the place: and besides, it is a fun thing to do of an occasion.
Now I should say at the outset that my two friends were of a very different political persuasion to me. Not that that matters one iota, because friendship is friendship after all.
Anyway.
During the meal – lovely view of Arthur's Seat in the background – and as we started our main course, my lady guest started to stare hard over my right shoulder and pay not a bit of attention to my fascinating anecdote of the politics of yesteryear.
What could this be? So I turned round – and looked straight into the eye of Nicola Sturgeon who was hosting guests on the next door table.
"Jamie – what on earth are you doing here?"
Hastily I got to my feet "Oh, ah – Nicola – I mean First Minister!" and then I thought very quickly.
"I've got two guests here who would simply love to meet you – would you mind if I introduced them to you?"
Well you know, I must admit that she was great. Not just handshakes, but one of her guests was told to put down his knife and fork and (slightly grumpily) take a snap of Nicola and my guests. It made their trip to Holyrood.
Today the picture hangs on the living room wall – which is poignant because my lady guest is no longer with us. I am grateful to Nicola for that simple act of kindness.
Fast forward to Wednesday this week: once again in Holyrood; in a room in what they call the ministerial tower. On this occasion I am visiting the Scottish Parliament as a newly-elected Westminster MP.
"My argument is simple. What if a mum is living at somewhere like Canisbay in Caithness, and her contractions start, or her waters break. What if it is January and the weather is dire and her ambulance gets stuck in snow drifts at the Ord?"
"What if the emergency helicopter at Inverness has been summoned to a serious road accident in the opposite direction at Kingussie or Fort William? Then what? As people in Caithness have repeatedly said to me, it is a tragedy waiting to happen."
"You can have the safest, most brilliant, maternity service in Inverness, but it's no good if mums from far away have difficulty accessing it."
This was the case that I put to Shona Robison, the Cabinet Secretary for Health, and her officials. It is an argument of mine that P&J readers will already be familiar with. I have made it many times.
Now, again to give credit where it is due, Shona Robison did listen, and she did give me several undertakings.
One of which is that she will ensure that the arrangements for hospital transport to and from the Far North to Inverness are rigorously safety-tested by her civil servants, especially during the winter.
Another is that the issue of capacity in Inverness (ie whether Raigmore Hospital in Inverness has the necessary space and staff for all these extra Far North mums and babies) will be thoroughly checked out.
So Shona Robison did try to help. It would be churlish not to acknowledge this – and perhaps in terms of a meeting between a Westminster MP and representatives of the Scottish Government, two rather different entities, one is not going to get a lot more than this.
But I am absolutely certain that the risk associated with all the travelling that Far North mums are now having to do is the cardinal question.
It is the question that cannot be ignored.
The Jellicoe Express
To Thurso yesterday – to say a few words and unveil the Jellicoe Express centenary plaque in Thurso railway station.
For much of the First World War, Admiral Sir John Jellicoe was the Commander of the Royal Navy's Grand Fleet based at Scapa Flow in the Orkney Islands.
By 1917 the German U-boat submarine menace had become so great that it was deemed far safer to transport personnel to and from their warships and their Orkney base by rail rather than by sea.
Hence the daily Jellicoe Express that came into being that year.
At 717 miles from Euston Station in London to Thurso at the top of mainland Scotland, it was the longest continuous rail journey that we have ever had in the UK. Heading north it took 21 hours 30 minutes and the return journey to London took slightly longer at 22 hours and 20 minutes.
It became part of national parlance – a very long journey that the many thousands of naval personnel became only too familiar with – and during the Second World War it was to be revived again, and for exactly the same U-boat reason. Indeed my own father used it himself during that war.
Is it only of interest to railway buffs? No – it goes much further than that.
It tells the tale of how this country was determined to win both wars and how we were prepared to completely reorganise transport in order to do so.
It also reminds us of Admiral Sir John Jellicoe, the man Churchill described as "the only man on either side who could lose the war in an afternoon" (ie by means of a German victory in a massive naval battle).
Jellicoe saw to it that this absolutely did not happen.
How many toes does a pig have?
Mention of Winston Churchill brings to mind the great man's son Randolph Churchill.
In 1936 he was a candidate in a famous Ross & Cromarty by-election.
Somewhere in Wester Ross (some say Aultbea) the story has it that Randolph was addressing a gathering of crofters – and that Randolph was chuntering on about crofting and agriculture, subjects of which he clearly knew very little.
"Excuse me, Mr Churchill" interrupted a local wit "Can you tell me how many toes does a pig have?"
Quick as lightening Churchill shot back "Take off your boot, my man, and count!"
He was not successful when they counted the votes.
Jamie Stone, Liberal Democrat MP for Caithness, Sutherland and Easter Ross