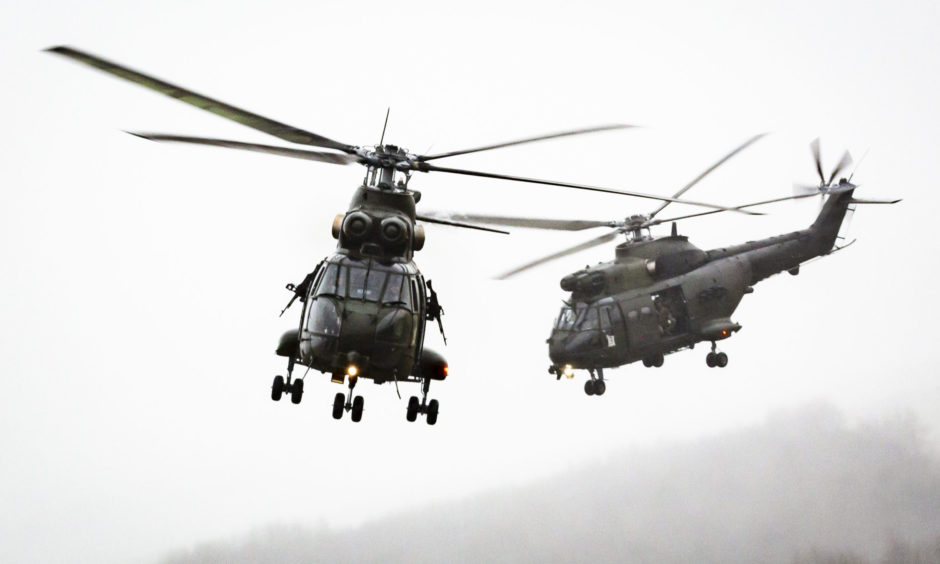 Three RAF Puma helicopters have been deployed to Kinloss Barracks, Moray, to support Scottish health boards during the coronavirus crisis.
The aircraft can be used for evacuating patients, transporting NHS staff and equipment as well as the military who are on standby to help with the pandemic.
The arrival of the helicopters comes after military medical and liaison experts were installed in the Scottish Government's Edinburgh headquarters.
According to the Ministry of Defence (MOD), the Pumas will work with a Chinook and a Wildcat helicopter based at RAF Leeming, North Yorkshire, to help boards in Scotland and northern England.
Their deployment follows concerns about the treatment of coronavirus patients on islands, where there are limited or no intensive care facilities.
This new Kinloss-based support follows the use of an RAF A400M transport aircraft, working with the Scottish Ambulance Service, to airlift a critically ill patient from the Shetland Islands to Aberdeen to receive intensive care treatment.
The aviation support is in addition to a team of Army medical, logistics, supply and humanitarian relief planners who joined the Scottish Government's Emergency Co-ordination Centre team in Edinburgh earlier this week.
The team of military planners and liaison officers are now co-locating at St Andrew's House in Edinburgh. This team will be supported by the Battalion Headquarters of Penicuik-based 2 SCOTS, The Royal Highland Fusiliers, 2nd Battalion, The Royal Regiment of Scotland. Additionally, a wider team of military liaison personnel will be made available to every health board in Scotland.
As well as work with the Scottish Government's Resilience Room, a network of officers, usually commanders of local units, will work with Local Resilience Partnerships across Scotland.
Puma helicopters are designed to take platoons in and out of battle, so they have a impressive capacity when it comes to moving people and equipment.
"The creation of these helicopter hubs is the next step in our armed forces'emergency services and local communities wherever needed across the highlands and islands of Scotland – the armed forces have always got your back," said Defence Secretary Ben Wallace.
"In addition, our superb military planners and logisticians are engaging with the governments and health services of Scotland, Wales and Northern Ireland to support their efforts in responding to the virus."
A second helicopter facility will cover the Midlands and southern England working out of the Aviation Task Force Headquarters at RAF Benson in Oxfordshire. Chinook and Wildcat helicopters normally based at RAF Odiham and RNAS Yeovilton respectively will support the southern areas.
The helicopter facilities have been set up to support medical transports across Scotland and the rest of the UK. The new task force will also be available for general support such as moving equipment and personnel across the wider UK.
All the helicopter forces will be supported by the Joint Helicopter Support Squadron, normally based at RAF Benson, as well as the Tactical Supply Wing, based at MOD Stafford. Personnel from all 3 services across the Joint Helicopter Command will be coming together to support the task force.
Moray MP Douglas Ross added: "We have always known how lucky we are to have a large military presence here, and have welcomed them as a vital part of our community, appreciating the work they do to keep us safe.
"This extra response and creation of a helicopter hub at Kinloss Barracks shows Moray is again at the centre of the operation to assist with the Covid-19 outbreak and we thank everyone for their efforts at this challenging time."
Helicopters welcomed by Scottish Government
The military support was welcomed by Deputy First Minister John Swinney, who said: "Scotland's public services and our NHS are working flat out to support the effort to tackle Covid-19. Our Scottish Government resilience operation has always had a strong working relationship with the armed forces, offering assistance during severe weather, and we welcome their support during these unprecedented and difficult times."
Group Captain Adam Wardrope DFC, Aviation Task Force commander said: "We are at high readiness to provide support to anywhere in the UK that needs it.  We have operationally experienced crews who are on standby to assist with medical evacuations across the nation in response to COVID-19.  We also have the capability to support the NHS with the distribution of critical equipment and personnel as needed."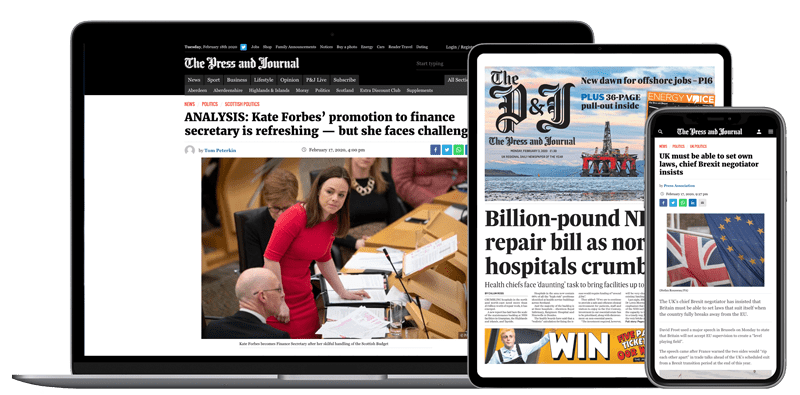 Help support quality local journalism … become a digital subscriber to The Press and Journal
For as little as £5.99 a month you can access all of our content, including Premium articles.
Subscribe