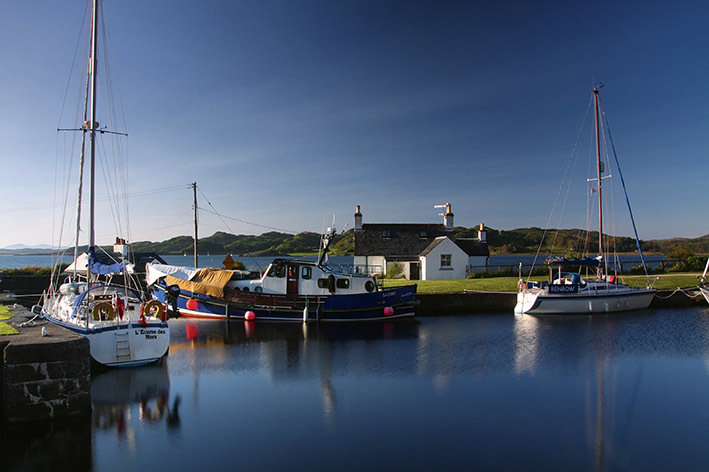 Additional help for island and rural hospitality businesses at serious risk of ruin from coronavirus will be essential, the Scottish Government has acknowledged.
With the country's hotels, bars and holiday industry expected to reopen to the public on July 15, fears have been raised over the additional strains faced by island tourism businesses.
It follows worries expressed at a parliamentary committee meeting by the director of business growth at Highlands and Islands Enterprise, David Oxley, who said up to 25% of the entire workforce in the region had been furloughed — which equated to around 60,000 jobs.
Mr Oxley said there had been an "over-reliance" on the tourism and hospitality industry prior to the coronavirus outbreak in the Highlands and Islands, in particular the more rural areas.
A decrease in the number of ferries running between the mainland has also hindered business recovery.
With more people now expected to head to the islands in the coming months, rural economy and tourism secretary Fergus Ewing said work was being done to make sure capacity could increase while maintaining social distancing measures.
Seasonality an issue for Scottish hotels
Mr Ewing answered questions from Holyrood's tourism committee on Thursday morning.
Mr Ewing said a change to tax and VAT arrangements could help hotels pay staff well and counter-balance "seasonality" issues faced by the industry.
He said: "Businesses on the islands will need a little bit more help.
"All of the challenges businesses face on the mainland are exacerbated on the islands because of the limitation on ferry capacity because of social distancing.
"I very much hope the science will give a bespoke solution that will allow ferry capacity to increase.
"I know how important tourism is to the islands, particularly Orkney, Shetland, the Western Isles, Islay, Jura and so forth.
"I am also aware some communities are still concerned about the reopening of tourism.
"It is important to communicate that safety is paramount and there are various ways we will do that.
"We want to work with the islands' parliamentarians, we have had conference calls with islands MSPs, the last one with Jason Leitch, and we will continue that engagement.
"On Wednesday I asked VisitScotland to contact all MSPs."
He added: "There are particular difficulties with seasonality in Scotland.
"Seasonality is at the absolute heart of this because if a business has to make all its income in six months, it is not going to be as successful as a business that can operate over 12 months.
"One of the aims in tourism is to increase the overall success of the sector and try to extend the shoulder months and encourage people to support tourism businesses across the year.
"We also need to look at how we address the high taxation faced by the sector as a whole.
"An increasing part of hotels' expenditure has gone on wages because a great many of them have opted to treat their staff well.
"The best way to do that for as long a season as possible is not to face the same VAT and business rates. It is self-evident from a business point of view."
When asked about island residents' concerns about holiday makers who become ill while in their communities, Mr Ewing added: "The advice is if someone does have the virus, they should go home.
"They should not stay where they are, self-catered accommodation or, after July 15, a hotel.
"The business owner then must undertake a thorough clean of the premises."
Fears over over-reliance
David Oxley, director of business growth, Highlands and Islands Enterprise, said: "There has been particular difficulties for rural communities and island communities.
"There has been difficulty with access to flights and ferries, which has caused issues with people looking to move their products.
"It is sometimes taking an extra day to get food to island communities.
"There's been a huge challenge for businesses. We have seen roughly, across the Highlands, 25% of the total workforce on furlough, which is about 60,000 jobs.
"There has been unemployment in different areas we have experienced before, particularly in tourism hot-spots around Portree, Fort William, Broadford etc.
"That's been a real challenge for us. In terms of business resilience, businesses in the food and drink sector are traditionally small and medium-sized enterprises set up by entrepreneurs.
"They have not been particularly well capitalised in the past, they have not been sitting with significant cash balances, which has been an issue going forward.
"Many have been reliant on one particular market – often supplying the hospitality sector, hotels and bars.
"It has been a real challenge for them there, there have been lessons to be learned about diversification in how they look forward.
"There has been a real significant impact on the most remote and rural parts of Scotland."
Delayed reopening causing 'financial hardship'
Maurice Golden, Scottish Conservative shadow economy spokesman, said: "Tourism businesses have already missed a huge proportion of their important holiday season.
"The delayed reopening in Scotland is causing even more financial hardship.
"If the SNP government will not even consider bringing this reopening forward by a few days, they must give these businesses additional financial support.
"For many businesses this will be the only way they survive this difficult period.
"Many people will think it strange that Scots can go on holiday to England, but not in Scotland.
"The loss of this tourist market will be a bitter blow to Scottish business, and they must be supported."
Public toilets to open soon
The committee also heard how the Scottish Government is working on guidance to allow public toilets to reopen when the five-mile travel restriction is lifted and before beer gardens reopen.
Toilets have remained closed "because of the need to have the lack of capacity of social distancing", Mr Ewing said, although he hopes they can be reopened before the five-mile travel restrictions are dropped from July 3.
Bettina Sizeland, the Scottish Government's deputy director of tourism, noted there was no confirmed date for the reopening of facilities.
She said: "The toilets issue obviously is one that impacts on a lot of recreational activity and currently colleagues within Scottish Government are working on further guidance to ensure that toilet facilities in particular can be reopened safely."