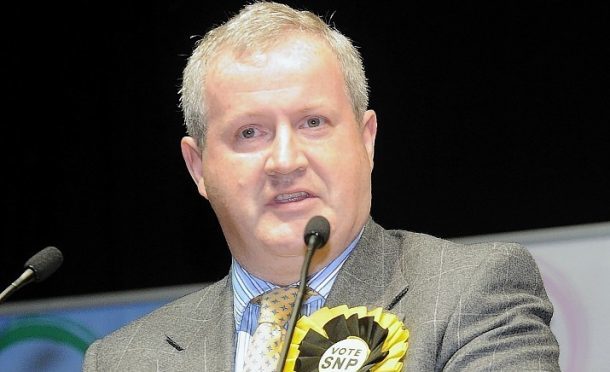 SNP Westminster leader Ian Blackford has implored Theresa May to "shake the magic money tree" for women affected by accelerated increases to their state pension age.
The Highland MP called on the under-pressure prime minister to "end the injustice" for those hit by the changes before she "thinks about retiring" herself.
But Mrs May insisted equalisation was the "right thing to do" and that women would be better off in future than they had been previously.
Their exchange came during the last Prime Minister's Questions before the summer break.
Shortly afterwards, the UK Government announced the state pension age will rise from 67 to 68 from 2037, seven years earlier than scheduled.
Plans to bring women's retirement age into line with men's by 2020 – originally set out in 1995 – were fast-tracked in 2011.
Many women say they were never told, or only latterly, that they would receive their state pension later than expected.
Campaigners are not against equalisation but want protection against hardship, arguing they have been unfairly disadvantaged.
Yesterday, Mr Blackford asked Mrs May whether she believed the Conservatives had delivered "pension fairness for women who like her were born in the 1950s".
He added: "You have found up to £35billion for Hinkley Point C nuclear power station, up to £200billion to replace the Trident missile system, and £1billion for a deal with the DUP just so you can keep your own job.
"You seem to be able to shake the magic money tree when you want to.
"Can you now end the injustice for those women who are missing out on their pensions, before you think about retiring?"
The Tory leader said £1billion extra had been made available to ensure nobody sees their state pension age increase by more than 18 months from when it was previously expected.
She added: "We are equalising the state pension age – I think across the whole House everybody will recognise that that's the right thing to do."
Meanwhile, Aberdeen North MP Kirsty Blackman reiterated calls for the UK Government to lower the voting age to enable 16 and 17-year-olds to have a say on their future.
The SNP's deputy Westminster leader said young people had proven themselves in recent elections to be "the most knowledgeable and most engaged they have ever been".
Dismissing the suggestion, Mrs May said 18 was the "right point for the voting age to be".