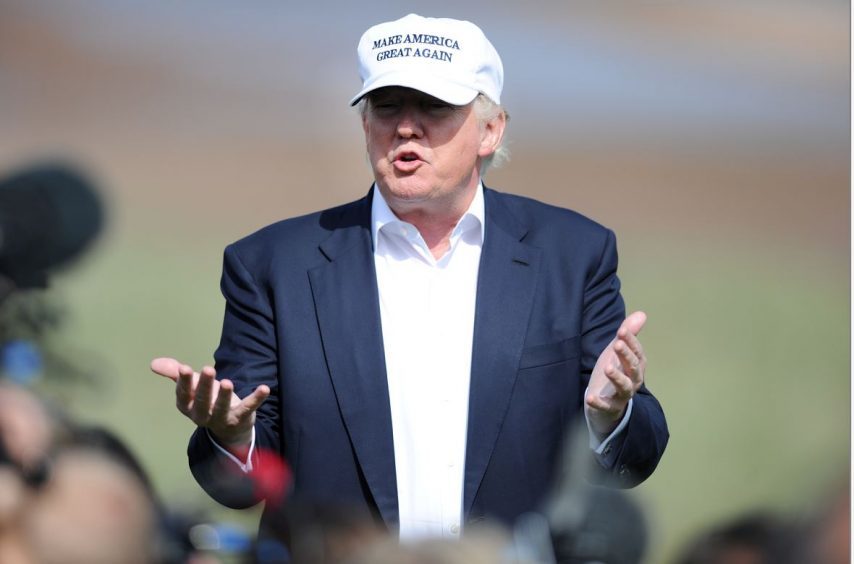 Donald Trump has warned that Brexit could have an impact on US investments in the UK.
But the New York-based businessman believes the country will ultimately be successful outside the EU.
The presidential hopeful – who is the presumptive Republican nominee for the White House – was speaking during a visit to his Aberdeenshire golf resort.
The tycoon held court on the 13th, 14th and 18th tees as he toured Trump International Golf Links, Scotland on the Menie Estate near Balmedie.
He had earlier welcomed the result of the EU referendum vote while visiting his revamped Turnberry course in Ayrshire.
And quizzed about the impact of Brexit on the US during his north-east trip he said: "Americans are very much different. This shouldn't even affect them. I mean frankly if it's done properly. If we had proper leadership right now."
Pressed on whether Brexit may US businesses from investing in the UK, he said: "I think it may have a little effect but they wanted their independence, I fully understand it.
"I think that they (the UK) just have to get their act together and make it work.
"They want to be independent and that's what it is. This is an amazing place, an amazing country and it's going to be very successful ultimately."
Mr Trump also suggested the UK's vote to Leave could spell further disquiet in the EU.
He said: "I think it's going to be in a lot of trouble. I think a lot of other people are going to follow.
"I mean, I believe you'll see, I was the one that said this was going to happen, I believe you're going to see other people doing the same."
Meanwhile, Mr Trump said "he wouldn't be bothered" by Scottish Muslims visiting the United States in an apparent policy turnaround.
He was asked to clarify his proposed ban on Muslim immigration to the US.
Mr Trump – whose arrival by helicopter was preceded by a protest group carrying Mexican flags in response to his plans to build a wall at the border with the central American nation – also insisted he has "tremendous popularity" in the north-east, adding that documentary makers could not find any Aberdonians who disliked like him.
He was asked directly about his belief that immigrants from countries linked to Islamic terrorism would be barred from the US and what his stance would be on Muslims from Scotland entering America.
He replied: "It wouldn't bother me."
The presidential hopeful's controversial policies have attracted high levels of criticism in the UK, with almost 587,000 people signing a petition to ban him.
But when asked about the Mexican flags being flown from houses bordering his Menie championship course, Mr Trump said: "I didn't see it. We have great popularity in this area and obviously we have great popularity around Turnberry. But we have tremendous popularity here."
Mr Trump's helicopter touched down on the 10th fairway, before he embarked on his roving press conference around the course.
Flanked by secret service agents, who had scanned members of the press for weapons before Mr Trump's arrival, scores of journalists and photographers followed him in golf carts, as he stopped to answer questions and have pictures taken.
When asked if First Minister Nicola Sturgeon had declined her invitation to visit Turnberry, he replied: "No I don't think so."
"I really don't know, I've never met her. I'm sure she's very nice, it's just I've never met her.
"No I haven't asked to meet with her."
He praised the controversial Trump International course as "a masterpiece" and vowed to take the same approach to his possible presidency.
He said: "We started with nothing and now we have a great masterpiece, that's what we have to do with our country, that's what we have to do with the United States, that's what many countries have to do. No doubt about it."
Despite being asked repeatedly, Mr Trump would make no further statement about the Aberdeen Bay windfarm project.
He has been involved in a lengthy battle with the Scottish Government over the scheme – the European Offshore Wind Deployment Centre – which he claims will spoil the views from his course.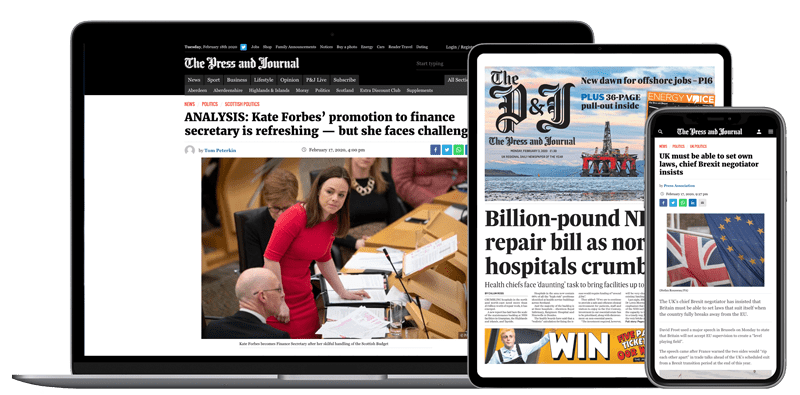 Help support quality local journalism … become a digital subscriber to The Press and Journal
For as little as £5.99 a month you can access all of our content, including Premium articles.
Subscribe