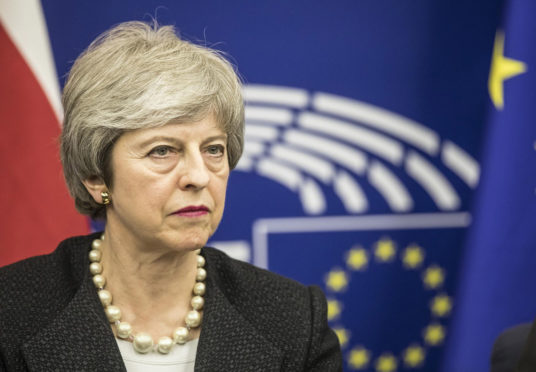 Theresa May faced calls to resign from Tory MPs after accepting an EU offer to delay Brexit until Halloween.
The prime minister, appearing in the Commons after another late night round of negotiations in Brussels on Thursday, was accused of "abject surrender" by Brexiteer MP Sir Bill Cash.
The explosive exchanges came just hours after former Brexit secretary David Davis warned Mrs May that calls for her resignation would now "increase dramatically".
Undeterred, Mrs May told MPs that it was their "national duty" to reach an agreement on the UK's withdrawal from the EU.
She said: "We need to resolve this. So that we can leave the European Union with a deal as soon as possible.
"This is our national duty as elected members of this House – and nothing today is more pressing or more vital."
She added: "I welcome the discussions that have taken place with the Opposition in recent days – and the further talks which are resuming today.
"This is not the normal way of British politics – and it is uncomfortable for many in both the Government and opposition parties.
"Reaching an agreement will not be easy, because to be successful it will require both sides to make compromises."
SNP Westminster leader Ian Blackford warned Mrs May that his party would not "accept any Brexit deal cooked up by the Tory government and signed, sealed and delivered by the Labour party".
The Ross, Skye and Lochaber MP said: "The past three years alone have shown that Westminster is not working for Scotland, and with each day that passes, it is becoming clearer that the only sure way to protect Scotland's economic and social interests is with independence."
Banff and Buchan Tory MP David Duguid said he was "extremely disappointed" that the UK had not yet left the EU with a deal.
He said: "There has been too much political game-playing – and a certain amount of intransigence from a few members of my own party.
"My constituents – no matter if they voted Leave or Remain – have had enough of the delays and they just want us to get on with it.
"I sincerely hope we can avoid taking part in the European elections and I will be working hard to ensure we leave as soon as possible – with a deal in place."
Gordon Tory MP Colin Clark added: "The extension is regrettable. To avoid taking part in the European Parliament elections, which would make a mockery of the referendum, we must get the withdrawal agreement ratified before May 22.
"Parliament must stand up for the will of the people, deliver the Article 50 decision to leave and support the deal on the table."