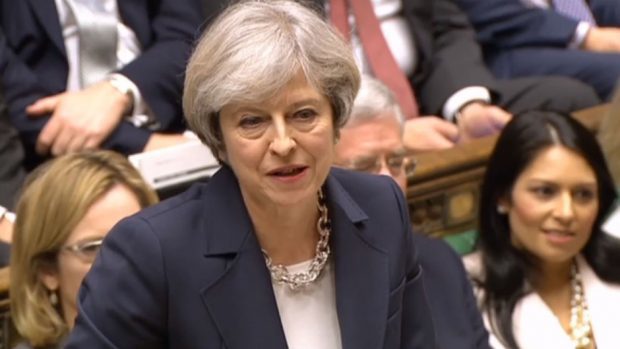 Theresa May has rejected calls to quit over her handling of Brexit, telling MPs the current impasse was "not an issue about me".
Brexit-backing Tory MP Andrea Jenkyns told Mrs May that she had "failed" in EU withdrawal negotiations and forfeited the trust of the public.
The testy exchange at prime minister's questions came as pressure mounted on Mrs May to name a date for her departure, while cross-party Brexit talks with Labour dragged on without a conclusion.
Ms Jenkyns said: "Could I say to the prime minister, she has tried her best, nobody could fault or doubt her commitment or sense of duty but she has failed, she has failed to deliver on her promises.
"We have lost 1,300 hardworking councillors and sadly the public no longer trust her to run the Brexit negotiations. Isn't it time to step aside and let someone new lead our party, our country and the negotiations?"
Mrs May responded: "This is not an issue about me and it's not an issue about her, if it were an issue about me and how I vote we would already have left the European Union."
Following the Commons exchange, a Downing Street source indicated that Mrs May would not be setting out any more explicit timetable for her departure.
"The prime minister made a very generous and bold offer to the 1922 Committee a few weeks ago that she would see through phase one of the Brexit process and she would leave and open up for new leadership for phase two," said the source.
"That's the timetable she is working towards. She wants to get Brexit done."
The source declined to say what part Mrs May would play in campaigning for the European elections.
Meanwhile, talks on a compromise deal were continuing in Whitehall on Wednesday evening, with Labour insisting the Government still needs to shift on its red lines.
A Labour source indicated that the talks could not continue "indefinitely".
At Scotland questions, the SNP called on the government to drop its opposition to a second independence referendum if the party won the forthcoming European parliamentary elections.
Scottish Secretary David Mundell responded: "The fundamental issue is that when the people of Scotland determined their own future in the 2014 referendum and voted decisively to remain in the UK, (he) and his friends didn't like the answer and their position is to keep going, to challenge that result until they get the answer that they want. But I've been very clear, this government will not agree to another independence referendum before 2021."
He added that leaving the EU "will of course result in substantially increased powers" for the Scottish Parliament.