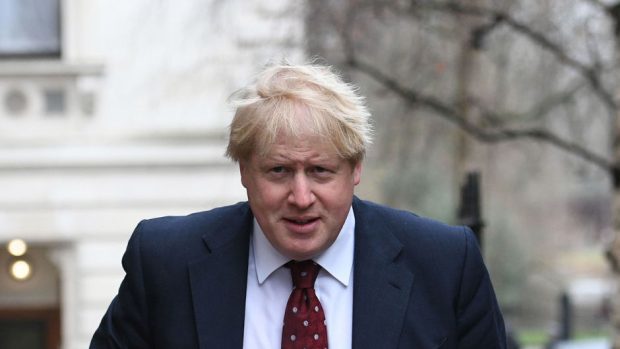 Boris Johnson has apologised for a series of offensive articles and comments published about Scots while he was editing a political magazine.
In an exclusive interview with the Press and Journal the former foreign secretary said he was "sorry" for any offence caused by the pieces which likened being a Scottish MP to having a "political disability" and stated that "government by a Scot is just not conceivable".
Mr Johnson also tore into the SNP's record in government in Holyrood, saying that Nicola Sturgeon and her party had "used devolved power to damage the Scottish economy".
The former London mayor, who will be at leadership hustings in Perth with rival Jeremy Hunt today, also revealed that if the UK does leave the European Union without a deal on October 31 he will use a chunk of the £39 billion divorce payment to instead "support Scottish rural communities".
Mr Johnson was also coy on rumours that former prime minister David Cameron and chancellor George Osborne were considering a return to front-line politics.
Asked if he would give either a job in his Cabinet in future he said: "I have always admired the work both David and George did".
Meanwhile Jeremy Hunt has pledged a review of spirit duty to ensure the Scottish whisky boom continues.
Speaking ahead of the hustings he said: "My commitment to the Union is second to none, but I don't want to be a prime minister who declares myself 'minister of the Union' and thinks that's enough.
"I have a vision to restore Scotland's economy to its historic strength by looking to the industries of the future.
"The entire country can become a green Silicon Valley and an exporting powerhouse that leads the UK, not the other way around.
He added: "Historically, Scotland has excelled at promoting ideas and inventions globally.
"Where there is an existing market advantage – in Fintech, BioTech, or the food and drink industry – I will seek to drive that home.
"That means a review of spirit duty to establish the best path to economic growth and the most tax revenue.
"Scottish whisky has an in-built, natural and nostalgic advantage over its competitors.
"We cannot get complacent. There are markets that must be seized in South America and Asia.
"But if we deliver a good Brexit deal and follow it with the right trade deals, we can continue the Scottish whisky boom."
Below is the full question and answer session with Mr Johnson.
Q. Ian Blackford has used prime minister's questions to call you a racist, he quoted from past magazine articles in which you described being a Scottish MP as a "political disability" and said that "government by a Scot is just not conceivable". Do you regret some of the language you have used in the past and would you like to extend an apology to Scots for that language?
A. Of course I am sorry if people take offence at distorted quotations from old newspaper articles – but one of the things I want to make clear is that Conservatives must reach out beyond the Westminster bubble and that means not just speaking in waffle and jargon. I am the only candidate who can truly unite the Conservative Party, deliver Brexit and keep the Jeremy Corbyn out of Number 10.
Q. Nicola Sturgeon has said that Theresa May's legacy will be Scottish independence, if you disagree then what do you think Mrs May's legacy will be? Will you remember her time in Number 10 fondly?
A. The prime minister has acted out of public service and dignity throughout her time in office, as I can testify from serving in Cabinet. I pay tribute to her stoical service to our country and the Conservative Party. It is now time to do what she endeavoured to do: come together and deliver Brexit.
Q. The SNP have demanded the devolution of more powers – particularly on immigration, would you allow further devolution on your watch? If not, why not?
A. Brexit is a moment of opportunity for every region and nation of our precious union. As we take back control of our money and laws from Brussels, these will be passed back to the communities who for too long have been neglected across the country.
I know from my time as Mayor of London what empowering regions can do to unlock huge potential from communities. But the SNP have used devolved power to damage the Scottish economy: making Scotland the highest taxed part of the UK, bloating the Scottish deficit to four times that of the UK's and desperately trying to keep Scottish Fishing communities locked into the hated Common Fisheries policy. Nicola Sturgeon should be focused on her day job.
Q. Jeremy Hunt has said he will set aside £6billion to help farmers and the fishing industry cope with a no-deal Brexit if he wins the race to Downing Street. Will you match that pledge and if not why not and what is your plan to support farming and fishing in a no-deal?
A. 'No deal' is extremely unlikely because I am committed to leaving the EU by 31 October in order to focus minds and secure a deal that works for every part of the UK.
But should our European friends leave us with no other option, we will withhold the Brexit divorce payment of £39 billion to spend on our own priorities and make the most of the £26.6 billion fiscal headroom the Treasury has separately identified to support the UK economy and Scottish rural communities.
But Brexit is a bigger opportunity to address the imbalances Scottish rural communities have faced for far too long. The best single thing that we can do for the Scottish fishing industry is leave the hated CFP, which the SNP shamefully wants to keep us in. Taking back control of our agriculture policy gives us a unique opportunity to transform the livelihoods of rural communities across Scotland. I will work with the NFU and others to look at what other changes we can introduce to get our farmers growing, selling and exporting more Scottish produce around the World once we can strike our own free trade deals.
Q. Mr Hunt has also offered a concrete guarantee to invest in military bases across the north-east of Scotland. What concrete investment guarantees can you give to the north-east and Highlands?
A. Our brave servicemen and women do an exceptional, selfless job defending us all – I witnessed this first hand as Foreign Secretary. So, I can give readers an absolute commitment to fund defence fully – this is no time to stop supporting our military bases in the UK when threats have multiplied in both scale and complexity in recent years. I guarantee that we will exceed the minimum 2 per cent NATO spending target and the Defence Budget will continue to grow at a minimum of 0.5 per cent annually.
Q. George Osborne and David Cameron are rumoured to be considering a return to frontline politics, would you welcome them both back to the House of Commons and would you give either a job?
A. We are blessed in the Conservative Party with a wealth of talent and I have always admired the work both David and George did recovering our public finances and giving the British people the opportunity to take back control of our laws, money and borders in the referendum.