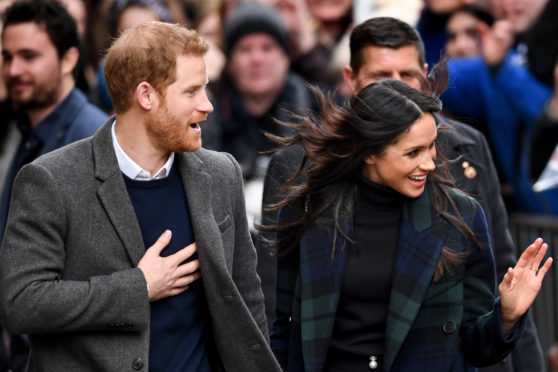 Prince Harry and Meghan Markle's arrival in Edinburgh today has delighted fans on Twitter.
The pair have already enjoyed a trip to Edinburgh castle, and spent time at social enterprise cafe, Social Bite.
They will also attend a reception at the Palace of Holyroodhouse, to celebrate youth achievements.
Individuals took to social media to express their delight over the couple's visit to the Scottish capital.
A wee trip to #Edinburgh and bump into Harry and Meghan ? @martydeila #HarryandMeghan pic.twitter.com/YqThsHAusa

— Catriona Cormie (@CatrionaCormie) February 13, 2018
I LOVE these two so much!
The anticipation of their big day grows bigger by the day!
Thank you for sharing their daily journey! ????#RoyalWedding2018

— Sang Heffa (@SangHeffa) February 13, 2018
Lovely to see all the crowds, young and old #scotlandshowedlove to #HarryandMeghan ?????????????????????

— Jozaphen™️ (@jozaphen) February 13, 2018
stunning as usual Meghan & loved the Tartan coat looked great on her she's just amazing her & Prince Harry just love them to bits can't get enough of them can't wait for the wedding i think she is going to look AWESOME she certainly has hit the floor running no stopping this duo

— Mo's Sweet Delights (@Mosweetdelights) February 13, 2018
You guys are amazing❤

— Claudia ???? (@klalmoon) February 13, 2018
They look lovely and glad they are promoting/supporting social bite! Harry has shown his ability to support great causes with the Invictus Games!! ?

— Mo (@mo_scot) February 13, 2018