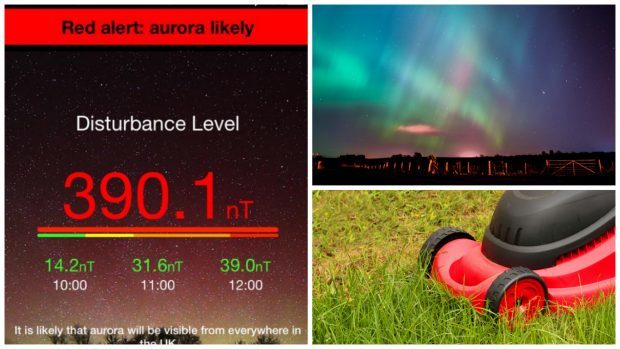 Northern Lights hunters were given false hope of a spectacular display – by a lawnmower.
Aurora Watch UK issued a "red alert" to subscribers, prompting planned trips to remote locations to scan the skies.
But red-faced experts hastily withdraw it after discovering a "massive spike" in geomagnetic activity was in fact gardeners cutting the grass.
AWUK, which is made up of members of the Space and Planetary Physics group at Lancaster University's physics department, usually rely on readings from a magnetometer at Crooktree, near Torphins in Aberdeen.
But as it had been "playing up", they switched to a backup device in Lancaster – with unexpected consequences.
A sudden surge sparked the issuing of alerts to subscribers about a "disturbance level" of above 390 nT (nanotesla) meaning a decent display was likely to be visible if skies were clear.
But it was quickly withdrawn and a message posted on the AWUK blog said "local interference" had skewed the data and the status was returned to "no significant activity".
A subsequent update explained: "We believe the interference was caused by University staff mowing the grass on a sit-on mower. We'll work with the facilities team to try and avoid an incident such as this occuring in the future!"
"After the alert was triggered, we manually edited our Facebook post to override the alert. Unfortunately, it was not possible to stop our alert emails being sent."
One user, posting as Tony, was less than impressed at the lack of email notification.
"If I hadn't checked your pages I would have been sitting on the Brecon Beacons tonight with a load of mates feeling rather silly," he told them.
Dr Nathan Case, who studies the dynamics of the Earth's magnetosphere, said the team were "feeling rather silly at this point too! ".
"I have contacted our mailing list administrator – hopefully he can send an email around cancelling the alert. Unfortunately, it's not something I can do myself and he is actually on annual leave (but is aware of the false alarm). Hopefully we'll get something sent round soon."