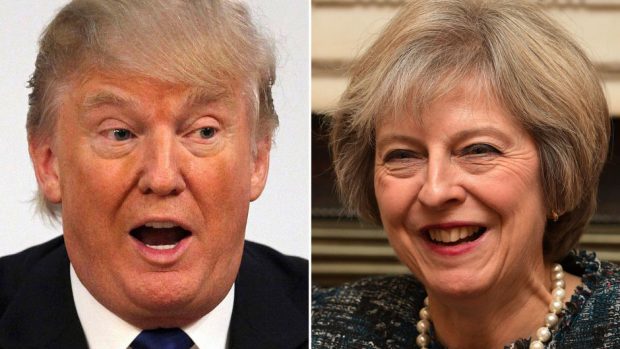 Theresa May has been urged to stand up to Donald Trump when she meets the newly sworn-in US president tomorrow.
Her visit – the first of a foreign leader – dominated Prime Minister's Questions in the Commons yesterday.
Labour leader Jeremy Corbyn raised concerns the Tory leader might be prepared to "offer up for sacrifice" the opportunity for American companies to come in and "take over" parts of the NHS or other public services.
"Will you assure the House that in any trade deal none of those things will be offered up as a bargaining chip?" he asked.
Mrs May said she was pleased to be able to meet President Trump "so early" in his administration, but insisted: "I am not afraid to speak frankly to a president of the United States. I am able to do that because we have that special relationship."
SNP Westminster leader Angus Robertson asked the prime minister to tell parliament what she wanted to achieve in a UK-US trade deal.
Mrs May said it was "very simple", adding: "An arrangement that ensures that the interests of the UK are put first."
Moray MP Mr Robertson pointed to the EU's high food safety standards and Europe's public national health systems.
He added: "The US, on the other hand, is keen to have health systems that are fully open to private competition and it wants to export genetically modified organisms, beef raised using growth hormones and chicken meat washed with chlorinated water.
"Will you tell President Trump you are not prepared to lower our food and safety standards or to open our health systems up for privatisation?
"Or do you believe that is a price worth paying for a UK-US trade deal?"
Mrs May said she would be looking to secure a deal that improved trade and brought prosperity.
In doing so, she would "put UK interests and UK values first", she stressed, in echoes of Mr Trump's "America first" rhetoric from his inauguration speech.
Former Labour leader Ed Miliband said Mrs May must tell the president to abide by the terms of the Paris Agreement on climate change and suggested she offer him the services of UK scientists to convince him it is real.
Mrs May said she hoped the parties to the Paris Agreement – the world's first comprehensive treaty to tackle greenhouse gases – would continue to support its roll-out.