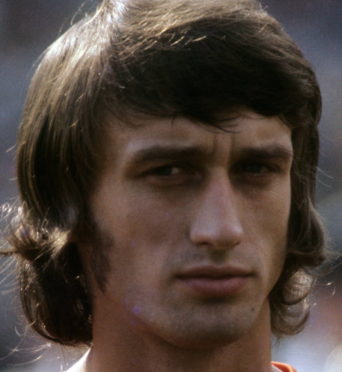 He was one of the great European players of the 1970s, who lit up the famous Dutch generation of total footballers.
And there has been sadness at the death of Rob Rensenbrink, aged 72.
The gifted winger was diagnosed with a muscle disease in 2012 and died on January 24 as a result of the illness.
Rensenbrink otherwise known as the "Snake Man" due to his weaving runs, who was also just inches away from delivering the Netherlands the 1978 World Cup in Argentina.
The legendary forward played for both his national team and a array of top-flight clubs during his illustrious career and helped his compatriots reach two world cup finals, although they were unsuccessful in clinching the trophy.
Born in Amsterdam, Rensenbrink was one of the few talented local youngsters to slip through the Ajax net in the early 1960s.
Instead of starting out there at the grassroots with other legendary Amsterdam-born players such as Johan Cruyff and Ruud Krol, he began his footballing career with another club in the city, DWS.
However, his talent on and off the ball earned him a call up to the national team in 1968 against Scotland.
A regular in the Netherlands national side during some of the nation's most dominant years, he played 46 times and netted 14 goals.
Away from international football, he plied his trade at Belgium giants Anderlecht during the 1970s and has been named by some as their greatest-ever foreign player.
In his entire career, he only missed from the penalty spot twice, and became the inaugural winner of the Onze d'OR.
The award honours the best player in Europe, with any player in a European league eligible by French magazine Onze Mondial.
As an individual he was the recipient of numerous accolades which showcased the range of his abilities throughout his career.
He was named in the FIFA World Cup All-Star team twice and placed in contention for the Ballon d'Or,  narrowly missing out to Franz Beckenbauer and Kevin Keegan in 1976 and 1978 respectively.