A new home has made Eve McLachlan think about the stereotypes that exist relating to island living – and how they might be holding us back.
A lot of people I know were surprised when I moved from the Scottish mainland to the Outer Hebrides in my early-20s.
Wasn't I, as a young person, supposed to be jumping to join the hustle and bustle of city life? What would I do there? Wouldn't I feel hopelessly isolated?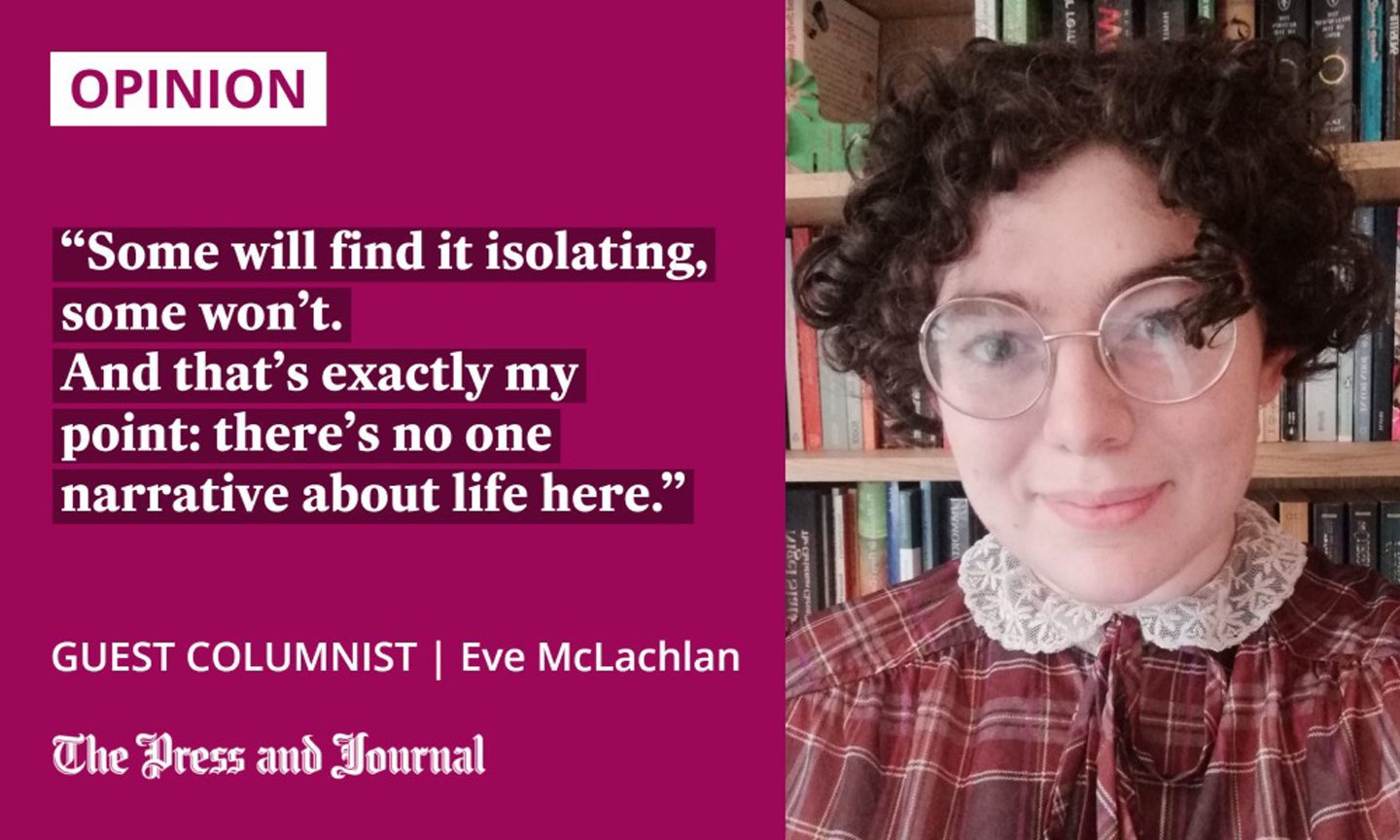 The image of the Hebrides as an awe-inspiring wilderness, free from the horrors of modern civilisation is well-ingrained. Airbnbs (of which there are many) inevitably promise a place to "get away from it all", to enjoy a few days of isolated peace, before heading back into the "real world".
But that's just a story – one invented to sell to the rich holidaymakers of Scotland's biggest cities. The more I think about it, the more I realise that my life on a Scottish island isn't any more isolating or disconnected than it was on the mainland.
What many people imagine just isn't reality here
To be fair, this might be because I live in the biggest town in Uist. But, that's a point in itself. When people think "Hebrides", they might imagine tiny blackhouses dotting the landscape, but that's not the reality for most people actually living here.
Ironically, there might be more people living in traditional buildings – if they weren't being snapped up for picturesque holiday houses. But that's a whole other column.
So, Uist living: let's start with the most important metric. I have never, even in my days in a busy university town, lived closer to a takeaway than I do now. (This has both upsides and downsides.)
When it comes to proximity to shops, the Co-op outside my Dundee flat edged out the island's two closest supermarkets by about three minutes' walk, although maybe we can award extra points for the sea view on the way.
And, how many places can you live in Scotland where it's a five-minute wander from your front door to an airport? It's a 50-minute flight to Glasgow, which means, in terms of journey time, I've never lived closer to my favourite Scottish city.
The tickets are, admittedly, expensive. But a couple of weekends in the big city per year is really all I need.
After my parents visited my house in Balivanich for the first time, they told me they didn't want to leave. And it wasn't because it felt like "getting away from it all".
They live in the Scottish Borders, solidly on the mainland. But, while they might be closer to Edinburgh, their house is arguably more "isolated" than mine; they have to drive to get anywhere, and the nearest bus stop is a quarter of an hour's walk and a steep hill away.
I'm more determined than ever to stay connected
They say that absence makes the heart grow fonder. In my case, physical distance has made me more determined to stay connected to my loved ones.
When I lived away from my parents on the mainland, for instance, it was easy to get complacent. Now, when I see an opportunity to visit, I'm more likely to take it. I know that, with ferry issues and the price of plane tickets, it's not as simple as just deciding to go another day.
Some people have seemed almost disappointed when I say how little my life has really changed since moving
Living in the Hebrides has given me a chance to stay connected with friends, as well.
After university, everyone goes off on their own journey. It's tempting, again, to just hope that our paths will cross again one day. But, for me, a visit to the mainland now means a rare chance to catch up – so I do.
Of course, this is all just my own story. For every person who moves to or away from the Hebrides, it's different. Some will find it isolating, some won't. And that's exactly my point: there's no one narrative about life here.
But it's that solitary idea of a place to "escape" to from the mainland that persists.
Some people have seemed almost disappointed when I say how little my life has really changed since moving. To me, thinking like that does a disservice to the Western Isles themselves.
Western Isles don't need a false narrative to make them inviting
The gorgeous landscapes and natural wonders of the Outer Hebrides speak for themselves, without having to be attached to a false narrative of being apart from "civilisation".
Our turquoise seas aren't any less beautiful because you can go to a cafe or community centre after your swim. Our stunning beaches of white sand are kept that way through the hard work of local litter-picking groups.
The unique aspects of island life don't make it any less "real" than on the mainland. And I don't feel like I'm getting away from something here – I feel like I've come home.
---
Eve McLachlan is a community reporter for The Press & Journal, based in the Western Isles