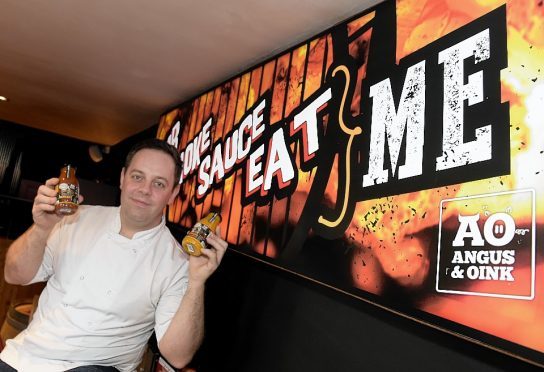 A barbecue is not just something to do on a sunny day, it is also a "dirty cooking religion", according to Chris Tonner.
He recently launched a temple to the dark art of cooking meat over smoke and flame in Aberdeen. Cue, the restaurateur's newest venture, replaced his restaurant group's fine dining favourite, The Courtyard, in March.
The move was a practical response to the Granite City's current economic climate – Cue's most expensive dish, the giant "mission critical meat platter", comes served with a challenge for those who dare finish the whole plate and a price tag of just £25.
But it is also the start of a partnership with a fellow barbecue obsessive and a potential chain of authentic, greasy-chinned, eat-with-your-hands barbecue restaurants.
"Yeah there's an economic downturn in Aberdeen," says Mr Tonner.
"The oil companies aren't spending money. A year ago we had every oil company in Aberdeen using this place (the Courtyard) Tuesday, Wednesday, Thursday night not even looking at what they were spending.
"Obviously it is not good but I like the way it challenged my thinking and made us all realise to survive you have to adapt. Which has been a good exercise – a hard one, but a good one."
It could be that fine dining in Aberdeen is on the wane – at least for now. Mr Tonner's first venture into the restaurant trade in 2009 was La Stella, a fine dining bistro recognised by Michelin and which was serving a seven or eight course taster menu.
This too has since gone the way of New York-style deli food and charcoal-grilled meats after the restaurant, part of Mr Tonner's Beetroot Restaurants group, relaunched as The Adelphi Kitchen in 2014.
For Mr Tonner, it all started with Marcus Bowden, whose blog CountryWoodSmoke has raised awareness of the essential joys of the perfect steak cooked over a fire in the UK. Based in Devon, Mr Bowden is also a geologist who works for a North Sea oil major, which brought him to the Granite city six months of the year where he started sharing his passion with Mr Tonner.
Also sitting beside the fire pit was Aberdeen-based husband and wife team, Scott and Malissa Fraser, who, inspired by living and working in the Americas, launched a range of barbecue hot sauces under the brand, Angus and Oink.
Mr Tonner and the Frasers are now in a business partnership with ambitions to grow.
"The story with Cue involves this," says Mr tonner as he brandishes a bottle of Angus & Oink Voodoo Mango sauce.
Mr Tonner, a shareholder in the sauce business, now makes 6,500 jars of Angus and Oink sauce a year in the kitchen at Cue, where it is also served on all the tables.
"Four big pans. We hand bottle them and label them. We have about 50 stockists. We've done loads of trade shows. We have two rubs and two chocolates. It is going really well," he says.
"We are looking to build a model where we can grow this and we grow Angus & Oink," says Mr Tonner. "With restaurant two and three, we can then start paying royalties to Angus and Oink."
The next move for the partners is likely to be a Cue restaurant in Edinburgh.
"We want to be able to six months a year down the line self-fund or look for investment to open a second one."
Q&A
Who helped you get where you are today?
My dad. He's my biggest inspiration. He had his own business since he was young. He's a daily motivator.
What do you still hope to achieve in business?
I could rattle off 10 things I want to achieve. Continued success and happiness. And retirement. Eventually.
If you were in government, what would you change?
I don't take much interest in politics to be honest. But if I could change something in politics it would be something to do with conflict and war.
What kind of car do you drive and what do you dream of driving.
A BMW X3. I'm quite happy with my car at the moment. Say an X5 – its the bigger one.
If you were a character in history or fiction, who would you be?
Being Albert Einstein would be pretty cool.
Is there anything you are currently reading or glued to on TV?
I spend all my time researching. I like watching food documentaries.
Do you fancy being a TV chef?
Never. I much prefer being behind the wall rather than in front of it.
What would your son say about you?
Miles, age 4, said: "We go to the funfair."