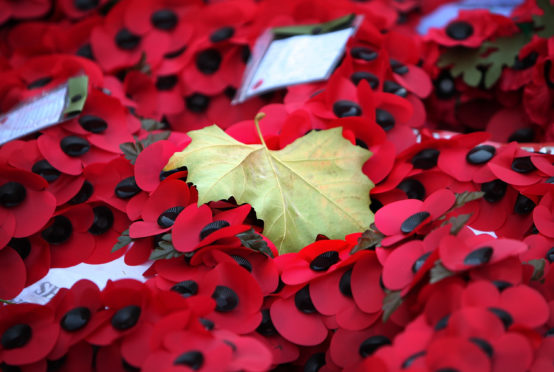 Memories. They swirl for me at this time of year, like fallen leaves.
Driving through Perthshire last week, the autumn reds and burnt oranges ran like fire through the landscape under the cold, clear light of brittle sunshine.
You could feel winter's approach, see it in the skeletal structure of trees that had partially shed their loads, the leaves scratching the ground erratically in the wind. Beautiful but sad too, an end and a beginning. Looking back and looking forward.
The memory when it comes is sparked by the cold, and for a minute is so visceral that I can smell it, taste it. I am there again, the winter streets of Glasgow with darkness falling, my childish hand clasping my father's eagerly. There is no safety like it, the impenetrable security that he represents. No-one can harm me because he holds my hand. I can feel the leather of his glove, the old, battered, brown leather glove, fastened with a dark red stud that glows dimly like an eye. Above us, starlings begin to gather on the wires.
The special memory sparks a chain: I am five, 10, 15. My father is there; my mother; my security.  And in that chain there is a sudden sense of connectedness, a clarity that sees every moment of my life is joined to the one before and the one after. Recently, I have been given advice about living in the moment, seizing the now. Good advice. But the epiphany in my sudden chain of memories is that we are what we are today only because of the past that forms us. Today is not an island at all, but a stepping stone between yesterday and tomorrow.
It is true not just of our personal lives, but of our social history. There are red poppies on the counter when I stop to buy a newspaper, paper versions of the only life that grew when the guns stopped and silence descended on the dark fields of war. The symbol that we have since chosen to mark the past but allow hope in a future, to respect those who died so that we, as we are so fond of saying earnestly, might live in peace and democracy. The deaths of those fallen soldiers are connected to our lives – or should be – except that even in our earnestness, we seem intent on cutting the cords, on creating a 'now' that completely ignores the experiences of our past.
Memories make us and check us. In the paper I buy, there is a haunting story about a Syrian child, a child whose bloodcurdling screams in hospital reduced adults around him to tears. Mohammed was burned in a Turkish airstrike and his fragile body is now wracked by the agony of 70% burns.  The red poppy is unconnected to him; his blood flows despite the lessons and the symbols. It makes me reflect on the increasingly popular white poppy as an alternative symbol.
Later, I read on-line that the white poppy is considered by some to be "offensive". I stare hard at that word, trying to make sense of it. How can something that symbolises peace, that is worn to respect the sacrifice of the dead but also challenge the notion of war as an answer to anything, be considered offensive? So many ironies lie in our attitudes to war, to remembrance, to poppies. The ceremonies, the wreath laying, the "respect" of our November commemorations, seem to have separated from our collective consciousness of what history has taught us.
So many allegiances and collaborations grew out of the post-war eagerness to change and learn. The United Nations. The European Union. They grew out of a Europe that had been ravaged by war twice in little over 20 years. There was a desperation for peace, a focused desire for nations to work together to create a unity and common purpose that would prevent major conflict in the future.
But we see these bodies now outwith the context in which they were formed. Gradually, the clarity of that post-war sense of purpose has become clouded, eroded by the usual political cocktail of ambition, greed and self-interest. We don't need them. We can go it alone. Meanwhile, the recorded rise in hate crimes, of every kind of "ism" – racism, sexism, homophobia, even disability hate crime – suggests we constantly fight so many mini-wars in our society that bigger ones must surely follow.
As a child, interminable televised remembrance services made my heart sink. Why were these old timers still relevant? That war stuff was long over. Now I truly understand the importance of collective memory, the bridge that it can create between the past and the future – if only we would let it. This month, lines from Laurence Binyon's poem, "For the Fallen" will be much quoted at remembrance services. "At the going down of the sun and in the morning, we will remember them." A powerful promise but not one that we seem to keep. Lest we forget? I fear we have already.
---
Catherine Deveney is an award-winning investigative journalist, novelist and television presenter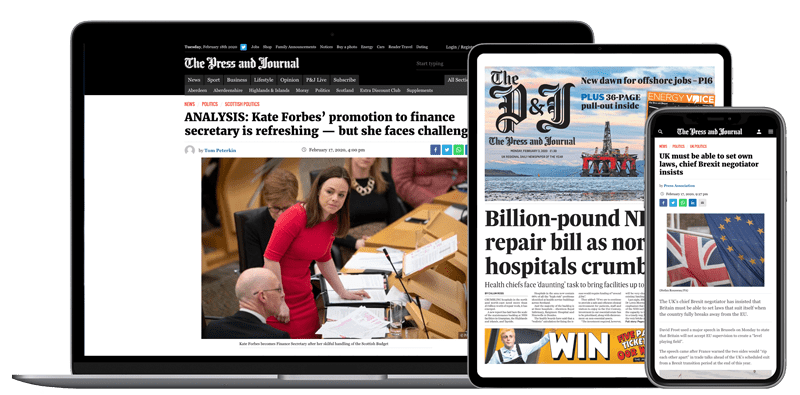 Help support quality local journalism … become a digital subscriber to The Press and Journal
For as little as £5.99 a month you can access all of our content, including Premium articles.
Subscribe