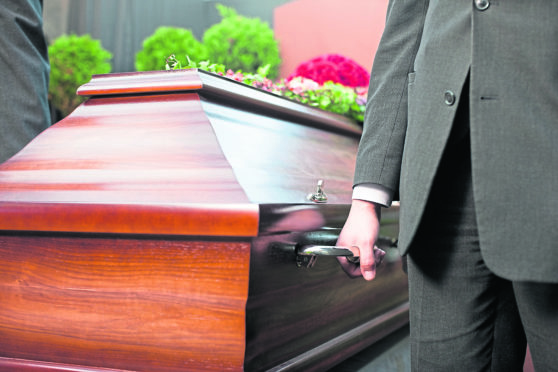 I don't want to alarm you, but I keep getting stuff through the post telling me to start arranging my own funeral.
It's sounds like a Mafia death threat from a scene in The Sopranos or The Godfather.
I seem to remember that in Marlon Brando's Godfather they used a more direct method – they put a horse's dismembered head in a singer's bed.
These messages are vaguely alarming, but they won't give up – I keep getting them through my letter box at the rate of one every 10 days.
Funeral poverty fears as further hike planned to 'scandalous' charges
It's an organised, targeted thing – and some of my tormentors go by the names of  British Seniors, Legal and General and Sun Life.
I've probably offended a lot of people in my journalistic life (usually with good reason), but this is ridiculous.
Yes, the insurance market for paying your own funeral costs in advance is booming and these companies are a determined lot. You can't blame them – there is big money in  it.
We see smiley, happy people like Sir Michael Parkinson and other old timers from the "celebrity" world helping to flog these policies on television. They are so happy it's as though they are talking about booking a trip to Blackpool or Benidorm rather than our own departure from the world.
This whole thing has set me thinking, and this coincides with the The Press and Journal's excellent series last week on funeral costs in the Highlands and north-east – and how some councils seem to be digging their own graves by manipulating costs, but simply demonstrate how inconsistent and unfair they are over burial charges.
The world 's gone mad because these days many families are turning to cut-price funeral deals such as having a loved one cremated before the service or not inviting guests. That is what it has come to. Funeral poverty is a real issue, as the P&J series showed.
This is why people are turning more and more to these funeral insurance policies, which swamp the market – and my door mat.
I am a prime target because they know I have entered my mature years. In fact I have not just entered them, but I am several steps down the corridor, too.
You usually take insurance to cover you against something which is actually unlikely to happen given the odds against it, but here you are covering the bill for something that is a certainty. In theory, that is, as inflation will erode the true spending power of your funeral cash pot and you could easily pay way over the odds as well.
Many experts have slated these policies as being poor value and preying on vulnerable old people who struggle financially. It has to be said, however, that they are popular  – peace of mind is a powerful thing – and for many people these policies seem to work.
Green burials slowly becoming more popular in northern Scotland
But they are better value the quicker you kick the bucket (except in the first year or two when they don't pay out your agreed lump sum unless you die by accident).
You obviously don't feel the benefit, but the quicker you go when its up and running properly means you pay in much less than the guaranteed lump sum – what a nice thought to take with you.
Where it might become less of a good deal is if, like many people these days, you live to a grand old age.
By my reckoning, if a couple aged 65 start paying £65 a month to guarantee enough for two funerals (they say an average funeral will set you back £6,000 each in five years) they will have actually paid the equivalent of their £12,000 guaranteed joint lump sum by the age of 80. It sounds great, but you have to factor in the corrosive effects of inflation over that time.
However, they are forced to go on paying monthly premiums until they are at least 90.
If they live that long, they will have paid almost £20,000 for a guaranteed lump sum of £12,000, which might not be enough anyway.
Good value or not? It's worth thinking about before you take the plunge. Miss a monthly payment and you will also lose the whole lot as a penalty.
It makes me wonder why more people don't simply create a funeral fund in an interest-paying bank or investment account and stop paying in when they have enough.
They can always top up whenever they like to combat inflation. Or is that too simple?
Burial costs in the north of Scotland are depressing. Are councils ripping off vulnerable old people who have little time left, and their loved ones, at a very stressful time?
The charges for burial lairs and cremations are soaring, but there is little consistency among our local authorities which makes me suspect they are cynically cashing in on the dead to balance their books.
Burial land is also running out at an alarming rate, with a potential serious shortage of plots. In some places, people cannot even be guaranteed to be buried in traditional graveyards close to loved ones who have passed on. One of the worst things about it are wide discrepancies between their charges – from the Highlands to Aberdeen.
There is a vital need to challenge and investigate councils relentlessly over this issue and for them to justify to the public what appears to be their haphazard strategy.
After all, it is your funeral.