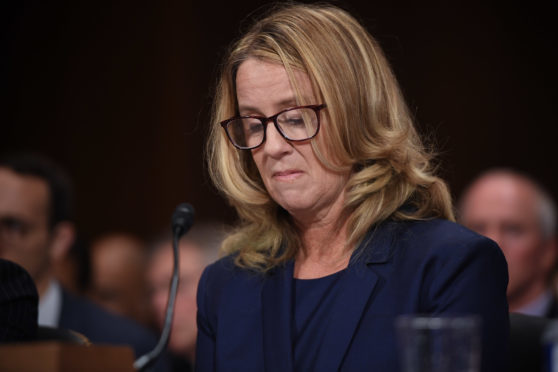 It's not been a great few weeks for those of us with two X chromosomes.
Tory Party conference proved that Theresa May is now so embattled that not only has she been forced into wearing ill-fitting Brexiteer clothing with her kitten heels, she also felt compelled to dance on stage, like some kind of hostage desperate to please her captors.
For Scottish Labour that kind of humiliation isn't enough, they'd rather have the scalp (and potentially the list seat) of their former leader Kezia Dugdale. The dear comrades at the top of the party, a party which likes to boast of its bulging membership coffers, flexed their factional muscle and removed the financial and legal support she had been promised for her fight against a defamation charge. That they did so in the knowledge that if she lost she would have been bankrupt and unable to sit as an MSP, speaks volumes.
Over in Switzerland meanwhile, female physicists in Cern were being told in no uncertain terms that physics was for blokes, and they should probably just concentrate on making sure their man's lab coat would win the Daz doorstep challenge. Even when there was some good news – Donna Strickland jointly winning the Nobel Prize for Physics, the first woman to do so in 55 years, hurrah! – it was tempered; as recently as March, when Strickland was deemed "not important enough" for a Wikipedia page while her male counterpart has had once since 2005.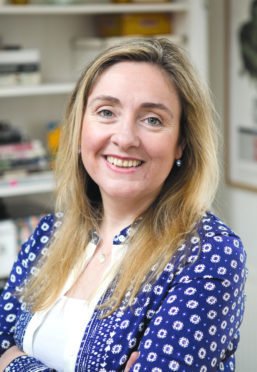 Closer to home, in Liverpool a poster which bore the definition of the word woman – adult human female – was removed from an advertising hoarding because it was deemed transphobic. The Girl Guides sacked two leaders for raising safeguarding concerns because changes to its equalities policies now mean a man who self-identifies as a woman can take charge of a troop, and do so without parental knowledge. And with the Gender Recognition Act consultation deadline fast approaching, the online rhetoric between those who believe it erodes women's rights to safe single sex spaces, and those who wholeheartedly believe that being female is more a feeling than a biological physical fact, has reached boiling point.
However, the woman who's had the roughest time of all is Dr Christine Blasey Ford. She bravely gave distressing testimony to the US Senate about a sexual assault which occurred when she was 15 – an assault she alleges was carried out  by a man who is now a Supreme Court nominee, Brett Kavanaugh. If reliving that wasn't bad enough, she has since been mocked by President Trump, a man whose contempt for women is all too well recorded.
Should concentrate on making sure their man's white lab coat would win the Daz doorstep challenge
Blasey Ford's words about why she didn't tell her parents what had happened to her that fateful day rang all too true with me. I know that when I was 15 I wasn't always where I told my parents I was, who can resist hanging out with older, cooler, teens? If something traumatic had happened, would I have told them and risked their wrath or kept it to myself? Looking back I know which I'd have chosen.
But the way Blasey Ford has been dissected, mocked, challenged, and disbelieved, underlines just why so many women don't come forward to say "me too". Yet in her decision to speak out, she has proved inspirational. Other women have had sordid tales to tell about Kavanaugh, undermining his protestations of being a clean-living abstemious teenager, and proving once more why it is vital that the alleged protagonists of sexual assault are not kept anonymous.
It's also serves to underline, yet again, how vital it is that the sexual assault and harassment of girls and women is taken seriously, no matter the historic nature or the age of those involved. And again in bad news for the female sex, the Scottish Government appears to be working against that.
Two years ago the Equalities and Human Rights Committee of the Scottish Parliament launched an inquiry into the bullying of young people in schools, and through the gathering of evidence discovered that the sexualised bullying of young girls and women in education was growing. Indeed, the committee saw research from Girlguiding Scotland, among other organisations, showing that 59% of schoolgirls, aged 11 and up, had reported experiencing sexual harassment at school – claims backed by Rape Crisis Scotland, which had even more disturbing evidence to offer.
However, when the committee's report was passed to the Education Secretary, John Swinney, things changed. Sexual harassment has disappeared and in its place was the term "prejudice-based bullying". Worse, when the government's anti-bullying guidance for schools was published, sexual harassment was still nowhere to be seen and indeed, the word "girl" only appeared once.
This apparent whitewashing of such a serious issue in our schools runs contrary to the Scottish civil service's own actions in investigating the allegations of sexual harassment against former First Minister Alex Salmond. But if the government cannot face the fact that young girls are experiencing sexual assault and harassment at school and if it cannot put measures in place to make sure the victims are supported, then what hope do our young girls have of ever being believed at any time in their lives?
What's for sure is that if our politicians don't face up to this problem now, then there will be many more Christine Blasey Fords in the future, only unlike her, they will keep their experience of harassment and assault to themselves, because what would be the point in doing otherwise?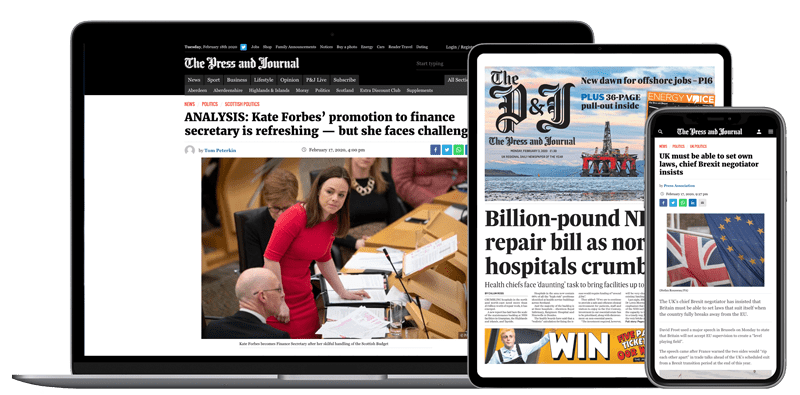 Help support quality local journalism … become a digital subscriber to The Press and Journal
For as little as £5.99 a month you can access all of our content, including Premium articles.
Subscribe