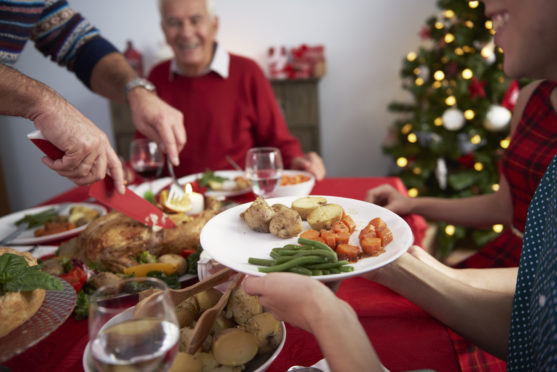 One of the things I remember vividly about Christmases at my grandparents' house as a child is the recycled wrapping paper.
I don't use the term in the sense we mean today. The gift wrap wasn't made from converted waste materials, this was paper that had already been used the previous year or even for a couple of years running. Inevitably, some got ripped and couldn't be reclaimed. We were kids, after all.
But the pieces that could be saved were kept and later folded neatly away in the hall cupboard to be taken out again the following December.
I don't think my gram and grandad did this out of any avant-garde environmental conscience, although, as keen walkers, they certainly made the most of the beautiful landscapes on their doorstep in Aberdeenshire and beyond, especially their beloved Cairngorms.
Rather, I believe it was down to their commitment to looking after what they were lucky enough to have so it lasted. The "waste not, want not" ethos, very common among people of their generation who didn't routinely have a great deal to spare once bills were paid.
Absolutely nothing was wasted. Envelopes were cut up to serve as a scrap paper pad by the telephone. Coffee jars became receptacles for flour, oats, dried fruit and breakfast cereals – all bought from huge drums at a shop I think was named Weigh and Save, the kind you find now in zero waste stores aimed at eliminating packaging.
Even rowie crumbs destined for the rubbish were carefully gathered up and cheekily sent to us grandchildren in letters with suitably witty accompanying notes (to clarify, these were, and indeed remain, our favourites, a real treat whenever we stayed in Aberdeen, so much so we'd rush to the door at the first tinkle of the delivery van).
Seriously though, the idea of wasting anything – food above all – would have left Jimmy and Netta Thom completely nonplussed. If there were any leftovers – and this was rare, as meals were methodically planned out – they went in soup or sandwiches.
If they were going away for a trip, they made sure they consumed the entire contents of the fridge so nothing would be out of date upon their return.
I can recall vegetable peel and tea bags in the bin – they didn't have a compost pile – but that was about it. In fact, another thing I recollect is just how tiny their bin was.
I, too, plan my meals so as not to overbuy and always eat leftovers for lunch the next day or freeze them for another occasion. However, shamefully, there's no way we'd manage with a bin that size. We'd be forever emptying it.
In contrast to this considered and modest existence, as the festive season gets into full swing, the shocking statistics about how much food we, as a nation, waste have been back in the news.
According to waste management company Biffa, the United Kingdom produces the highest amount of food waste in Europe, an estimated 14 million tonnes each year.
About 13% of edible food and drink bought by households – the equivalent of almost three meals a week going uneaten – is wasted. I've also read that a calculated 1.2 billion edible bread crusts – about 50m loaves – are thrown out annually.
What's particularly disturbing is that at Christmas time, when perhaps you'd expect us to be more aware of this problem, our waste levels rise.
Figures show we create nearly a third more waste over Christmas – much of this food, as well as plastic packaging, that goes straight to landfill. As reported in The Press and Journal in recent weeks, about 67m meals will go to waste in Scotland alone this December.
More than half of turkeys and about a third of roast potatoes and Brussels sprouts are likely to go uneaten. Yet, at the same time, an estimated 8.4m people in the UK struggle to get enough to eat, including many households with people in work and families with children.
These are part of about 795m globally who do not have enough food to lead a healthy, active life. This really is obscene and can't continue.
Firstly, it goes without saying that such wastefulness, such carelessness, is immoral when so many go hungry, when there is such extensive hardship.
And food – like other waste – significantly contributes to climate change, producing damaging greenhouse gas methane if sent to landfill.
But there's also a wider point to be made here regarding our approach to this whole issue. Fundamentally, it can't be right to not think about the consequences of our actions.
So often still – in this the disposable age – our instinct is to chuck it. OK, we might feel a twinge of guilt as we do so, but that doesn't avert us.
Yes, more of us are recycling as a matter of course. However, that in itself isn't sufficient. When it comes to food, and other products as well, we must stop buying what we don't need.
Will I actually use the get-one-free part of the offer or will it end up languishing in the fridge? Can an item be mended? If not, can I get a pre-owned replacement?
These are the questions we need to be asking ourselves until a more sustainable, thoughtful way of living – once second nature – takes root again.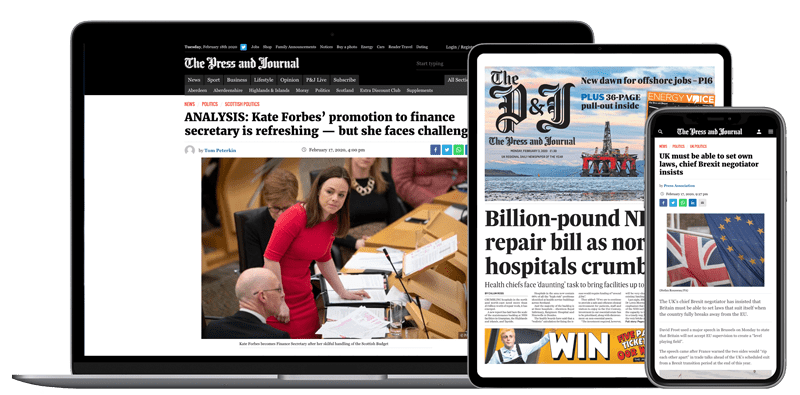 Help support quality local journalism … become a digital subscriber to The Press and Journal
For as little as £5.99 a month you can access all of our content, including Premium articles.
Subscribe