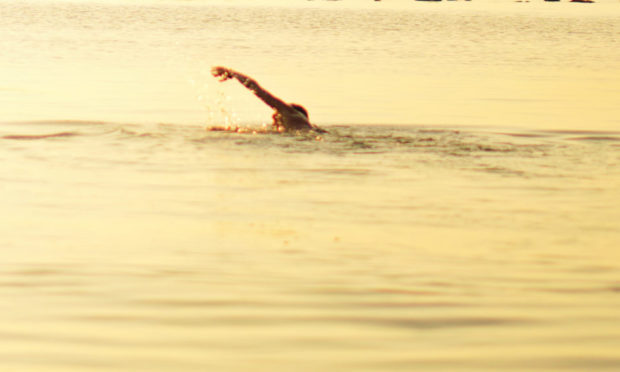 One of the great things about living in the Highlands in summer is the profusion of easily accessed water for swimming. I don't mean chlorinated pools, but rather the wild experience of swimming in lochs, rivers and the sea.
I have found this of particular benefit recently, as I have had the pleasure of sharing my dips with my sons and daughter who were staying with us for a time during lockdown.
One of my favourite lochs is close to my home, reached by a short walk through birch trees with low alder bushes and grass patches close to the gravel shore. All around, woodlands spill down to the water from the surrounding hills.
The first job on arrival is to lob in a green plastic crab. It's a thermometer, designed for use in a baby's bath. Over the last few weeks, the crab has been reading a reassuring 20C, warm enough for a comfortable swim with no wetsuit, yet even at this temperature it takes a certain resolve to enter the water.
I am not one for diving straight in and so wading gingerly in from the shallows gives plenty time for doubts – surely it shouldn't feel this cold?
The cold creeps up my legs, but then the inevitable time comes to take the plunge. I gasp as the water shocks my chest and face but soon, after a few frantic strokes, I start to control my breathing and surprisingly quickly, the water begins to feel gloriously refreshing rather than cold.
The loch looks different at water level. For one thing, it seems much bigger. Small details are revealed in the waterside vegetation and the wildlife seems more tolerant of my presence.
The ducks continue their business as if it is entirely normal to share the water. Underwater, the visibility varies. Often it is limited to a few feet and even when you can see farther, there is the feeling of being suspended above another world, and I find myself having to rein in thoughts of what lies under there – big-fanged pike? What else?
There are odd, contradictory sensations. What I'm doing is entirely natural, yet there is the hazard of being in an alien space. A swim out to the island close at hand gives a focus and a purpose to the swim while at the same time, a worry about how far to go without being foolhardy.
After all, the purpose of the swim is not to achieve some brave feat but for the simple pleasure of the experience. At what point will my nerve crack and send me back to the shore?
Joe Minihane describes in a short film how he found wild swimming to be a refuge from his paralysing anxiety.
He describes how he started a wild swimming challenge, retracing the route of Roger Deakin's classic book Waterlog as something to do when too anxious to do anything else. He discovered a calm and peace in the process of wild swimming and told how that mindful awareness of his surroundings and his own presence in the here and now became an essential part of his recovery journey.
I experience a fair amount of stress when speaking in public, though I admit I also enjoy the adrenaline buzz that sharpens the mind, but anxiety is very different.
Rather than energise, it paralyses one's actions. There are times in my life when I have strongly related to anxiety of that sort. It is a physical thing. It steals away my sleep even in the face of terrible fatigue.
It causes a thumping in my chest and a nausea and churning in my belly. It amplifies worries so they dominate my thinking. My concentration is absent. Eating is a chore.
We don't all have to jump in a loch. My wild swimming might be your forest walk, or bike trip, or mountain climb, or time sitting on a beach.
But what we can learn from Joe is how to put our regrets and "what if…" thoughts to one side and connect to the here and now. That the anxiety we feel can usefully be employed in keeping us safe.
The more we spend time soaking up our environment by bringing our attention to the sounds, sight and feel of our surroundings, the more we will be able to tap into the benefits of those experiences when unhelpful, unwelcome thoughts start to take over.
Even in water at the relatively warm summer temperature, after a while my body heat is leached away. It is time to head for shore, a quick dry and change with an extra warm layer on top.
My whole body has a revived freshness from the exercise. It is time for a shower and a hot cup of tea before getting on with the day.
I will sleep soundly tonight and even if I am woken up with worries, I can imagine myself back in the weightless water in the calm and peace of the loch, with my fellow creatures, the ducks.
---
Dr Miles Mack is a GP in the Highlands and the former chairman of the Royal College of General Practitioners Scotland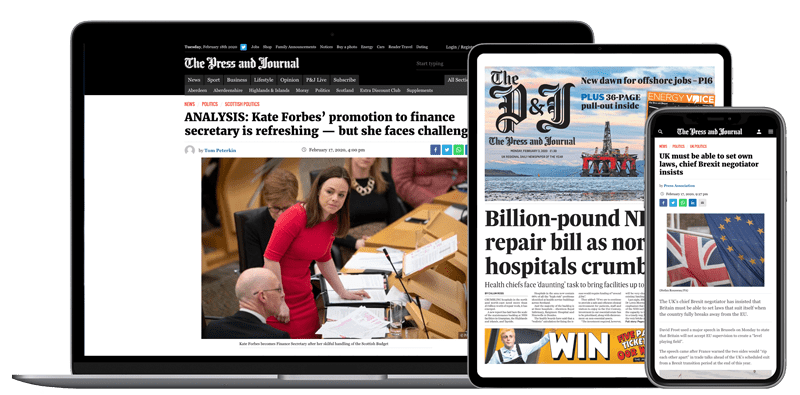 Help support quality local journalism … become a digital subscriber to The Press and Journal
For as little as £5.99 a month you can access all of our content, including Premium articles.
Subscribe