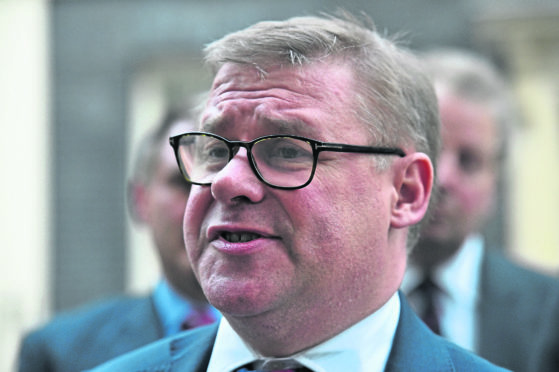 Struan Metcalfe, MSP for Aberdeenshire North
What ho, chaps and chapesses! Yes, it's been a while since my last missive and that has been absolutely intentional.
Who would have put their head above the Tory-Boris-Brexit-parapet lately, and risk becoming the public face of the most divisive political act since Charles the First got his head chopped off?
Only an absolute maniac, which explains why Mark Francois is never off the telly. Poor Mark, with his beetroot face and totally mistaken sense of self-belief.
It must be hard to be the Brexitiest of the Brexiters when your name is literally the French word for 'French'.
Do you know, there was a boy exactly like him at Gourdonstoun. Ghastly little tell-tale called Fatty Blenkinsop.
You probably aren't allowed to call your school mates 'Fatty' anymore, the 'Woke Police' wouldn't let you.
They'd call it 'weight-ist' or some such guff. Piffle! never did young Master Blenkinsop any harm, he must have ended up with a pretty good job in the city, because the last I heard he was in prison for securities fraud.
What is 'woke' anyway when it's at home in it's country pile? I like to think of myself as woke (during office hours anyway! 10:00am to 4:00pm approx.
After that I'm invariably at the busines end of bottle of Tankeray and wont to drop off to bye-byes) but apparently it also means to be fully alert to the inequalities inherent in society, particularly racism and social injustice.
Well, roll over lefties, and hit the snooze button, 'cause the new 'Woke Tories' are here.
There's no one more aware of inequality than Jacob Rees Mogg; after all, that's what got him where he is today!
Anyway, it finally looks like Boris has got it sorted. Thank goodness for Boris.
I mean, I really thought this party was going to tear itself apart over the disastrous deal Theresa was proposing, but now it looks like Boris has saved us all by GETTING BREXIT DONE in a way that has united the party – now we all agree that Theresa's deal wasn't so bad after all.
At last we can move forward as a nation, all getting Brexit-done together!
View From The Midden with Jock Alexander of MTV (Meikle Wartle Television)
It's been a sublunary week in the village.
Though we're stuck oot here in the wilds, we've still been keeping a keen eye on a' the stramash in London and elsewhere caused by Extinction Rebellion, as they continue tae cause major disruption tae force governments tae tak immediate action tae address global environmental catastrophe.  Weel it gets ye oot o' the hoose.
And fit a palaver! Mair than a thoosand fowk hiv bin arrested; they've been chaining themseles tae buildings and glueing themselves tae roads.
On Breakfast TV this wik I witnessed the extraordinary sicht o' an argument between Piers Morgan and a protestor cried "Mr. Broccoli".
I coulda help but shak my heed wi' amazement as I watched the ludicrous oddly-coloured character wi' the daft name mak a feel of himsel, arguing wi a mannie dressed as a vegetable.
But we've a' got take ging a bit mair green, ye ken. I'm a' for reducing carbon emissions.
Thanks tae my coos, some days I'm sweeming in them. I would happily install a wind turbine an' a', it'd be worth it jist tae clear the air.
Feel Moira his been making noises aboot jining the protestors hersel. She diz hae some form in lashing hersel' tae a gate wi barbed wire efter yon time she attempted a fence repair efter 6 pints.
Mind you, even brewers hiv been taking steps tae tackle environmental issues recently –  I wiz affa impressed that Tennents have invested 14 million in 'Green initiatives', and are aboot tae start packaging their cans wi cardboard instead of the aul plastic rings.
Of course, maist o the locally-made brew we sell in the village pub is a'ready green, but that's thanks tae fitever seeps oot fae the sewage works getting intae the barrels.
Tennants also hiv a water treatment plant fit recycles waste via 'anaerobic digestion', fit sounds like somb'dy eating their fish supper during a keep-fit class.
Funnily enough, that is exactly fit got Moira banned fae Curves at Elgin. Cheerio!
Cava Kenny Cordiner, the football pundit who packs a punch
Disgraceful, Despicable, Diabiological. Them is just 3 of the words I found in Roger the Saurus's book that describe what I seen on the telly on Monday night.
No man should have to ordure that. I thought we'd moved on from the dark ages. I hope I never again sees the likes of that again.
It made old Kenny so angry to witness England winning 6-0. Shocking.
Apparently there was some racialist abuse going on as well, which is even worse.
Old Kenny can not condom racialism, and I would never not dream of signalling out a footballer because of the colour of their skin.
You can just ask my Melody – on Monday night I was screaming abuse at all the England players equally.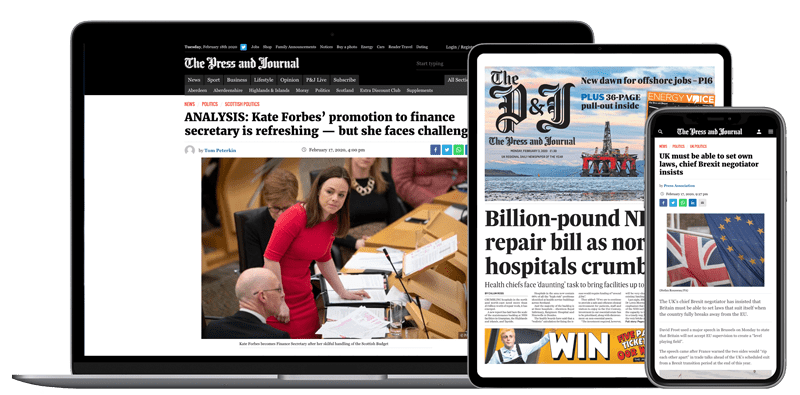 Help support quality local journalism … become a digital subscriber to The Press and Journal
For as little as £5.99 a month you can access all of our content, including Premium articles.
Subscribe