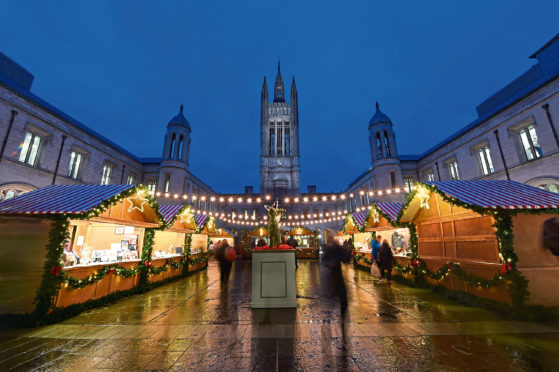 Ron Cluny, Aberdeen City Council spokesman
It's that time of year when the city's hard-working elected officials are prevented from slipping into an afternoon slumber at their desks by the tinny sound of Mariah Carey wailing outside. Yes, once again, we have unveiled the fantabulous Aberdeen Christmas Village, quite literally the best Christmas village in Aberdeen. With a noble history stretching back to those far-off days of 2015 or whenever it was that Christmas villages suddenly became a thing, it is now a much-loved local festive tradition, like moaning about folk putting their trees up in November, the Santa hat stall opposite Markies and ungritted pavements.
It just goes to show that whatever they have in Edinburgh or Glasgow, we can do here as well, with just a fraction of the money and, indeed, space. But even at this time of peace and goodwill the usual naysayers and Scrooges have to find something to criticise, picking up on the tiniest thing, like correctly pointing out that it doesn't have planning permission.
Now, you may wonder how the top bods from the planning and legal departments walked past the village being built all last week while managing to forget that they hadn't approved it, but this, of course, would be a gross oversimplification of the highly complex processes involved. Suffice to say, it is up to the Aberdeen City Council planning committee to apply for planning permission, or in the event of not having so applied, to decide if it requires to require itself to apply retrospectively, and if it does require itself to so require, to so do. So I'm happy to have cleared that up.
God bless us, every one!
Cava Kenny Cordiner, the football pundit who's a lot more humble than he's given credit for
You couldn't not make none of it up. The managerial evolving door has turned yet another turn, with Spurs gaffer Maurice Pokemon-go given his jotters and replaced by the spatial one, Jose Mourinho.
I feel sorrow for Maurice. He's been pulling up cheese down at Tottenham and even took his team to the Champion's League final back in June. But when Saturday comes, instead of slicing open West Ham's defence, he'll be slicing open his P45.
Some of my contacts down in London have heard rhumbas that Pokemon-go had lost the dressing room. Seems harsh to sack him for that, it's easy done. They've not been in that new stadium all that long, and it is massive. Surely they could just have given him a map?
I'm not sure how the spatial one will get on at Spurs. He's gotten a bittie arrogant in his old age has Jose, everyone knows he comes with a lot of baggage, but it turns out he's bringing his dangerous exotic pet to the club as well.
TV punnet and Spurs legend Gary Spinnaker was wondering if there was enough space in the dressing room for an eagle the size of Mourinho's.
Mental.
Chip Greenwald, an American in Tarves
One of the biggest reasons why I sure do love living here in the north-east of Scotch-land is that y'all got some bat-doody crazy words that ya like to say, like "gype", "feel" and "inabootcomer", all great terms of welcome that my beautiful neighbours holler whenever they see me.
As a patriotic American and a proud supporter of our greatest-ever president (Donald be his name), I'm all for using great words, the best words, like "bigly" and "impeachment". And you guys have got some doozies, so it seems weird to me that when you got together in a huddle recently and voted for your most iconic Scotch word, you picked "dreich". Really? You had so many fun ones to choose from such as "puddock", "vratch" and "chunter". Dreich speaks to me of grey, cloudy, wet, and dull, of dreary, damp, miserable and depressing. You might as well have gone for "Huntly" you guys!
But it sure does make me slap my thigh and laugh like Christmas when I think of your most favourite son of the north-east, little Mikey Gove, using his funny Scotch words when speaking to his public-schooled friends in the government. He was asked about the survey and said one of his favourites was "scunnered" and he'd used it in a cabinet meeting, but none of those guys had understood it.
Imagine all those blank, confused faces around the table, and then Mikey says he's scunnered. My good buddy Archie Phimister tells me it means "disgusted or harbouring a strong dislike of something or someone". Well, jeez Louise, us Americans don't do irony, but even I can see how funny it is for a Tory cabinet minister to talk about being scunnered! But good for Mikey, keeping it real and staying true to his roots.
I guess to try and fit in, I asked Archie to teach me how to use a few more of these words, and boy am I glad I did! Now, whenever Mikey G comes on the TV in the Aberdeen Arms, I say: "I canna thole that puddock-faced chuntering vratch." I've no idea what it means, but I've made a lot of new friends. Good people. And hey, another of the Top 10 Scots words you voted for was "stramash". My new good buddies tell me that's another doozy – it's the Scotch word for "Brexit".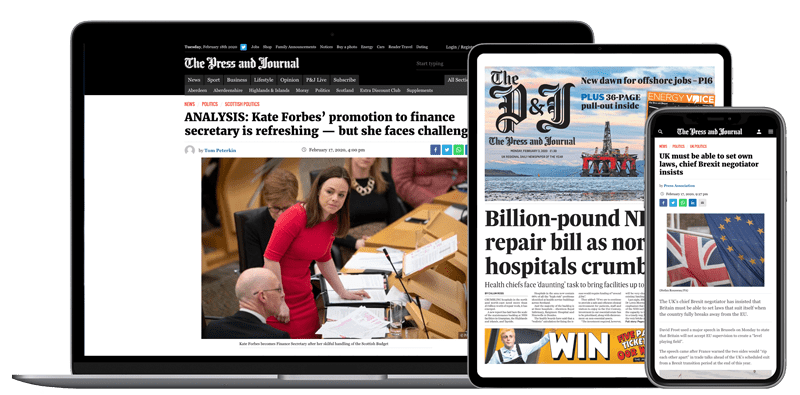 Help support quality local journalism … become a digital subscriber to The Press and Journal
For as little as £5.99 a month you can access all of our content, including Premium articles.
Subscribe