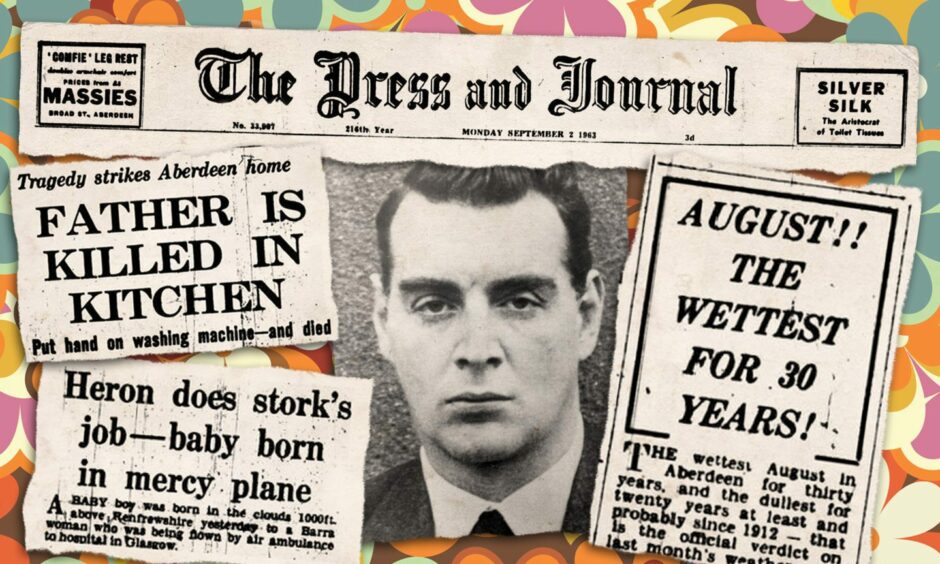 In addition to a massive moan about the wet summer, headlined AUGUST!! THE WETTEST FOR 30 YEARS! there was plenty else going on on this day in 1963.
A young Aberdeen seaman on shore leave was electrocuted in a freak accident in his home in Logie Avenue.
Deadly hazard in the kitchen
In an ordinary domestic scene, 21-year-old Ronald D McDonald's wife Betty was doing the laundry and had the washing machine switched on.
It seemed Ronald was going for a drink of water and had touched the machine, at which he was electrocuted.
The young seaman was a former pupil at Powis School and a member of the Royal Naval Reserve, and left behind three young children.
The North of Scotland Hydro Electric Board promised to investigate.
Sky-born delivery from Barra
In happier news, the headline writer had a flash of inspiration with 'Heron does stork's job —baby born in mercy plane'.
A Barra woman gave birth to a baby boy in the Heron aircraft then being used as the air ambulance 1,000 ft above Renfrewshire.
Catherine Gillies, the sub-postmistress at Eoligarry post office, had been due to fly to Glasgow to give birth when the baby showed signs of imminent arrival.
The doctor called the air ambulance, which took an hour to get there.
Being Barra, the plane had to land on the nearby beach.
"It was lucky the tide was out," said proud new dad Donald Gillies.
The whole family trooped to the beach to see Catherine off, and about 20 minutes later, little Alexander made his appearance in mid-air.
Mr Gillies received the happy tidings from Father Donald MacKinnon, former priest on Barra who then lived in Glasgow and conveyed the news straight from the hospital.
Tinker, tailor, soldier…. spy(deceased)
The death was announced of Soviet spy, diplomat Guy Burgess who had defected to Russia 12 years earlier.
Curious details emerged about his passing, which was confirmed to the world by Burgess's fellow defector, diplomat Donald Maclean.
Many friends had visited Burgess in his last days, apparently, including 'an Englishman'.
Maclean denied it was him, so it was speculated it might be Kim Philby, the former British diplomat who had sought asylum in Russia only a few weeks before.
Philby was the notorious 'third man' suspected of prompting the defection of Burgess and Maclean when he tipped them off that action was about to be taken against them in 1951.
In Botkin hospital, Moscow, Burgess was still doing things his way.
"He smoked a terrible lot" one of the doctors said. "It worried us and smoking is not usually allowed here, but we made and exception, although we tried to limit it."
The report mentioned that 'two middle-aged Soviet women doctors' nursed Burgess for ten days up to his death before he died in his sleep.
The Royal ladies visited the Crathie Church sale of work
Then, as now, the Royal family were in residence at Balmoral, with their comings and goings from Crathie Kirk keenly observed.
This time it was the turn of a 13-year-old Princess Anne to take the front page, looking 'very grown up'.
She had been carrying on another family tradition, attending the Crathie Church sale of work, alongside her mother, the late Queen, and the Queen Mother.
Our newshound on the spot was able to report that "A pair of socks, home-made sweets for the children and oatcakes and honey for tea were purchases to prove that the Queen was thinking of her family when she went to Crathie Church sale of work on Saturday."
The Queen had donated grouse and venison from Balmoral,while the Queen Mother donated flowers from Birkhall, along with a set of fruit knives and forks, travelling alarm clock and French trinket box.
It looks like the Queen Mother had, like everyone else, come to the conclusion that fruit knives are an utter waste of time.
But I feel we may yet see them emerging on Antiques Roadshow one of these days due to their excellent provenance.