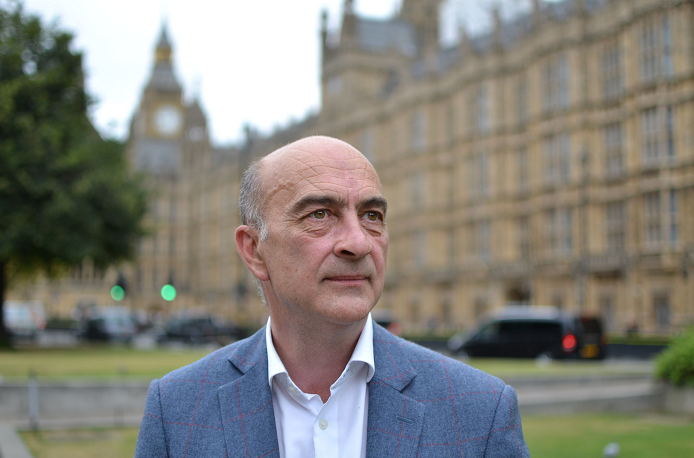 To begin, a tale.
A surgeon and the surgeon's son are involved in a car crash.
They are rushed to hospital. Both are unconscious.
The boy needs urgent treatment and is taken immediately to the operating theatre.
But the doctor on duty declares "I can't operate. That's my son."
The question is – why?
I challenge you to pause and find the answer before you read on.
Here's a clue.
It has been my privilege to work with three astonishing women – Annabel Goldie, Ruth Davidson and Theresa May.
Women who achieved high office because of talent, and despite their gender. And that's how it should be.
We all, at least those of us who are not bigoted, misogynist dinosaurs, want to live in a world free from discrimination on any grounds.
We want, and need, a world where talent alone is the determinate.
Where we are gender, age, religion and ethnic blind. Where meritocracy and equal opportunity thrive.
But, lets face it, we have for far too long denied our workplaces the opportunity to employ the brightest and best talent due to centuries old in-built discrimination against women.
So the Scottish Government has announced its plans to create a 50-50 gender balance on public sector boards. It says, that all else being equal, if a man and a woman are tied in the race for a position then it should go to the woman.
Thus, they want to introduce positive discrimination to these board rooms.
It is well intentioned, but seems to come from the "something must be done" school of thinking.
One where unintended consequences only compound the problem. And one which I fear is the thin end of the wedge.
Now, before anyone gets into a state of high dudgeon, let me state for the record that I abhor all and any discrimination. I hate, with a passion, all "isms".
But it is one thing, indeed it is the right thing, to criminalise discrimination. It is quite another to legalise it.
Because that is, in effect, what is proposed.
And it gets worse.
The implication of forcing gender balance into any workplace means the glass ceiling we all wish to smash is reinforced by triple glazing.
Because by implication, a 50% female quota could mean a 50% male quota. Otherwise there is a new discrimination in force. And as a consequence we limit the ambitions of some women to rise to the top if their quota has been reached.
Thus we are limiting the talent pool and denying some positions to the best person.
I, for one, don't want to live in such a world where a cap has been placed on the talent pool.
I don't want a limit put on how many women can achieve a place of power or influence. If we need, on merit, more than half our bodies and boards staffed by women, great.
So the answer is not to legalise discrimination.
It lies in ensuring that all opportunities are open to all. It lies in shifting attitudes and creating a new norm where we see each person's genius and skills, not their genitals and skin.
A world where the surgeon in our tale is a woman and we don't blink an eye.
"Footballisation" of rugby
I love rugby. I played, poorly, and I refereed. As a scrawny 18-year-old, getting called "Sir" by a burly 35-year-old prop forward was a strange state of affairs, but respect for the man with the whistle and the laws of the game mattered big time.
But I don't like what's happening to rugby. What has been dubbed the "footballisation" of the game. Non-sports fans can look away now.
I challenge you to watch any professional match and count the seemingly sanctioned infringements and misdemeanours.
It is not just the shambles of the scrum where every feed is squint and where every hooker has his foot up early.
It's every line out too.
Yes, the throws are straight. But not straight down the middle. Watch the hooker. A wee step towards their own side as its being set up to give their jumpers even more of an advantage.
All under the nose, literally, of the touch judge.
And every penalty.
Never taken from the mark, but a few metres forward and often a few metres infield as well.
And all to often the ball kicked away by the guilty side to prevent a quick tap penalty but no sanction taken by the referee. Being marched 10 metres back is a thing of the past.
Not to mention kick offs and drop outs. There are always players in front of the kicker.
Rugby, for me, is still a great game. Indeed, the best game. But it could be better.
2017 predictions
2017 is upon us. So the chance for a few predictions as hostages to fortune for my detractors…..
In politics, May's local elections will see the Scottish Conservatives in second place and having a role in running over a third of Scotland's councils. The SNP will get the most votes, and take outright control of up to a dozen town halls.
Brexit will continue to dominate (call me Nostradamus) and Article 50 will be triggered as promised by the end of March. Indeed, it may well be sooner.
Donald Trump will continue to tweet.
There will be a new attempt to unseat Jeremy Corbyn as hopes of an early UK general election fade and Labour is otherwise stuck with him.
England will win the Six Nations, but Scotland will be in the top three and send seven players on the Lions' tour to New Zealand.
There will renewed moves for Rangers and Celtic to join the Premier League. Or a new European League. They will succeed.
Sir Andy Murray will continue to reign supreme over the world of tennis.
And finally, the Press and Journal will continue to be a fine read.
This column notwithstanding!