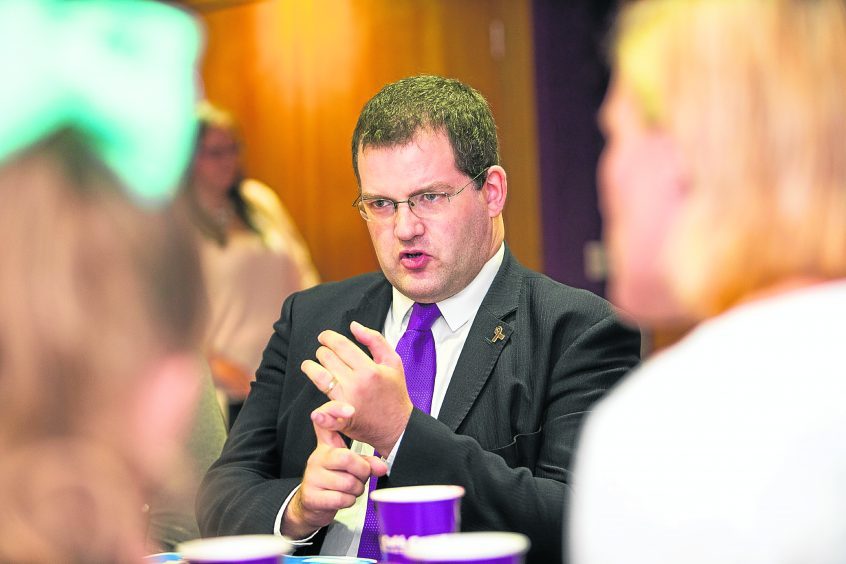 Aberdeen Donside MSP Mark McDonald  has announced he will quit Holyrood saying he will "live forever" with the upset caused by his inappropriate behaviour to women.
The politician, whose conduct led to him resigning from Nicola Sturgeon's government, apologised again for the "mistakes" which led to his downfall.
The former children's minister said he would be leaving the Scottish Parliament at the next Scottish election in just over a year's time.
He admitted his political career would always be remembered for the controversy over his conduct.
Mr McDonald quit the government in November 2017 after admitting causing a woman "considerable distress" through inappropriate text messages.
He was also stripped of the SNP whip, which effectively banished him from the party. Despite calls for him to quit as an MSP, he has stayed on at Holyrood as an independent.
https://www.facebook.com/MarkMcDonaldDonside/posts/2843060482445781?__xts__%5B0%5D=68.ARCQQ-xgAU3k4Q70K–JMJv-1TJMifsC8DEZPw29WRISiQOz8iy3KgZA4Sx-1AA9VsA-20AmGw86JF98NiPoTULn3hQOXlQh_5L8kVRqcQfLy4DncLTwYIOLofvTEiVVDQjcoLGzvI9ovl5yT2vpB0KCZpo-MyvfH0pKY3rRqkQex9DzaqvjcBTnC5sGY3bbiUZrAP05cXAHKKq4_cQIk3zUmX_p1XCawUn0LCoNZfrcF1LEOOyZF0F_EIcctVOHfYHXjABqmaG6p6QnYEe8osTxOdlhTnoBXm90pJ6YluwjyQyLJWEZqLLBiLVllBuX7DhK4II4GHN-qu9u6ePkvw&__tn__=-R
An investigation carried out by the SNP examined his behaviour towards three women and concluded his "inappropriate behaviour" had been "deliberate in nature".
The SNP found that he had sent inappropriate and unwanted text messages. His "unwanted attention caused distress". And he had "exploited" his position of power.
Mr McDonald said: "After speaking to those closest to me to make them aware of my decision, I am taking the opportunity to formally announce that I shall be stepping down from parliament at the 2021 election.
"I am proud of some of the achievements I have been able to deliver…and serving as a Scottish Government Minister where I helped to successfully deliver Scotland's Baby Box, launched Scotland's first national BSL (British Sign Language) plan and established the independent care review.
"However, (I'm) acutely aware that none of these achievements will be the things which people will associate with me, and that my time in office will forever be defined by the mistakes I have made, and for which I have paid a significant and lasting price.
"When I returned to parliament in 2018, I made it clear that I would demonstrate through my conduct that I had reflected upon the errors of judgement I had made in my interactions with people, where I had misunderstood how the power dynamics as a government minister, or MSP, could lead to interactions being perceived differently by those who I had regarded as friends or colleagues."
He added:  "I hope I have been able to demonstrate such change. I will have to live forever with consequences of those mistakes and the upset they caused and …reiterate here the apologies I have made before. I continue to seek to make right the things I got wrong."