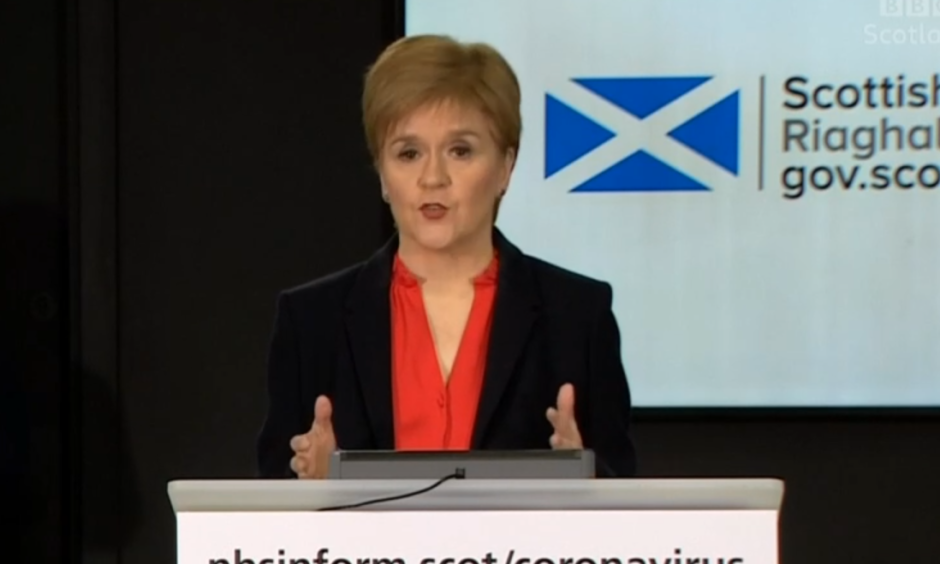 One of Scotland's most popular venues is being transformed into an NHS hospital with room for up to 1,000 patients in order to deal the coronavirus pandemic.
The Scottish Exhibition and Conference Centre (SECC) in Glasgow will become a health facility that will allow Scotland to cope with a possible increase in the number Covid-19 patients.
It will house 300 additional beds, have room for as many as 1,000 patients if needs be, and could also be equipped with a mortuary.
First Minister Nicola Sturgeon announced the plans at a press conference in Edinburgh on Monday morning – adding that the new hospital will be a "contingency" measure should the NHS Scotland estate run out of space to house people suffering from coronavirus.
It comes as it was revealed that there has been 1,563 confirmed Covid-19 cases in Scotland and a further six patients have died – bringing the death toll to 47. There are now 108 people in intensive care suffering from coronavirus in the country.
However Scotland's chief medical officer Dr Catherine Calderwood said new estimates suggest that more than 100,000 people will now have contracted the virus in the country.
The Scottish Government has been in discussion with the British Army as it looks to establish the new hospital at the SEC Centre.
Speaking about the plans, Ms Sturgeon said: "It is entirely possible we will not have to use the extra capacity we are creating at the SECC."
She said the Scottish Government was focused on increasing "both general hospital capacity and intensive care capacity within our hospital network".
She added: "I can confirm today that following exploratory work over last week and the weekend we have now taken the decision to start work on turning the Scottish Exhibition Centre (SEC) in Glasgow into a temporary NHS hospital.
"If needed we expect the hospital could become operational within a fortnight from now. Initially it will provide us with 300 additional beds but ultimately it could have capacity for more than 1,000 patients.
"It is important to be clear that we might not need to use the exhibition centre.
"I want to stress that this will be an NHS hospital, staffed and operated by the National Health Service.
"We want to make sure we have all the capacity we could conceivably need. This is a contingency we are creating."
Scotland currently has 3,000 hospital beds set aside for Covid-19 patients and work is under way to quadruple the health service's ICU capacity.
Health minister Jeane Freeman said the SEC Centre hospital was the only way to cope with "additional demand" on the NHS.
She said the site would be subject to "clinical and medical infection control standards" and headed up by Jill Young, the former chief executive of the Golden Jubilee Hospital.
She added: "The SEC has been assessed as the best option given its accessibility, its close proximity to hospitals in the west of Scotland, the security, and its established infrastructure and transport links.
"We've engaged with the army in planning this project and in the support work that they can offer us in getting the project up and running.
"Army staff are also working with us and the NHS to support our logistical planning."
Ms Sturgeon also said that some 10,000 people responded to a call for volunteers through Scotland Cares, a new scheme set up to tackle the Covid-19 outbreak, within just four hours of its launch on Monday morning.
The project has also led to 5,000 people – medical students and retired healthcare workers – expressing interest in jobs within the NHS and the social care sector.
She said: "Many people are responding to this difficult period by showing a sense of community and solidarity."
Ms Sturgeon also confirmed that all NHS Scotland cancer screening programmes are being paused in the country in order to free up staff to fight Covid-19.
Breast, cervical, bowel, abdominal aortic aneurysm and diabetic retinopathy screenings have been put on hold due to the pandemic. Pregnancy and newborn screenings will continue.
Dr Calderwood said the decision came down to a "balance of risks" and would allow laboratory workers to help with coronavirus testing.
People who think they have cancer symptoms are being asked to contact their GPs or call the NHS on 111.
Dr Calderwood added: "This was another very difficult decision that we have had to take. It was taken with very careful thought and deliberation but it is a balance of risks that we believe is worth taking.
"Our main concern is that people would miss their screening appointments, perhaps because they were not able to attend the appointment, they might have been self-isolating, or because they were choosing not to attend in order not to come in contact with people.
"In pausing the appointments we will be able to recontact people who were due to be screened during this three-month period and then invite them to attend so that they will not have missed an important part of their health care."
She said NHS staff absences would also have led to a "frail, slightly reduced" screening service.
Dr Calderwood added: "We will be able to re-purpose the staff who are currently running these screening programmes.
"In particular the staff in our laboratories who can be re-purposed to working in our labs with coronavirus, and helping that vital increase in the capacity for testing coronavirus that we need.
"People should really watch out for the symptoms that we would be screening for. Please attend your GP or phone the NHS 111 line.
Ms Sturgeon added: "We have already been required to take extremely difficult decisions.
"(We have) suspended elective surgeries to create more capacity within our hospitals for Covid-19 patients.
"We are taking the very difficult decision to suspend screening programmes.
"As you can imagine this is not a decision we have taken lightly however it is important in order to maximise the ability for the NHS to cope over the coming weeks."
She said she hopes the measure will be removed after 12 weeks "or earlier", adding: "At this moment pausing this programme is an important way of allowing the NHS to cope with Covid-19".