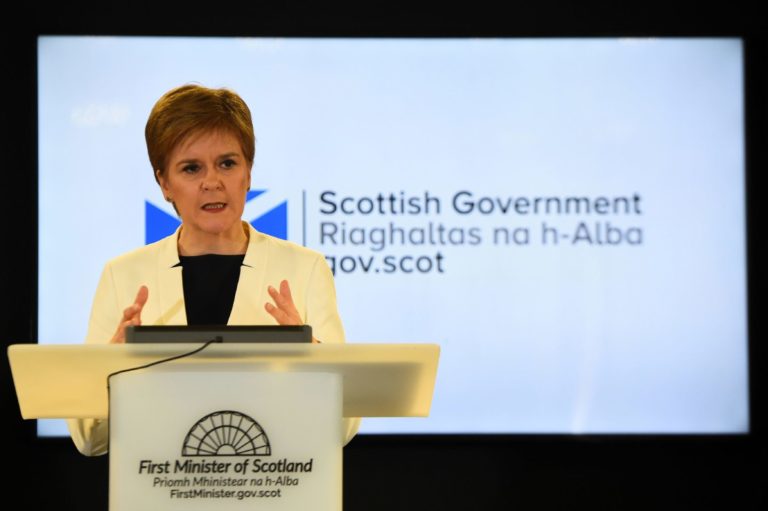 Nicola Sturgeon has warned it is "too early" to say when Scotland will be over the worst of coronavirus despite a drop in the number of patients being treated in intensive care.
A further 40 coronavirus deaths were announced by the first minister on Tuesday as she confirmed the death toll had risen to 615.
Some 6,358 people have now tested positive for Covid-19, an increase of 291 from official Scottish Government figures released on Monday.
Ms Sturgeon said a fall in the number of patients being treated in intensive care with confirmed or suspected cases, down 15 to 196, and just a single additional person being admitted to hospital overall were "encouraging" signs.
However, she warned official advice remains it is "too early to be definitive" on whether the figures could indicate the virus has peaked in Scotland following weeks of strict lockdown measures.
"We were always very clear that it would be a period of weeks before we would have the data that would allow us to really understand and be confident about the impact of these measures," Ms Sturgeon said.
The first minister said it was always likely figures registered over the Easter weekend would be relatively low so numbers could still increase in the coming days as laboratories catch up on the lag.
Ms Sturgeon confirmed talks are ongoing about the "exit strategy" for Scotland and the rest of the UK from the lockdown measures, and said senior government officials will meet later this week to discuss the latest position.
"We are already discussing the various different factors we have to take into account," she said.
"As I have candidly said, we do not yet have enough evidence to take firm decisions but that work of looking at the different options and what evidence we would need to inform those decisions is already underway.
"Sage, the UK-wide scientific advisory group, is having further discussions this week and the CMO (chief medical officer) advisory group I've established here in Scotland is also having discussions this week which will help to inform those decisions in Scotland.
"There is planned to be a Cobra meeting later this week as well."
Ms Sturgeon refused to be drawn on what benchmarks will be used to decide when restrictions can be lifted or whether some areas of society, such as schools and universities, might see lockdown measures lifted before others.
She said: "It is not the case that these measures are likely to be lifted imminently because we couldn't do that with confidence and not risk a resurgence of the virus.
"But as and when we have the ability to say how we do this, in what order, and in what timescale, we will be candid, transparent and open with people, both in what we are advising and the basis of that.
"We will continue to have a need to suppress this virus. We are suppressing it now through the lockdown measures.
"As and when we start to lift them, we will still require to suppress it and that is where the test, trace and isolate strategy comes back to the fore.
"We are all working hard to get these decisions right, to do them in the right sequence and in the right time frame, driven by that objective of trying to keep the number of people who die from this virus as low as possible."
The National Records of Scotland will on Wednesday release its second weekly update on deaths where Covid-19 has been listed as a suspected factor on the death certificate.