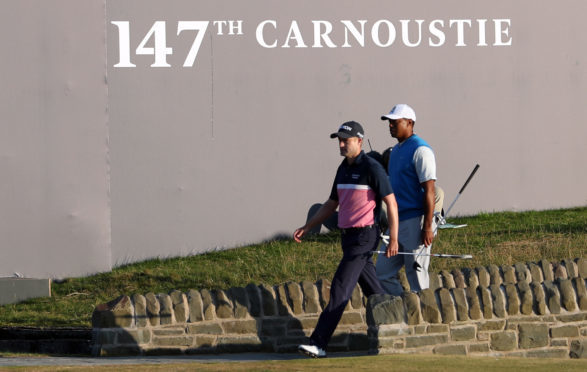 Inverness golfer Russell Knox insists he will be ready the next time he goes toe-to-toe with Tiger Woods.
The world number 49 missed the cut at Carnoustie after finishing four over par after successive rounds of 73.
But it was an Open championship Knox won't forget, having played two rounds with his hero Tiger Woods as well as Hideki Matsuyama.
The 33-year-old admitted being paired with the 14-time major winner had a detrimental impact on his own game but hopes he will get another chance to play against Woods in the future.
He said: "I didn't feel anything like that today. I was over it. Tiger, who's that?
"I think I got it out of the way on Thursday.
"The conditions were so difficult there was no time to think 'I'm playing with Tiger'.
"You're only going to ever get to play the first time with him once and that was mine. We chatted away. He was nice to me. I enjoyed watching him play.
"He hit some incredible shots and just plotted his way around the course.
"I think it was important to get it out of the way and next time I'll bury him."
Knox was disappointed to end a hugely successful month-long trip to Europe with a missed cut.
But he returns to the States having bolstered his Ryder Cup chances after winning the Irish Open and finishing runner-up at the French Open.
He added: "I think the last eight weeks caught up with me and I ran out of gas."
Woods, making his first appearance in the major for three years, safely progressed to the final two rounds on level par after a second 71.
He said: "I got off to not exactly the best start, being 2-over after three, but got it back.
"I played a little bit better on Thursday.
"It is going to be a pretty packed leaderboard and I'm certainly right there in it."