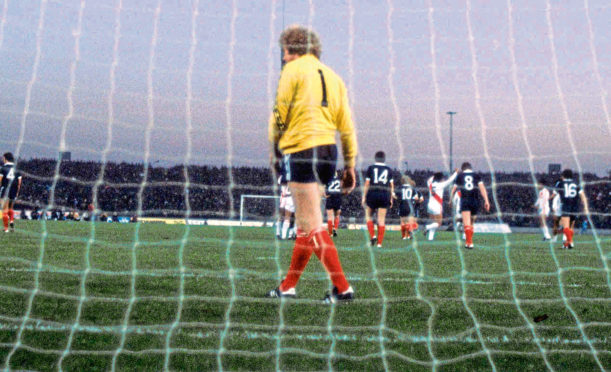 Alan Rough visited some intimidating environments during his football career which featured three World Cup campaigns.
But the former Scotland goalkeeper has admitted that nothing was more intimidating than his years on the Junior circuit.
He took charge of Glenafton at the end of his professional career, which included spells with Partick Thistle, Hibs and Celtic, even as he amassed 53 international caps.
And he was involved in the infamous Hibs v Rangers match, where almost everybody was booked and Graeme Souness was red-carded on his debut after committing a ghastly foul on George McCluskey at Easter Road in 1986.
Rough, who has become a pithy pundit and adroit after-dinner speaker, still recalls one particularly tough clash in Ayrshire.
Indeed, it led referee Willie Young to say: "Everybody was kicking lumps out of one another, there was blood and snotters everywhere, and red and yellow cards were being waved like posies at a wedding and we had been playing for 10 minutes before somebody noticed that we had forgotten to bring the ball out with us."
It was never a place for shrinking violets, but Rough loved the community spirit which these clubs engendered.
It was back in 1993 when Rough, fresh from appearing at a trio of World Cups – although he still admits he "spent most of the 1986 event reading papers and talking to fans" – enjoyed one of the best afternoons of his sporting life.
And it happened while he was in charge of Glenafton, as the small-town organisation collected the prestigious trophy for the first time by beating Tayport 1-0.
Even at this distance, Rough, who is now in his seventh decade, but oozes boyish brio for anything to do with a football, sounds slightly baffled as to how he entered the management ranks. But that May 23 afternoon at Firhill turned into one of the greatest experiences of his career.
"I look back and, of course, I remember the bust-ups and the bad headlines, but they weren't what struck me most about the Juniors," he said. "What sticks with me is how the whole village got behind us and we seemed to take them all up Glasgow with us.
"You wouldn't have described Glenafton's ground as any theatre of dreams, but I also remember that one of our main backers was Tom Hunter, who opened his first shop in New Cumnock and whose dad opened a business there, so our secretary, John Timpany – a smashing lad, by the way – organised a meeting with him.
"Sir Tom called us into his office and said: 'Right, I know why you are here, I have a meeting scheduled every 15 minutes for the rest of the day, so spit out your case.'
"He was obviously in a hurry, but, to his credit, he listened to what I told him, and, in the space of 72 hours, Glenafton had been supplied with a full set of top-notch equipment and kit. He backed us 100% thereafter and it was unbelievable.
"I mean, we won the Cup in 1993, but we lost it on two other occasions and after our 1992 defeat, he phoned and asked: 'Right, Alan, what do you need for the lads?'
"I answered a bit vaguely; 'Well, eh, nothing, thanks.' But he responded: 'Nonsense, if you are going to be professional in your preparations on the field, you deserve to be supported behind the scenes as well.
"What about you and the boys staying at Seamill Hydro for three days and I will pay for the lot?'
"I had been there in the past with Scotland. But this was Glenafton….and the guys were being pampered and treated like superstars. They loved it, of course they did. And I believe it drove them on 12 months later."
Rough isn't so dewy-eyed as to pretend that the 1993 climax was any classic. It took until five minutes from the full-time for the former Airdrie and Ayr United striker, John Miller, to break the deadlock with a 20-yard lob. It was sufficient.
"I know some folk don't believe me, but it is right up there with anything I have ever achieved in football," said Rough.
"I have been to World Cups but it was a dream come true. It is a very difficult competition to win, because you have 150, 160 teams in it at the start and it goes all through the winter, but we had finally done it. And I was the manager.
"I occasionally wonder how it came together, but it did."