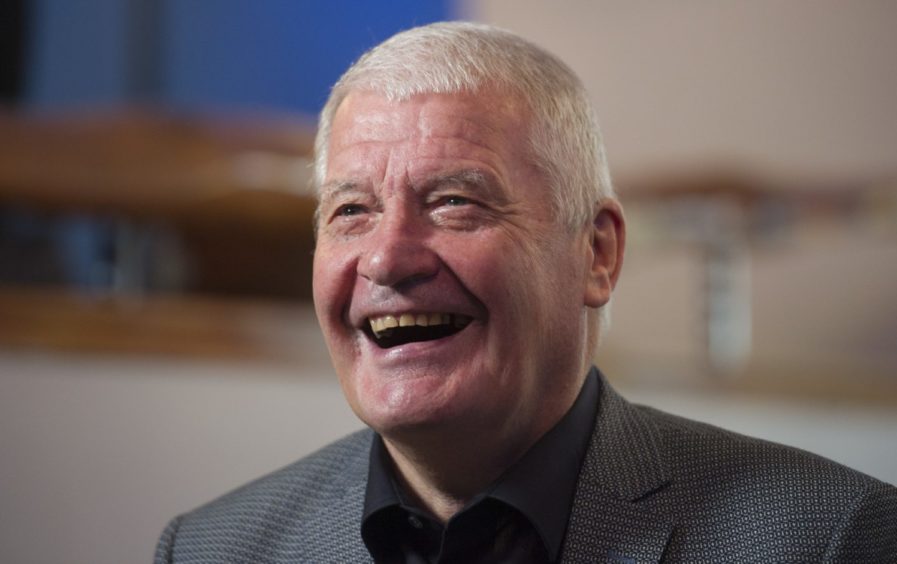 Archie Knox's spying trips during Aberdeen's road to glory in Gothenburg wouldn't have looked out of place in an Inspector Clouseau film.
Knox was both shaken and stirred after being followed by a Cold War spy when he went to run the rule over Lech Poznan in Poland before the last 16 tie in October 1982.
Knox moaned about the experience for weeks.
Matters didn't improve when Aberdeen qualified for the European Cup Winners' Cup final and Knox was sent out to Spain to watch opponents Real Madrid in action.
Alfredo Di Stefano's side were leading La Liga from Athletic Bilbao and only needed a draw away from home against Valencia to clinch the title on the final day of the season.
Valencia needed to win to avoid relegation.
The stage was set for last-day drama and boy did it deliver.
Mind you, Alex Ferguson's trusted lieutenant didn't manage to see very much of it!
Bus left without Dons assistant boss
Knox flew out to Spain for the May 1 1983 La Liga clash and was certainly messed about because the promised ticket from Real Madrid was not left for him at his hotel.
Were Real Madrid running scared ahead of Gothenburg?
Knox told me: "I was meant to be getting a lift up to the game on the Real Madrid team bus, but when I got down to reception it had already gone without me!
"How was I going to get there before kick-off?
"The roads were already very congested, but I managed to get a taxi and agreed to pay all his fines if he went through every red light to get me to the ground on time!
"We found ourselves completely stuck in traffic a mile short of the ground."
Valencia was skin-meltingly hot and Knox was resplendent in his Aberdeen FC blazer, shirt and tie when he decided to get out of the cab and finish his journey on foot.
"I ran to the ground and the sweat was lashing off me," he said.
"I got there with time running out and tried one or two places for tickets, but Real Madrid hadn't left one for me and nobody at Valencia had ever heard of me!"
The game was a sell-out with not a spare seat anywhere in sight, so Knox tried to get himself into the stadium by explaining his predicament to the Spanish police.
A policeman took pity on the bedraggled Scotsman and agreed to keep the steward occupied to allow Knox to casually make his way up the stairs to enter the seated area.
"The plan worked  – or so I thought – and I was halfway up the stairs when a couple of stewards grabbed me and frogmarched back down again," said Knox.
"I thought: 'I'm beat'.
"I was resigned to the fact I'd have to find a bar and watch the match on TV."
Archie Knox had a restricted view of Real Madrid game
Valencia had taken the lead through Miguel Tendillo on 39 minutes and the league was slipping away from Real with Athletic Bilbao 2-1 up away to Las Palmas at half-time.
After an hour of hassle from leaving the hotel, Knox decided to walk round to another part of the ground to try his luck when he spotted what seemed the perfect opportunity.
"The steward was dealing with someone else and I took my chance," he said.
"I just kept running to the top of the stairs and somehow got in without being stopped!"
With not a spare seat anywhere in sight, Knox had to blend in fast before it became apparent he didn't have a ticket.
"I just kneeled down out of sight of the stewards," said Knox.
"I watched the game through the gap in someone's legs.
"Valencia won the game, but from what I saw I fancied us to beat Real Madrid."
Athletic Bilbao won 5-1 in Las Palmas to win La Liga, but Real had 10 days to lick their wounds before facing Ferguson's Dons side at the Ullevi Stadium in Gothenburg.
History tells us that Aberdeen won 2-1 in extra-time and there was further misery for Real when they lost both the Copa del Rey final and the Copa de la Liga final to Barcelona in the weeks that followed to finish the season trophyless.
Knox shared in the Dons triumphs during those glory years alongside Alex Ferguson before accepting the challenge of becoming Dundee manager in December 1983.
"I was lucky enough to get a job like Aberdeen in 1980," he said.
"I didn't really know Alex, although I had met him on a couple of coaching courses and I think Jim McLean had a huge influence on that.
"Alex and Jim were quite close and I'm eternally grateful for getting that opportunity.
"Alex asked when could I start and I said the next day.
"With my job at Webster and Pattullo in Forfar, and my part-time work at Station Park with Forfar, I was on £8,000 a year and Aberdeen offered to put it up to £9,000.
"Then I realised I had a car at Forfar and wasn't getting one at Aberdeen.
"So I was worse off and knew that even Walter (Smith) got a car from Jim at United!
"So the extra £1,000 was spent on a new motor!"
Knox almost secured a Uefa Cup spot for Dundee in 1986 during his three-year spell before he returned to Aberdeen and followed Ferguson to Manchester United.
"It was all done in 30 seconds," he said. "Maybe less.
"Straight away, he tried to stamp the drinking culture out at Old Trafford."
Knox returned to Aberdeen
Knox spent four-and-a-half years with Ferguson and won the FA Cup in 1990 and the European Cup Winners' Cup in 1991 before he moved to Rangers.
The late Walter Smith was now in charge following the departure of Graeme Souness and the Smith-Knox partnership that started life at Tannadice soared to new heights.
There was the famous 1992/93 Champions League run (where Rangers were a game away from reaching the final) and domestic success including seven league titles.
Smith and Knox left Rangers and went on to have a four-year spell at Everton that included handing a league debut to a certain 16-year-old named Wayne Rooney.
Spells alongside Craig Brown with the Scottish national side and Aberdeen followed, before he finished his career with a 2014 scouting role at Dens under John Brown.
"I've had a fantastic time in football," he said.
"I couldn't have been luckier."