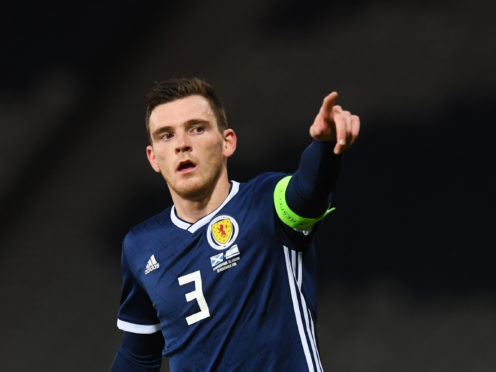 Scotland captain Andy Robertson reckons his side must be prepared to suffer if they are to take anything from tonight's European Championship qualifier against Belgium.
The much-fancied Red Devils have not lost a home game in nine years and top Group I with a 100% record, but Robertson is remaining bullish about his side's chances.
After back-to-back wins, Scotland now sit third in the group behind the Belgians and Russia, with home and away ties against both sides still to come.
They expect to be under pressure for large swathes of tonight's game in the King Baudouin Stadium and Robertson says that is a necessary ill if they area to come away with a creditable result.
He said: "It is still very early in terms of what he (Steve Clarke) wants, how he wants to get his points across to us. But we believe we have taken a lot of information on board and we will try to implement it.
"On Saturday we maybe showed them a little bit too much respect and we have to go after them at times.
"It will be the same tonight. But there will be no surprise if Belgium have more possession, we know we will have a lot of time without the ball.
"But now is maybe the time to get in our formation and stay compact, something we have probably not done for a couple of years now.
"At times, playing for Liverpool that is what has to happen. At times in the final, against Tottenham, that was what happened, we had to do that, sit in our shape.
"Our manager is obviously big on attacking play but he also says you have to suffer in games. We will probably have to suffer a lot longer than a team like Liverpool do. But we all have to suffer in a game if that is what we have to go. We can't afford to get frustrated – especially we can't get frustrated at frustrating them. Mentally we need to be switched on at all times."
Robertson is used to facing members of the Belgium squad in the English Premier League, while two of his Liverpool team-mates – Divock Origi and Simon Mignolet – will be in the opposing dugout tonight.
Robertson added: "I wouldn't say it makes it any easier but I at least have the confidence of playing against these players at week in, week out so I'm used to it along with some of the other lads.
"The other lads who maybe aren't used to it need to rely on their own ability a wee bit more and believe in themselves.
"We all need to go in with that belief. Of course we're playing against world-class players but if we play to our best then I believe we can frustrate them."