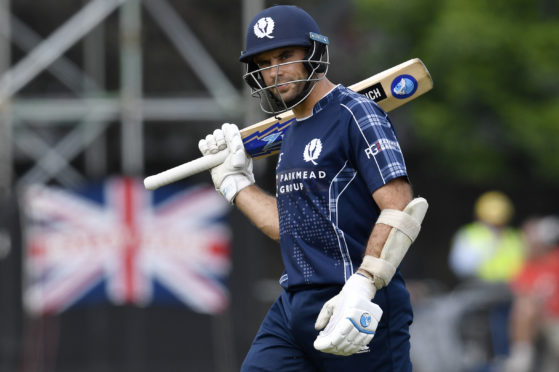 He is one of the most laidback, contemplative characters off the pitch it would be possible to imagine.
Yet, ever since Kyle Coetzer excelled at junior level for Scotland, blazing a prosperous trail wherever he travelled, the 35-year-old Aberdonian  batsman has been among the proudest and most passionate cricketers of his generation.
The news that Coetzer has received an MBE for his services to the game he has graced should provide some consolation for the many Scots who are watching the current World Cup across England and Wales with a sense of righteous indignation.
Queen's Birthday Honours: Scotland captain Kyle Coetzer 'shocked, surprised and extremely proud' of being made MBE
After all, Coetzer has not only appeared in the globe's premier tournament, but has shone like a beacon at the highest level. In 2015, when he and his compatriots proved a combative force, he created history by hitting a wonderful knock of 156 against Bangladesh which should have propelled his side to victory.
In the end, through a combination of poor bowling, dropped catches and, to be fair, some excellent batting from the Bangla brigade, Scotland were unable to defend a total well in excess of 300. But Coetzer, whose innings was praised to the skies by the likes of Michael Atherton, Nasser Hussain and David Lloyd, refused to dwell on the negatives or make a big deal about his own heroics.
It sums up the man, who has now been playing a frontline role, on and off the pitch for Cricket Scotland for more than 15 years.
He's one of the game's genuinely class acts. He is also a man who has scored a hundred, both for and against Scotland against Durham, and one of the Riverside team said this week: "Kyle is a huge credit to the sport. He pushes himself all the time and it's a measure of the guy that nobody wants him to be at the crease for very long.
"He can make life very difficult. He goes hard at you. And he has all the shots you need to succeed."
Coetzer's crowning glory came at the Grange almost exactly a year ago when he and his colleagues beat world No 1-ranked England in front of a capacity crowd in Edinburgh.
He and his north-east confrere, Matt Cross, put on more than 100 for the opening stand. And their controlled belligerence and skill, allied to a magnificent innings from Calum MacLeod, saw numerous records being scattered to the wind.
It was an ample reminder of the progress which the Scots have made, under Coetzer's stewardship. And their eventual triumph over the ECB's finest demonstrated the folly of the ICC in preventing Kyle and Co from being involved in the current World Cup in England and Wales.
I met Coetzer at Mannofield in April and he was as passionate and enthusiastic as ever in promoting the pursuit which he loves to bits.
He believes, and it would be a brave person who would disagree, that Scotland can offer a challenge to any team in the world at the moment.
One can be absolutely sure he will carry that mantra into the rest of his far-travelled career in his efforts to bolster the Scots' cause.
As he told me: "We have to keep pushing forward and setting ourselves new challenges. We want to become an ICC Full Member. And I am confident we will achieve that."
With Coetzer at the helm, why not?