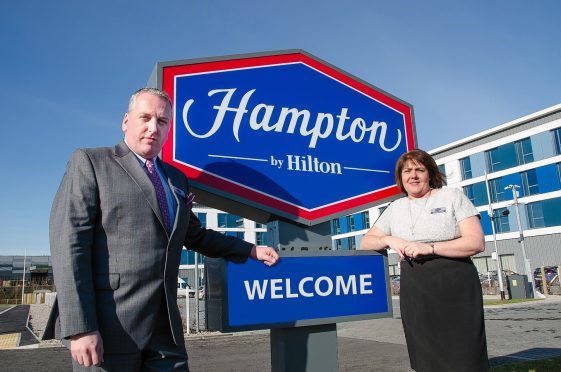 The first of two new hotels has opened in a £34million-plus investment creating more than 100 jobs in the north-east.
Hampton by Hilton Aberdeen Airport, with 155 bedrooms, is now welcoming guests following its construction on the D2 Business Park at Dyce.
A 173-bedroom Hampton by Hilton is due to open in Westhill in May, joining a brand portfolio of more than 2,000 hotels across 17 countries.
The investment by international property developer Bricks Capital, which has offices in Hong Kong, London, Manchester and Glasgow, adds more than 300 rooms to an increasingly competitive hotel market in and around Aberdeen.
It also takes Bricks' investment in Scottish properties to date to £100million.
Bricks is helping the US-based Hilton group grow its Hampton brand in the UK, and the pair hope investment in the north-east will pay off when the local economy picks up.
Hampton by Hilton Aberdeen Airport general manager Sandra Brooks said: "This fresh, contemporary hotel represents a new dimension to the Hilton family, which will be very well known to many people.
"It is a significant step forward for the company to open in a key Scottish market such as the north-east, where green shoots of recovery make this a great place to be.
"We very much look forward to the opportunities and challenges which lie ahead as we build our reputation in the area."
Bricks chief executive Peter Prickett added: "We are extremely excited to have joined forces with (third-party hotel management company) Interstate to open the first of our Hampton by Hilton branded hotels in Aberdeen, and grow our Scottish portfolio further.
"We hope this is the first of many as we continue our expansion throughout the UK."
Interstate UK managing director Nicholas Northam said the operator's involvement underlined its "commitment to supporting the growth and development of the area's corporate and leisure markets".
The builder for both new hotels is Robertson Construction Eastern (RCE), part of Elgin and Stirling-based Robertson Construction Group.
RCE managing director Keith Taylor said: "It has been a pleasure to have been involved in this project.
"Our teams have embraced the modular construction techniques and we are pleased to have completed it within a shorter timeframe than is usually expected for this type of development."
Hilton's other brands include Hilton Hotels and Resorts, Doubletree by Hilton, Hilton Garden Inn and Waldorf Astoria Hotels and Resorts.
The group's latest offering in the Aberdeen area comes at a time when most hotels in the area are struggling to shake off a severe downturn in business since oil prices slumped.