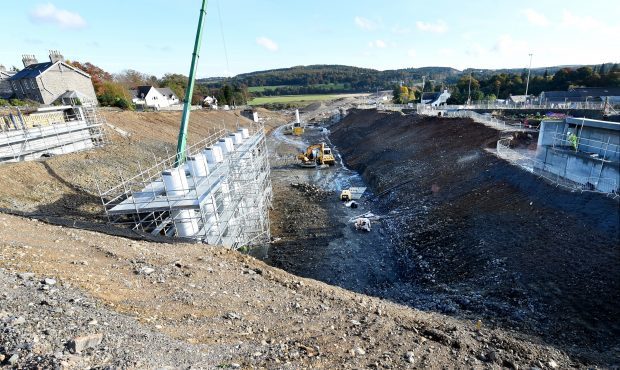 The owner of Scottish builder Morrison Construction hailed a strong first half performance in results yesterday.
Galliford Try said pre-tax profits surged by 19% to £63million during the six months to December 31, from £52.9million a year earlier.
Revenue for the latest period was up by 3% at around £1.3billion.
But construction interests including Morrison, which has its roots in a business launched by Alex Morrison in 1948 at Tain, saw operating profits slump by 68% to £2.7million despite a small rise in revenue to £742million.
Middlesex-based Galliford Try said the construction market was currently "stable", with a steady flow of opportunities up for grabs in the public and regulated sectors.
It added: "The infrastructure pipeline is encouraging but we remain cautious about the amount of time it takes to progress these projects.
"Commercial projects suspended following the (EU) referendum have now been reactivated, although for the medium term there remains a risk of weaker demand from private clients as businesses assess investments against the context of current macroeconomic uncertainty.
"Our strong focus on public and regulated sectors and framework opportunities is important in these conditions."
The group said its construction division had an order book worth £3.4billion, while it had already secured 94% of projected revenue for the current financial year and 62% for 2017/18.
Morrison Construction's portfolio covers a range of activities, from the construction of multimillion-pound building and civil engineering projects to small works and repairs and maintenance.
It is part of the Connect Roads consortium currently building the 28-mile, £745million Aberdeen bypass, alongside Balfour Beatty and Carillion.
Galliford Try snapped up the business – part of Morrison Plc – through a £42million deal in April 2006.
Elsewhere within Galliford Try, the group said its housebuilding businesses south of the border should benefit from a UK Government commitment to increase supply.
Chief executive Peter Truscott said: "The Group delivered another strong performance in the first half.
"Our reorganised management teams have settled well and are making positive strides towards their respective operating and financial targets.
"Whilst we remain alert to potential uncertainties in the wider economy, we continue to see opportunity in all of our markets."