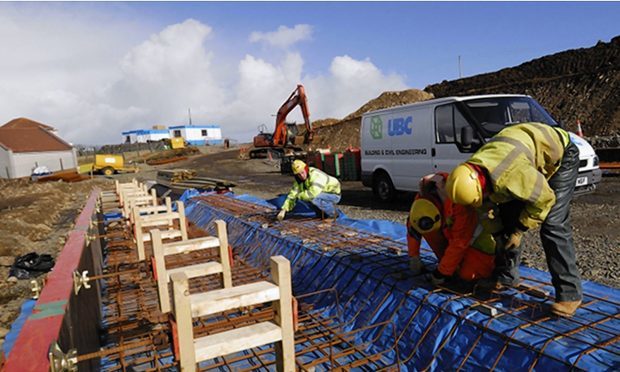 Administrators have revealed there is no cash left to pay creditors owed £3.5million after the collapse of north firm UBC Group more than five years ago.
Hebrides and Inverness-based UBC crashed in May 2012, with bosses blaming a "general downturn" in the building industry and other companies being unable to pay them for work.
The business had annual turnover of £31million and employed 277 full-time staff, including 133 in Inverness.
It also had bases at Stornoway, South Uist, Glasgow, Dundee and Bathgate.
More than 250 people worked as sub-contractors for the group, which was better known as Uist Builders in the islands after being built up by the Peteranna family on South Uist.
It later emerged the company folded with debts of more than £11million.
UBC owed an estimated £4million to the Bank of Scotland, which has since received about £1.9million from administrators at global business-advisory firm AlixPartners.
As a secured creditor, the bank had first call on any money raised from the sale of UBC's assets.
In an recent progress report, joint administrators Anne O'Keefe, Elizabeth Mackay and Fraser Gray revealed ordinary creditors would get nothing.
"There were insufficient realisations to enable a dividend to be paid to the unsecured creditors of the company," they said.
Their report added: "Based on the SOA (statement of affairs), unsecured creditors are estimated to total £3.5million."
AlixPartners said UBC owned 20 properties – some of them held as security by the bank – at the time of its collapse.
The properties were all sold, with the last of them – a unit at Lochboisdale pier on South Uist – being disposed of in March of this year, raising £45,000.
AlixPartners said it had filed a notice at court for the dissolution of the business, meaning the administration will end on or before November 7.
UBC was a major employer and a dominant force in the Hebrides' construction industry.
The loss of 90 jobs in the Western Isles was a the time described by the leader of the local council, Angus Campbell, as a "devastating blow for the economy".
After the firm crashed, work on two significant island projects – the £4.5million Harris House care home at Tarbert as well as a £3.5million scheme for 22 new homes at Stornoway – were left in limbo.
The administrators said the company "experienced cash-flow problems due to extremely challenging trading conditions."
UBC's collapse also led to north construction bosses calling for government cash to help stop more building firms going to the wall.