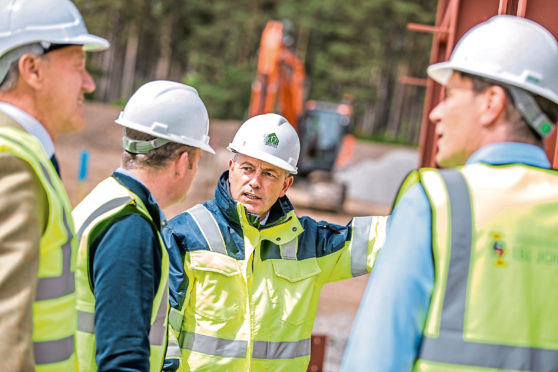 German wind energy company Enercon is to open a "flagship" Scottish distribution and training facility employing 20 people at Inverness Airport Business Park (IABP) early next year.
Work on the new building, where more than 200 technicians are expected to train in its first year, started recently, marking what has been described as a "major milestone" in the park's development.
Enercon – said to be the world's fourth largest wind turbine manufacturer – was awarded a grant of up to £173,000 by Highlands and Islands Enterprise (HIE) to construct the building, which will be its main UK training centre.
The 10,000sq ft facility is being built by Inverness-based property investment and development company Ark Estates.
Enercon Services UK managing director Julian Martin said: "The IABP site was selected as Enercon's preferred location for its new distribution and training centre after an extensive property market research in the Inverness area.
"Ark Estates will provide a purpose-built facility that will meet Enercon's current and future requirements with convenient UK and international travel through Inverness Airport, and national rail and road connections."
Further expansion and recruitment is anticipated for the site.
The building will comprise a 6,320sq ft warehouse and 4,080sq ft of offices.
Ark Estates managing director William Gray said: "We are delighted to begin construction on Enercon's new Scottish flagship site.
"As with many of our other pre-let industrial builds, this one will be tailored to meet the client's needs, providing them with a turn-key solution that we can hand over to them on completion.
"It's fantastic to see such a major international company choosing to locate to Inverness Airport Business Park."
HIE senior development manager Alistair McMillan added: "The development will help to consolidate Inverness Airport Business Park as an important hub for economic activity and growth in the area."