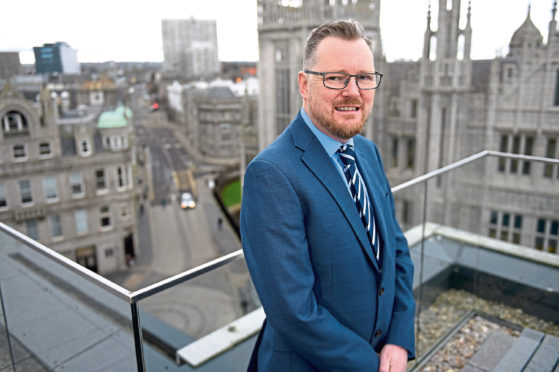 As a new decade dawns, significant change awaits Aberdeen Football Club (AFC).
All being well, the Dons will say goodbye to Pittodrie in the 20s and start life afresh at a new, purpose-built stadium at Kingsford.
But that's not all that's changing.
A new leadership team has taken the helm of the club's finances and business strategy and will, in all likelihood, make some significant changes to the way AFC is run.
For almost 20 years, Duncan Fraser has steered the ship at the top of the club, working hard to pull it out of debt and latterly turn it into a profit-making business.
But many fans may forget there is a lot more to the success of a football team than the 90 minutes on the pitch. So what is this change likely to look like? And what lies in store for Mr Fraser now he has stepped down as CEO?
Having trained as a chartered accountant, Duncan Fraser joined AFC in 2002, having spent his working life up until that point as a financial controller at an oil exploration company.
As a numbers man, he held various treasury roles within the oil and gas sector as well as senior commercial roles. But it was his love of sport, and football in particular, that made him turn to the Dons.
"Looking back at 2002, they were really challenging times for the club and Scottish football in general," he recalled. "The club back then had already started on a major review, trying to get its cost back under control, but we spent a number of those initial years trying to get to a position where we knew we could operate on a break-even basis year-on-year.
"Ultimately, what came out is that our debt had peaked at £15 million, which was a problem for a business that was turning over in the region of £8.5m. At that moment in time, it was very, very difficult.
"My role as I saw it was very much to work with the major shareholders – who at that time were Stewart Milne Group and Aberdeen Asset Management – to turn around the business and to get the debt firstly under control and then look towards reducing it."
Mr Fraser said he was extremely fortunate that during his time at AFC, he was able to work with fantastic and dedicated staff who pushed forward during difficult times.
But he said it was ultimately the support of the local business community that pulled it out of debt. He said that without the financial backing of those local businesses, the club would not have recovered to where it is today. And he believes the relationship AFC has formed with the north-east business community is unlike any other across Scotland.
"There was an enormous pressure on the organisation," explained Mr Fraser. "You had people in sales and marketing going out there in difficult conditions; you had operations guys realising that costs were a challenge. But we were really incredibly lucky that the local business community of Aberdeen and Aberdeenshire supported the club.
"Whenever I'd go to Glasgow for a meeting, everyone would wax lyrical about the fact that we had this fantastic business market in Aberdeen. But the thing that struck me most was that with some other major football clubs, they have a big marketing drive to secure relationships with big multinationals, but we had people who were supporters who had just happened to be successful in business and wanted to put something back towards the football club and the community in general.
"If it weren't for that, it certainly would have taken us a lot longer to get to a break-even."
Between 2009 and 2013, the club found itself addressing challenges that were not specific to the Aberdeen market but the Scottish football market in general.
In 2009, Setanta, who were the television partners at the time, went bust.
Mr Fraser explained: "That meant the contract we had signed with them – worth somewhere in the region of £150 million – had gone over night.
"I was on the board of the SPL at that time and we found ourselves scrambling around to replace that deal. Whilst we got a replacement deal with Sky and ESPN, it was worth about half that. So over around five years, something like £75m was coming out of Scottish football.
"We also found ourselves in the position where many clubs went into administration. Ultimately, Rangers went into liquidation and went back to the bottom tier.
"All of those income streams were central to the business model, so we were faced with challenges externally that required time and effort that would put into doubt our whole operating model.
"In 2013, I spent a lot of time working with others to consolidate the SPL and SFL into the SPFL (so one governing body for the professional clubs) and that was the catalyst that allowed us to stabilise the game in Scotland.
"As a result, we were able to get ourselves back on track and, for me, the most important achievement we had in that time was, by working with our major shareholders and one or two prominent individuals in the city, we eliminated all internal and external debt.
"Before 2014, we had been able to address the debt issue and bring some of it down but we were eventually able to eliminate the remaining £13m through a deal we did with the bank. That was the most significant event in so many ways from a business perspective during my time at the club. Only by doing that are you able to start planning ahead and invest in some of the areas you really wanted to grow the business."
As Mr Fraser steps down, he is leaving the club in a position where it is turning over £16m a year and growing. It has no debt and has built a £13m training facility at Kingsford.
He added: "It has been a transformative period, if you like. Above all else, it was pushing forward with these initiatives and ensuring the club was in a strong financial position that made me stay for as long as I did. I wanted to make sure that when I left, I could see the club going forward successfully."
Mr Fraser, who is now looking for new opportunities both inside and out of Scottish football, said it was important for him to hand over the club with a strong management team in place, and he has spent the past two years preparing for the transition.
He said: "I think the most important thing is what we tried to do two or three years back. I wanted to strengthen the executive team we have at Pittodrie. I am still a non exec at the football club. I'm a director at the SFA, a Uefa delegate and a Fifa commissioner, and I have also served on the European Club Association competitions committee.
"So in doing all of this, I spent an increasing amount of time away and, in reality, I needed to have alongside me a strong executive team.
"We managed to recruit Rob Wicks two years ago, and just over a year ago, we managed to recruit Kevin MacIver as finance director. For me, that was central to strengthening the team.
"We also have other people who have grown over the period into senior management roles. That has been bedding in over the past year and I think what that enabled was when we looked at bringing in more capital to the club, the new investors could see a team in place that could take the business forward.
"I think what was recognised was when the US investment group headed up by Dave Cormack came in, it was important that they got an opportunity to work with the executives to try out new ideas and bring new initiatives forward, and from that perspective, Dave will want to be more hands-on.
"I had always said to myself I wanted to move on from an executive role within the club and for me, it just seemed like the natural time to step aside but still be involved and support Dave and the team in a non-executive role to allow them the opportunity to take the club to another level. I think that's exactly what they'll do over the next three or four years."
Our future is bright
Duncan Fraser said that, while he hoped to continue to do work for both the SFA and Uefa, he is also keen to immerse himself in the business community of the north-east.
He said the opening of the Aberdeen Western Peripheral Route (AWPR), Aberdeen Art Gallery and P&J Live arena have elevated the city greatly, and believes the region has huge potential.
He added: "I do think Aberdeen as a city is going in the right direction.
"There has always been this question mark over what would happen to it post oil and gas, and I think the last year or so has been a really positive one for the city.
"To me, that demonstrates Aberdeen is going in the right direction and if there is anything that I, as someone who has been involved in a major institute in the city, can do to promote that, I would be more than happy to do so.
"I also think we have two outstanding universities in the city, which are very forward-thinking. The biggest challenge we have to face up to is this – what is going to not just keep talented young people who were brought up here in Aberdeen, but what will make some of the new students decide to stay in Aberdeen and contribute towards the future of the area.
"It's projects like these that can really make a difference. I think the future for the north-east is very bright.
"Whatever opportunities I take on in the future, I want to be able to go into them with the same passion I had at Pittodrie."
Mr Fraser said he felt his future was more than likely to be based in Aberdeen, however because of a large number of contacts within SFA and Uefa, he might find himself moving on. He added he would always keep his family base in the city.
This will allow him to see Kingsford develop – a project he has been involved in from the start.
"It has taken the club a huge amount of effort, time and energy to land the destination," he said.
"I think what the club is doing at the present time is absolutely right. With the training facility opening, that's a massive positive for the club. That's going to take a little bit of bedding-in time over the next year. We spent a lot of time planning for that.
"The next stage is the full consultation with all the stakeholders. What everybody at the club recognises is that you only get one bite at this.
"This stadium will be delivered.
"The club needs to move and, yes, Kingsford is the right place. The board and the people at the club are right to take their time to ensure they have the optimum model, not just the capital, but for the business going forward."