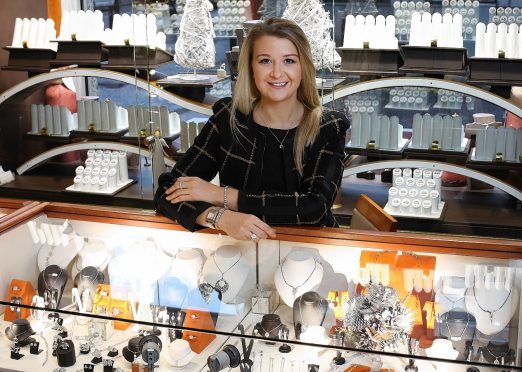 A family-owned Aberdeen jeweller is continuing a tradition of introducing international trends to the north-east as representatives take stock of the latest fashions on a European fact-finding and buying tour.
Finnies the Jeweller, which has been serving the north-east for almost 60 years from its George Street store, flew the flag for the region at a range of high profile jewellery fairs this year, soaking up inspiration as family members from the business travel the globe to keep Finnies at the forefront of the industry.
The renowned Baselworld show in Switzerland was their last stop as they joined more than 150,000 delegates at the prestigious event.
Finnies manufactures most of its jewellery collection in-house. The family owners prides themselves on bringing fresh and exciting jewellery ideas to the north-east and focuses on Europe when it comes to international jewellery fairs.
Dominque Dawson, the grand-daughter of Finnies the Jeweller's founders, Ron and Peggy Finnie, took in the glamorous Vincenzaoro gold and jewellery industry show in Italy – the leading event for the global jewellery industry, which was attended by more than 19,000 buyers from 130 countries.
Ms Dawson joined the firm in 2014 having previously worked for luxury brand Chanel after completing her graduate gemologist diploma.
She said: "We like to set ourselves apart from other UK jewellery retailers and show different jewellery, which is why we cast our net far and wide. The aim for us in attending shows like Vincenzaoro and Baselworld is to find inspiration and identify new trends in jewellery – something you can really only do by being able to see pieces up close and to hold them in your hand.
"Vincenzaoro in particular has a fantastic atmosphere as there is always such a mix of suppliers there. Some sell complete pieces while others have innovative settings that we can work with and set in house. We mainly buy from Italian family suppliers, who we only get the opportunity to see through attending fairs such as this. Transactions can be quite fun as there tends to be not much English spoken but a lot of wild hand gesturing.
"Many suppliers come to see us in Aberdeen but they can't bring the full collection, something we can view at the fairs. We can then use that knowledge and experience to instantly pinpoint something we have seen previously when we get a particular customer request."
A visit to an international fair such as Vincenzaoro or Baselworld would not be complete without the family pencilling in a morning to look at jewellers and fashion boutiques in the local city to ensure they are not missing out on what is on trend in Europe, as well as collecting ideas for window displays to be used in the Granite City.
Ms Dawson returned from Italy with a variety of inspiring thoughts for the months ahead.
"One trend in particular we saw was a surge in popularity of long rings, covering the length of the finger. This is a focus for us and something we have been looking for in white gold and diamonds. We also had many requests for long chains over Christmas, so went armed with photos of things we wanted to show suppliers.
"These fairs are invaluable to us with the diversity of jewellery that is on display and I believe the pieces we source there really do set us apart in the UK jewellery market.
"Vincenzaoro provided fantastic inspiration for us, and Baselworld, which is the world's largest watch and jewellery exhibition, will be just as valuable to us. We are looking forward to the show immensely and to sourcing some incredible pieces to our customers in Aberdeen."