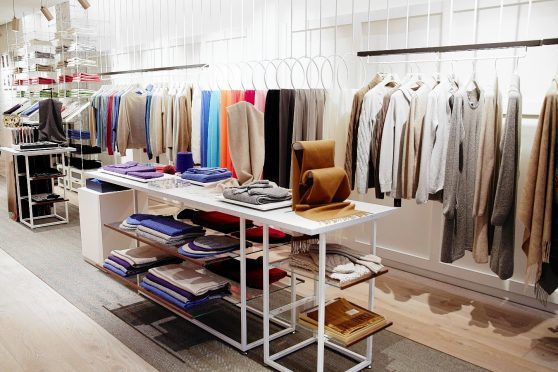 Sales growth in the UK and overseas markets has boosted profits and turnover at Moray-based cashmere specialists Johnstons of Elgin.
In results filed at Companies House, the firm said it had made pre-tax profits of £7.8 million in 2015, although £4.1 million of that was down to a one-off gain from the sale of its London office.
Underlying operating profits at the company were £3.9million, compared to £2.3 million in 2014 and sales rose by 13.6% to £66.7 million
Yesterday Johnstons' chief executive, Simon Cotton, described 2015, which saw the firm open a flagship store in London, as a "very significant year."
While anticipating similarly strong trading results for the current year, Mr Cotton sounded a note of caution for 2017 regarding the impact of weaker sterling and "global uncertainties" on the company's markets.
Founded in 1797, Johnstons runs mills in Elgin and Hawick and produces accessories, cloth and knitwear for luxury brands and under its own Johnstons of Elgin brand.
The company said sales to luxury brands in the UK and France grew during the year to December 31, 2015.  Sales of Johnston of Elgin branded products also increased through its own UK retail activities and in wholesale, driven by Japan and the Middle East.
Mr Cotton said: "2015 was a very significant year as we moved forward with our plans for the company.  We continued to invest strongly, with over £2 million of capex across our sites.
"At the end of the year we opened our new flagship store at 77 New Bond Street in London, which allows us to showcase our full capabilities to the international trade and to consumers."
He added:  "In 2016 we anticipate similar trading results and continued operational progression with our investment in the latest technology as well as out retail operations.
"We are pleased to have recruited a new creative director, Alan Scott, who is unlocking the significant untapped potential within our own brand.
"The impact of weaker sterling will be felt going into 2017 and we anticipate a more difficult marketplace generally due to global uncertainties."
During 2015 Johnstons' total workforce grew by 114 to 943.  The number of people employed in its factories rose from 596 to 669.
As well as it's London store, the company has outlets at its two manufacturing sites and a shop in St Andrews, Fife.  In January last year it acquired a small store on Nantucket Island under a wholly-owned US subsidiary, Johnstons of Elgin USA Inc
Mr Cotton also highlighted that during 2015 the company was awarded ISO9001 quality standards certification and Investors in Young People status and became a Scottish Qualifications Agency assessment centre for Modern Apprenticeships.