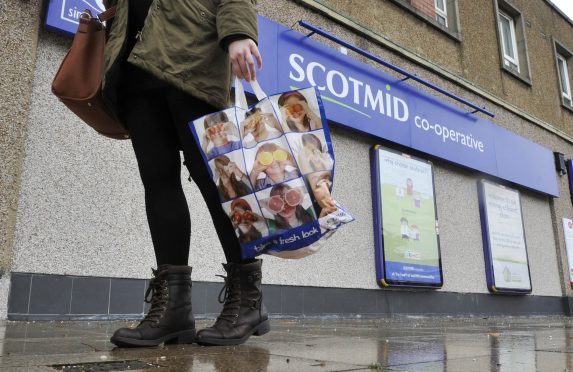 Scotland's largest independent co-operative said a "lacklustre" retail market and the national living wage impacted on profits during the year to January 28.
Scotmid also warned that extra costs from the new apprenticeship levy, a sharp rise in business rates and UK economic and political uncertainty were making 2017 "another challenging year".
But the group's 90-year-old funeral business is thriving, thanks to a recent stabilisation of the death rate after years of decline, chief executive John Brodie said yesterday.
Scotmid said its property investment arm "enjoyed a very positive year", helping the co-operative deliver a strong underlying performance overall.
The group's Semichem toiletry chain "continued to find itself operating in a difficult retail landscape", although outlets in Northern Ireland notched up strong sales growth.
Scotmid said increased competition impacted on day-to-day sales at Semichem, while the 100-plus strong chain also faced cost pressure from a weaker pound.
Mr Brodie reported a fall in Scotmid's trading profits to £5.3million in 2016/17, from £5.7million a year earlier, on turnover which grew by £6million to £376million.
Pre-tax profits rose to £7.6million in the latest period, from £5.4million previously.
The recent business rates revaluation and controversial apprenticeship levy are expected to add up to £1million to Scotmid's costs this year.
Business groups in Scotland recently called for clarity on how to access a £10million pot funded by the new levy, while oil and gas industry skills and workforce development body Opito has warned it could have "unacceptable" implications for Scotland's energy sector.
Mr Brodie said current challenges for Scottish retailers were reflected in industry figures showing a 0.8% drop in like-for-like sales during the year to January.
He added: "Scotmid's food convenience stores tackled this challenge by adapting to changing customer requirements, driven by the popular food-to-go lines and excellent local products.
"Last year, I highlighted the specific challenge of the national living wage in the context of an unfavourable Scottish retail market.
"The society has delivered a good response to this challenge by accelerating efficiency and other improvement initiatives."
He said Scotmid, which has nearly 200 convenience stores across Scotland, had invested about £10million in its businesses during a year characterised by "unprecedented uncertainty" due to the Brexit referendum and US election result.
"I expect this political and economic uncertainty to continue in 2017," he said, adding the looming general-election and cost pressures only magnified this.