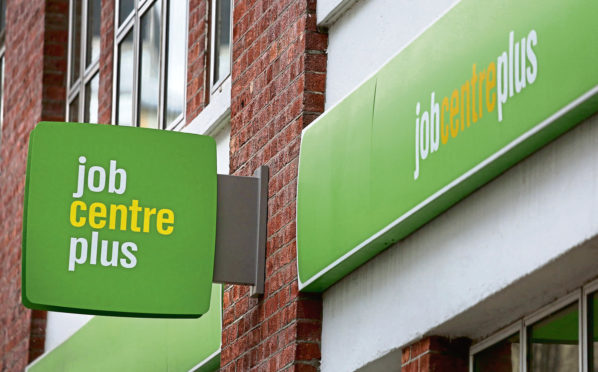 Employment in Scotland rose slightly between June and August, new official figures show – but business chiefs have predicted a bleak winter when government support is reduced.
During the summer the number of people in work across the country rose 0.4% compared with March to May of this year, the Office for National Statistics (ONS) said yesterday, with the unemployment rate remaining the same, at 4.5%.
ONS data shows the majority of Scottish workers were employed in services (83%), with 9.4% employed in production and 7.4% in other sectors.
But the claimant count, which measures those claiming unemployment-related benefits, more than doubled from the previous year – with 112,800 more people receiving benefits than in 2019.
Changes to the eligibility for Universal Credit mean some of those may still be in work but are on low pay or reduced hours.
However, government ministers warned these figures do not reflect the full impact Covid-19 has had on the employment sector, due to the Job Retention Scheme.
Jamie Hepburn, minister for business, fair work and skills, said: "These figures still do not reflect the full impact of coronavirus on employment as the Job Retention Scheme will have offered relief to many employers and employees.
"I know this is a very worrying time for many people, particularly those working in sectors most affected by the pandemic.
"Last week the Scottish Government launched the £25 million National Transition Training Fund to help up to 10,000 people aged 25 and over."
Dr Stuart McIntyre, of the Fraser of Allander Institute, said the outlook remains "incredibly challenging" despite government schemes to soften the initial impact of the pandemic.
He said: "While unprecedented government support – including bounce-back loans and the furlough scheme – has helped many businesses to hang on over the summer, as this support tapers off, many businesses are facing the hardest of decisions.
"In time, headline labour market measures will catch up and let us document the scale of the impact from Covid-19 but be in no doubt about the grim scale of the challenge currently facing many businesses and their employees."
Liz Cameron, chief executive of the Scottish Chambers of Commerce added: "These figures reflect a brief window when lockdown lifted and some people were returning to work, but more recent events suggest joblessness will surge dramatically this winter.
"The furlough scheme which has sustained many jobs is soon coming to an end, which means existing support is tailing off.
"Recent wage support for the hospitality industry is targeted and welcome but will be unable to staunch entirely expected jobs destruction.
"It has become clear we must live with this pandemic for a while yet.
"Now is the time for governments to adopt data-led strategies to control the spread of the virus while enabling as many businesses to trade safely as is possible.
"They must also adopt immediate plans to link those whose jobs have disappeared to training and skills programmes which will ensure they can take up job opportunities that will emerge as the virus recedes."