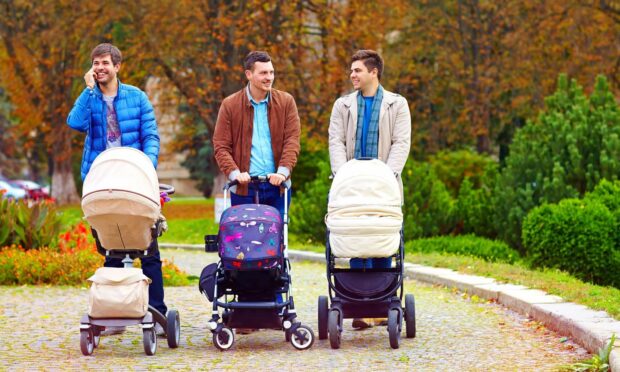 Forget ladies who lunch, meet the latte dads.
The early years of parenthood are a burden which falls mainly on mums.
But one Nordic country has shown that doesn't need to be the case.
Parents in Sweden are entitled to 480 days of paid parental leave when a child is born. Each parent is entitled to 240 of those days.
Parents can transfer days to each other, but dads must take at least 90 days. Otherwise those days are lost.
This parental leave can be taken any time up until the child turns 12.
By contrast, Scottish dads get 10 days off with their new child. For many, lockdown was their first experience of spending so much time at home with the kids.
Streets full of pram-pushing men
To be 'pappaledig' (literally 'dad off duty') is a rite of passage I myself have gone through, having lived in Sweden when my eldest two children began life.
I will never forget my reaction at first seeing the streets of Stockholm full of prams pushed by…men.
It seemed to go against everything I thought I knew about children and gender roles.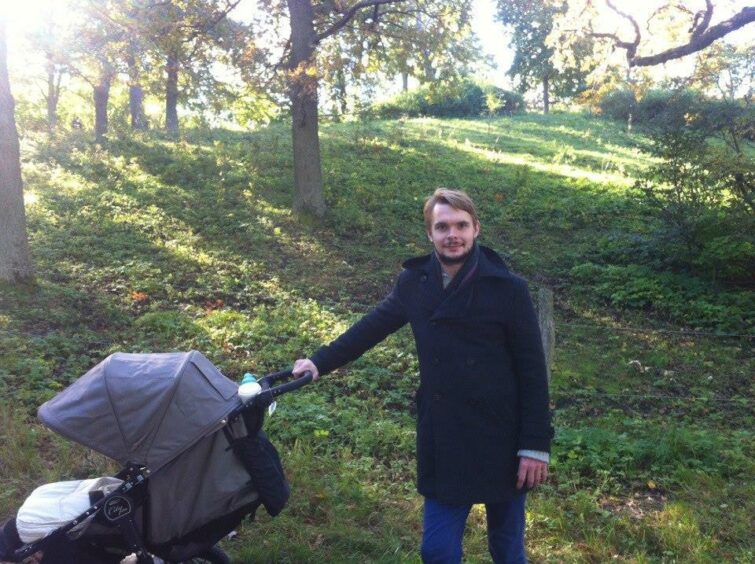 Every café seemed to be full of these so-called 'latte pappas', men in their 20s and 30s and 40s with babies and toddlers in tow, sharing stories of sleep deprivation and nappy changes gone wrong.
But the longer I spent in Sweden – and after myself spending a total of eight months as a full-time child carer with my own children – the more it all made sense.
Sweden has progressively tweaked its parental leave policy since the 1970s, to the point where today it is the envy of mums and dads worldwide.
Gender equality and economic necessity
In 1974, 0.5% of Swedish fathers took paternity leave.
Now, it's frowned upon for fathers not to take several months of leave.
Gender equality is a good thing in itself, but the Swedes originally shook things up out of economic necessity.
Lars Plantin of Malmö University is a professor of social work and specializes in family, parenthood and fatherhood.
"We had to do this for economic survival: Sweden is a small country and as we moved from a traditional economy to an information-based one, it made sense to have our better-qualified workers – often women – in work," said Plantin.
Tim Daw, 45, is originally from Whitecairns in Aberdeenshire. Since 2011 he has lived in Stockholm with wife Beatrice and children Felix, 10 and Tasmin, 7. He split his parental leave half-and-half with his wife.
He agrees that the Swedish system helps women, but points out that it helps men just as much.
Benefits women – and men too
"By helping women during those early years, it means Swedish society doesn't lose years of a talented female workforce," said Tim.
"But it definitely benefits men too. To be able to switch roles, to being a full-time child carer for a few months, I think it gives you a different perspective.
"It allows you to develop different parts of your personality and learn different things.
"It's good for individuals and it's good for society generally, just in terms of our understanding of each other."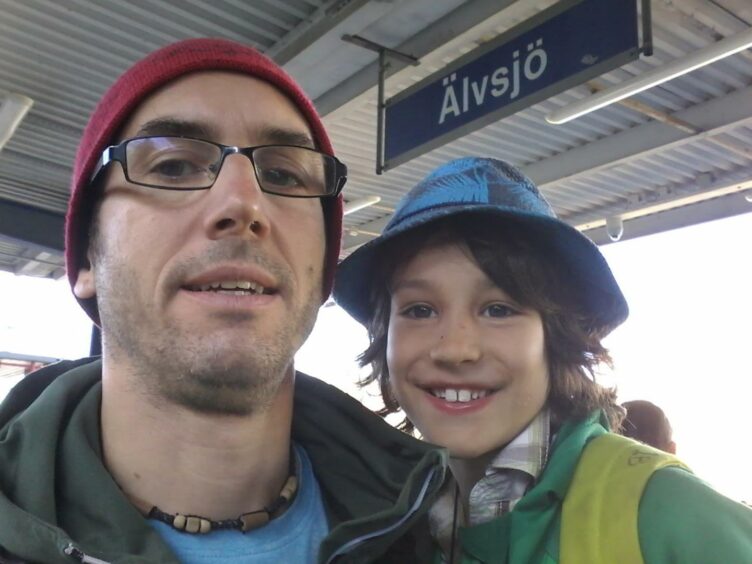 He added: "The system in the UK just doesn't allow dads to take a bigger share.
"If the default is that women are going to take that time, then women of child-rearing age are going to be viewed more sceptically than men in the workplace.
"In Sweden, a man is just as likely to be doing the child-rearing.
"Forcing men to take leave is about equalizing and levelling up, and making childbirth and having kids less punitive for women.
"It's not perfect, and I'm not saying it's totally equal in Sweden, but it does make a difference."
Children first, career second
Once I'd got over my shock at seeing all these pram-pushing men every day, I soon realized that there is a mass cultural acceptance of dads in Sweden. It's a given that men put children before career, the way women have always been expected to do.
Having been a parent in both countries, Swedish dads aren't better than Scottish dads. But they are more hands-on, intimate and expressive, because paternity leave and society allows them to be.
After my 'pappaledig' stints, I knew that whatever the parenting challenge, I could deal with it.
People laugh about hopeless dads in the UK – see Daddy Pig for reference.
I love Daddy Pig, but if that's the representation of fathers then it's grossly unfair. Parenthood might not come as naturally to men, but if you give them the opportunity, they can do it.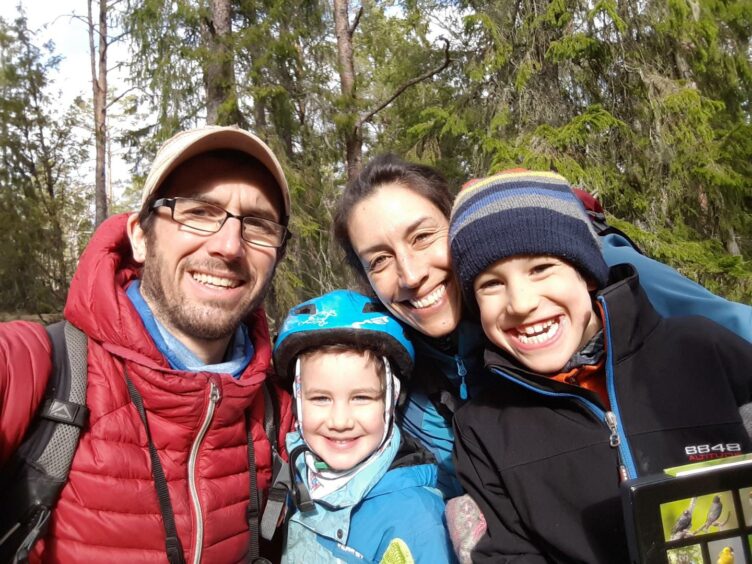 "Dads taking on their equal share is just accepted, and expected," said Tim.
"It's just normal. You tell someone at work you're going to have a baby and they say 'oh, when are you going on parental leave?' And they just expect you to disappear for six months or a year.
"Being able to properly switch off from work for over six months is a great thing.
"When Tasmin was born I was actually leading a project, but as soon as I went on leave there was absolutely no expectation that I'd answer the phone or pick up emails.
"It does let you let go of work, in a way you perhaps couldn't in the UK.
"It's amazing, and just a totally different culture. I felt very privileged, and almost awkward to be benefitting from such a generous system."
'It has strengthened the bond between us'
He added: "In the UK, I'd have had less chance to bond with my kids. For me it's just been a privilege to spend that time with them.
"It has strengthened that bond between us, because we were able to have a lot of contact at that early stage."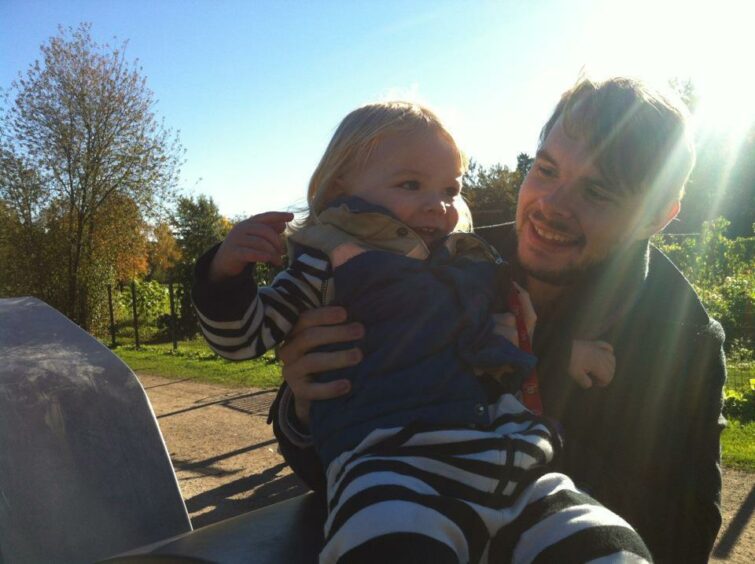 Tim's friends from home and international colleagues were amazed to hear how long he got to spend as a stay-at-home dad.
I had the same experience. While living in Sweden, I worked for a British company. When my partner became pregnant, my boss in London took a lot of persuading that, yes, I could take however long I wanted off, and yes, I could take it when I wanted. The only obligation is to give your employer two months' notice.
When he asked "okay, but you'll be able to come over for the sales conference in London during it, right?", it seemed to sum up the totally different mindset between the two countries.
You decide when to take leave, not the state
As Tim says, when you're off work, you're off work. And being able to choose how and when you take your leave is arguably the best part.
"The length is actually less significant than the flexibility with which you can use it," said Tim.
"When you take it is up to you. If you want to use it during the October or Easter holidays, you can do that. Take those days as parental days and not dig into your annual leave.
"I found this fit in quite well with the Swedish culture of disappearing for a month in the summer."
Tim also used his time off to learn Swedish. Not an easy thing for an English speaker in a country where the vast majority speak good English.
"It got me away from my English-speaking work environment and forced me to meet people outside of work and try out my Swedish.
"As an immigrant, it allowed me to get out of my expat, working enclave. It was really by taking parental leave that I learned Swedish."
So here's to the latte pappas. We might take a little longer to learn the art of nappy changing and nap times. But given the chance, we're really not so bad.
More from the Schools and Family team
'Families are in crisis': Child protection concerns in Moray
'Where do we draw the line?': Furious mum refuses to send child to school amid Covid row
The P&J investigates: Why are other countries' school pupils outperforming ours?