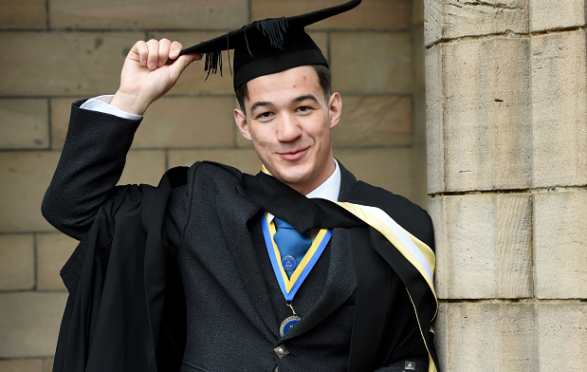 A north-east man espoused the virtues of boxing clever after he picked up a degree in mechanical engineering yesterday.
Luke Armstrong will start an auditing role with KPMG in September after finishing the five-year course at Aberdeen University.
But the Stonehaven man – an aficionado of the fistic arts – will continue boxing and hopes to turn professional within the next year.
The 23-year-old said: "I got involved with the Granite City Boxing Club.
"I've been involved in more than 30 fights.
"I've been fighting with some professionals and they have said that as soon as I want to go professional I can.
"I would say it was probably the reason I got here today, it gave me the discipline to succeed."
He was ranked in the top three in Scotland for his weight category.
And he added: "It feels great to get the degree, it's been a lot of hard work but I knew I'd get there eventually.
"My favourite part of the course was computer design and I'll be starting an auditing role with KMPG in September in Aberdeen.
"I have no plans before then, I might go on holiday, but mostly I just want to relax."
Not on the canvas, though!