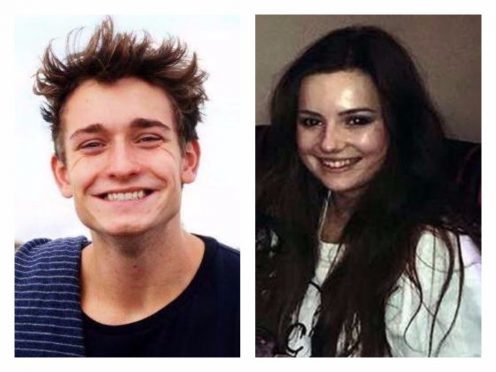 The parents of a student who killed herself after being bullied by her boyfriend have called for university managers to reconsider his place at an Oxford university.
Emily Drouet took her own life at an Aberdeen University halls of residence in 2016, and Angus Milligan was later convicted of carrying out a campaign of abuse against the 18-year-old.
Milligan admitted assaulting Miss Drouet just days before she died, and her mum believes that his actions led to her daughter's death.
Fiona Drouet has now raised concerns for the safety of students at Oxford Brookes University after learning that the 22-year-old was granted a place there just weeks after he confessed to abusing her daughter.
She said: "Since Emily died we have done a lot of work with external student support organisations and welfare officers, and I'm sure they would have recommended against admitting Milligan if consulted.
"I think the university needs to review this decision with immediate effect, as he is now in the same environment with potentially vulnerable young girls.
"I've never come across a risk assessment which would deem him as not posing a danger."
It is understood that Milligan gained a spot at the 19th century university last summer, shortly after being expelled by Aberdeen University.
Photographs have now emerged showing him partying at an end of term gathering in Oxford.
Mrs Drouet added: "There can't have been enough time between his conviction and his application to study at Oxford Brookes to judge whether he has been rehabilitated, the timescale is concerning.
"We have made some huge leaps forward in the protection of women at university over the past year, but this feels like a giant leap backwards."
A spokesman for Oxford Brookes declined to comment on whether the decision to admit Milligan will be reviewed, and stressed its commitment to student safety.
He said: "The university will not comment on individual cases.
"However, we can confirm that as part of its duty of care to staff and students, the university asks applicants for information about any relevant criminal convictions as part of the admissions process.
"The application will be judged through normal processes in the first instance and, if the recommendation is to offer the applicant a place, the application will be assessed by experienced staff in the light of the declared conviction."
The story of Angus Milligan
Angus Milligan, a direct descendant of philanthropist Andrew Carnegie, first met Miss Drouet at Aberdeen's Hillhead halls of residence after she began first year in September 2015.
She died on March 18, 2016, after suffering abuse at his hands which her family say made her "lose her sparkle" towards the end of her life.
When Milligan appeared at Aberdeen Sheriff Court last year he admitted sending Miss Drouet "grossly offensive" and "menacing" messages on March 3 and March 4, and grabbing her by the neck, choking her, pushing her against a desk and slapping her on March 10.
He also shouted abuse at Miss Drouet at New Carnegie court, in Aberdeen University's Hillhead Halls on two occasions between March 3 and March 10.
Despite Miss Drouet's mum, Fiona, calling for Milligan to be jailed to "send a message" to men who abuse women and girls, he was spared a prison sentence.
The 22-year-old was instead ordered to perform 180 hours of unpaid work and given a one-year supervision order.
It emerged that Milligan had been kicked out of Aberdeen University, where he was studying sociology, last August.
But he caused fresh dismay among friends of Miss Drouet when he turned up at a student ball in November, with one mother saying her daughter's night was ruined as memories of her classmate's ordeal came flooding back.
In April, the government announced plans to crack down on campus violence following a campaign led by Mrs Drouet.