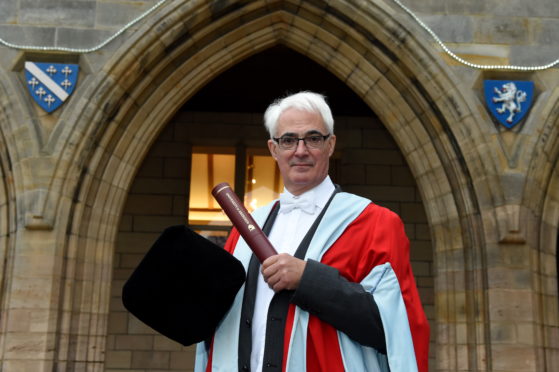 Upon receiving his honorary degree in yesterday's ceremony, Lord Darling had both words of wisdom for new graduates and fond memories of his alma mater.
He was educated in Kirkcaldy and the private Loretto School in Musselburgh , before he made the decision to attend Aberdeen University, where he graduated with a Bachelor of Laws.
He said: "Aberdeen University was my first choice.
"At that time there were a lot of students from Lewis and Harris studying there, including my cousins, so I decided to get away from home and move up here.
"I remember stepping off the train in Guild Street in 1972 and the first thing I saw were the massive fishing boats and trawlers.
"I thoroughly enjoyed the following years, although nobody would accuse me of having an academic highlight.
"Academic studies are important, but a large part of studying here was the wider process of growing and learning new things.
"I really enjoyed student politics and getting the chance to meet people from all round the globe.
"I have very fond memories of Aberdeen and love coming back."
Lord Darling was heavily involved in student life during his Aberdeen University career, becoming the President of Aberdeen University Students' Representative Council.
After graduating he set out to study law, before "becoming distracted" and entering politics, where he soon made a name for himself within the Labour Party.
Speaking after yesterday's ceremony, he had strong advice for his fellow graduates.
He said: "While I was studying here, Aberdeen was going through a tremendous change with the oil boom.
"There were a few more American accents and the city was adapting to a more international audience.
"It is changing once more and these graduates have a different future – in a city that has still managed to keep its heart and soul despite everything.
"Its not like times past where you got your qualification and that saw you through until you got your gold watch.
"Most of these graduates will do several things during their career and I would advise them to do what they feel good about.
"Confidence and lessons learned while studying at Aberdeen University will help immensely."